Home > Movies > Bollywood News

'Vivek and I have given our hearts to our roles'

Siddhu Warrier | May 20, 2004 15:54 IST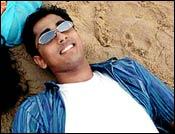 Siddharth was the star of Boys, a fun, young movie that released in 2003.
He had assisted Mani Ratnam in Kannathil Mutthamittal and is one of the three stars of Aayitha Ezhuthu. Like the character he plays in Aayitha Ezhuthu, Siddharth also holds an MBA degree from a top business school in India.
He describes what it is to act under Mani Ratnam:
Working with Mani sir is fun. Period. I probably enjoyed assisting him more because it entailed more work, and hence, more interaction. Acting is far more gratifying, though, essentially because you get to be a bigger part of the finished product!
I played a boy in Boys. I play a young man in Aayitha Ezhuthu. I must say it took ages for me to see common ground between my reality and who I was in Boys. But I believe the main reason I was cast in Aayitha Ezhuthu was that I looked, talked and behaved like Arjun.
| | |
| --- | --- |
| | Don't miss: |
| | |
Working with Maddy [Madhavan] and Surya has been a great experience. I have known Maddy a while now, and we get along really well. He is hugely talented and it was fun watching him perform. He was like a protective big brother on the sets, always watching out for my safety. We had a blast.

As for Surya, he is one of those actors who makes you want to work harder to match his efforts.

The biggest thrill of this film is getting an opportunity to play along with these guys. It has also been an absolute pleasure working with Trisha [Krishnan]. I have another film coming up opposite her, so it is always a relief when you work well with a co-star.

I am not going to reveal what the plot of Aayitha Ezhuthu is. We at Madras Talkies pride ourselves on our ability to keep our traps shut.

But I can tell you what you need to know at this point. I play Arjun, a young educated man who has made airtight plans for his future. He couldn't be concerned with the interests and problems of the world. He strives for maximum joy with minimum effort. His goal in life is to look out for himself and himself alone. For more details on who this Arjun chap is, catch the film. 

I think sync sound [in Aayitha Ezhuthu] worked more for me than against me. I am from the stage, so live is always better! However, I tend to speak very fast, especially in Tamil. That small impediment notwithstanding, I really enjoyed working on a movie with sync sound. Bob Taylor, our sound recordist, really helped me get into the swing of this technique.

I knew I was headed the film way even before I signed up for business school. I have dreamed of making films since childhood. It was not acting, but writing and directing that interested me. So I completed my education as a safety cushion, and headed south [he grew up in Delhi and Mumbai] to be an assistant director.

Three years have gone by. Now, I am an actor on the verge of a second release. I have no clue where I will take myself next. I am just taking things as they come.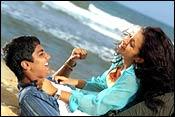 I don't think Yuva and Aayitha Ezhuthu will turn out all that different. The theme of this movie is universal. The varied facets of today's youth manifest themselves in different ways in different places, depending on the individual. The facets remain the same. On a screenplay level, the films are identical, so the question of varied incorporation of nuances does not arise.
Making AE felt like living a dream. I was never in a frame of mind to pick and enjoy moments. The whole experience was a challenge, not to let down the faith that was shown in my abilities. Every moment of this challenge has been equally enjoyable, equally excruciating!
Although executed simultaneously, the locations and schedules of the two films were very different. The interactions were mostly informal. I am still intrigued by the prospect of watching both our performances back to back.
I gave all my heart to this role. Vivek [Oberoi, who plays his Hindi counterpart] has done the same. I hope we have both done justice to our characters.