Home > Movies > Bollywood News

Why Surya wants to watch Ajay Devgan in Yuva

Surya | May 19, 2004 17:40 IST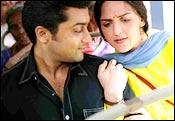 Surya, one of Tamil cinema's most successful stars, delivered two blockbusters in 2003: as a tough cop in Kaakha Kaakha, and as an illiterate villager in Pithamaghan.
In Mani Ratnam's Aayitha Ezhuthu (Yuva in Hindi), Surya essays the part of a young idealist.
It was a 'dream come true' role for the actor, he tells Siddhu Warrier:
I owe my career to Mani Sir. He was my first producer [in Neeruku Ner]. He gave me the opportunity to act.
It was a dream come true for me to work with him [Ratnam].
Mani Sir thinks in English. Then he translates his dialogues into Tamil. His dialogues are thus much shorter and crisper.
| | |
| --- | --- |
| | Don't miss: |
| | |
He is totally different from other directors in the way he thinks about a scene. The way he explains things to the artist. The way the scene is made. The way the artist enters the frame. The way the scene ends. He always gives an actor the freedom to do what he feels is most convincing.

He never pressured me to act in a particular way.

I am very different from the character I play in Aayitha Ezhuthu. I have a lot of friends, but I am not really talkative.

In this film, my character is based on a real person in Andhra Pradesh. I read a lot of books and collected a lot of information before the shoot.

Usually, my performances are realistic and I try to avoid overacting or playing hyper. Mani Sir told me to underplay [my performance] even further. He felt that playing it [my character] mild would have a greater impact. It rings true [to me].

The film is a visual treat, thanks to [cinematographer] Ravi K Chandran. He is the most brilliant cameraman I have seen. This film will definitely stand out among all the other Tamil films being released.

I had almost finished shooting for Aayitha Ezhuthu and had began shooting for Per Azhagan. That's why I was unable to go on the sets of Yuva.

I did meet Vivek Oberoi and Abhishek Bachchan, though I couldn't meet Ajay Devgan, who plays my role in Yuva. I am eager to see how he [Devgan] has acted and reacted to different situations.

Aayitha Ezhuthu used sync sound. Though pronunciation was never a problem for me because my mother tongue is Tamil, I had to ensure that the stress and modulation were perfect. I also had to speak a little louder, which was a little tough.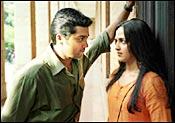 I have known Madhavan [one of the male leads in Aayitha Ezhuthu] for a long time, even before he started acting. He had accompanied me to the theatre for my first release. We have been friends ever since.
Siddharth [the other male lead of Aayitha Ezhuthu] was already part of Mani Sir's unit. He assisted him on Kannathil Mutthamital. The atmosphere on the sets was fun. We were all friends.
But the youngest at heart on the sets was Mani Sir.


What do you think about the story?








Read what others have to say:





Number of User Comments: 9








Sub: excellant

a milestone in the tamil film industry by manirathnam


Posted by devibala









Sub: Like me

Ajay devgan looks like me in this movie!!


Posted by vajpayee









Sub: hello, i wanna to share my views

helli,this is shyam i have seen the yuva movie in teluguversion casting surya, madhavan, siddhrtha with their heroines. Its really astonished that i could not ...


Posted by shyamsunder









Sub: ayutha ezhuthu

ayutha ezhuthu is realy a good movie..a treat...all the leading characters are excellent...surya looks awesome....


Posted by anoop









Sub: Yuva... a landmark movie

I caught Yuva the other day. It seemed very different and extremely soul-stirring. Especially the role of Ajay Devgan. He has underplayed his character and ...


Posted by Suresh






Disclaimer