Home > Movies > First Look

Ajay Devgan: I love my role in Yuva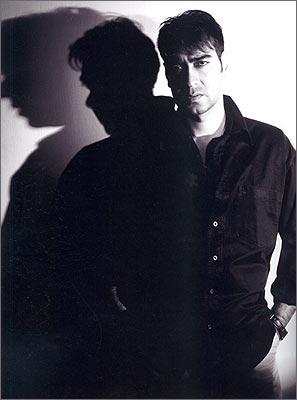 In Yuva, Ajay Devgan plays Michael Mukherjee, a serious character with a serious goal. Like the tagline of his character goes: the cause for him is everything -- even if it means death.
Going by his past roles, projecting the nature of Michael's character must have been comfortable for the intense-eyed Devgan.
The actor tells Subhash K Jha what the most interesting aspect of playing a intellectual rebel in Mani Ratnam's Yuva was:
"Yuva is the story of three young people -- me, Abhishek and Vivek, and how our lives are influenced by each other.
"[The experience of] shooting for a Mani Ratnam film is excellent.
"He is so clear in his head about what he wants. He is a rare and perfect balance of a technician and storyteller.
"He is really hyper on the sets [laughs]. His zest for work can't be matched by any of us actors.
"He gets up at 4 in the morning and works till 2 at night. He goes around almost sleepless.
"Apart from the mishap on location [when Vivek Oberoi injured his leg], it's [making Yuva] been a great experience. In that shot, Abhishek Bachchan was supposed to chase Vivek on the road. A motorbike was to come towards him [Oberoi] from the opposite direction. But the bike skidded [and injured Oberoi]. It was totally unfortunate.
"I play a very strong, energetic character. He thinks he can bring about change in our society. He thinks he can get rid of the rubbish in our political system.
"I am an intellectual rebel in the film. I love my role."
Don't miss:
Showcasing Yuva


What do you think about the story?








Read what others have to say:





Number of User Comments: 6








Sub: yuva

Ajay Dewgan's "Mai Khada Ho raha hu........... Koi Hai mere sath.............." Was an encouraging one to young india


Posted by Saurabh









Sub: Yuva , waah!

A good movie with a great sense of sense of story telling.Good performances from all the cast members.Beleivable plot.Good direction.Happening music. Overall a movie worth ...


Posted by Ramya









Sub: i loves him ajay role in yuva

hiiiii ajay, u r very affectionate i like it ...


Posted by gaurav pathak









Sub: on Yuva

wow.. what a fantastic movie. surely yet another mani - marvel. excellent music, breath-taking action scenes in heavy traffic, beautiful connection of 3 characters..... a ...


Posted by ajit









Sub: yuva

yuva is the best film for all the participets charecter mani ratnam & ajay group yuva the part of new genration


Posted by jay






Disclaimer