Home > Movies > Bollywood News

Anurag Kashyap: Yuva has shaped up brilliantly

Anurag Kashyap | May 17, 2004 20:50 IST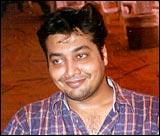 How does one translate Chakka lakka bukka in English?" wonders Yuva dialogue writer Anurag Kashyap, bemused.
Kashyap is holding a huge sheet of paper containing the Hindi lyrics of the songs in Mani Ratnam's youth-oriented drama starring Ajay Devgan, Abhishek Bachchan, Vivek Oberoi, Rani Mukerji, Kareena Kapoor, Esha Deol, Om Puri and Anant Nag.
He has to write the English subtitles of the songs for the print that will be screened at the Indian International Film Awards in Singapore later this month.
Working with the celebrated filmmaker was a trying but enriching experience for Kashyap. The writer of films like Satya, Shool, Kaun and Nayak gives Sukanya Verma the inside dope on Yuva and Ratnam.
Yuva is about these three characters from different walks of life and different social stratas. It is based in Kolkata. There is Michael (Ajay Devgan), a senior college student. He is doing his PhD. He has got scholarships abroad and his life is life laid out before him. He is also very affected by the political situation. So he chooses to be an active in politics. He wants people to take their own stand and not depend on others. He is socially conscious, aggressive, aware and intelligent; he is a man who wants to bring about change.
Then there is Lallan (Abhishek Bachchan), a refugee from Bihar. He has come up the hard way. He is a hardened man. How he looks at life; how he becomes a pawn in the larger game of politics -- the goonda element comes in here -- that is his story.
There is Arjun (Vivek Oberoi), a student who has everything decided in life. All he wants is to have fun and go to the US. He scorns public service. He wants to fall in love. He wants to have a lot of girlfriends and make a lot of money.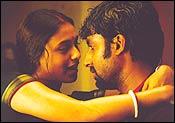 The film is about how the lives of these three guys crisscross each other and where this leads them. Their lives almost become irreversible.
It is a light-hearted film; at the same time it takes on serious issues. These three characters have a different hue and tone to them.
Mani Sir gave me the story and screenplay he had written. Everything was given to me completely in English. He gave me the opportunity to create a little atmosphere for Lallan's character because he is from Bihar. I know UP [Uttar Pradesh] and Bihar firsthand. So I gave a lot of inputs, the right lingo -- Hindi language-wise and attitude wise.
A lot of it was clear in Mani Sir's head before it came to me.
Mani Sir and Sujatha Sir -- a very senior and great dialogue writer in Tamil -- wrote the dialogues for Aayitha Ezhuthu. Sujatha Sir is a novelist who enjoys a cult following in Tamil Nadu. He writes the dialogues for all Mani Ratnam and Shankar films. So they [Ratnam and Sujatha] wrote all the dialogues in Tamil first. Then they were translated in English. Then they were given to me.
In some places, he wanted me to stick to the original dialogue because it was making a point. At other places, I was given a free hand. I was allowed to change things. Then the process was reversed. Whatever I wrote in Hindi was translated into English. Mani Sir would check it and ask for changes. It was a long process for Mani Sir, not so much for me.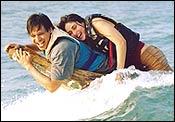 Do the characters in both the languages -- Tamil and Hindi -- speak the same way? No, Aayitha Ezhuthu is different in many ways from Yuva. Structurally, they might be same but, issue-wise, the Tamil version is very different from the Hindi one. Issue-wise, the basic difference between the two languages is that Tamil is more aggressive and spoken very fast. Hindi is not spoken as fast, so it becomes very lengthy.
Secondly, the Tamil film is based in Chennai. Yuva is set in Kolkata. So the Chennai film has issues that are Chennai-based. The Hindi film has issues that are Bengal-based. That's the difference.
I was given the opportunity to create the atmosphere of Kolkata and provide the base that was not there in Tamil. But the design was always Mani Sir's. It was always redesigned [as compared to the Tamil version] and given to me. My contribution in this larger scheme of Yuva is very small.
If I take credit for anything, it Lallan's character, language and flavour.
Lallan has a very north Indian dialect. The language used in the film is a spoken language, which is why the characters look natural. The actors are also at ease with themselves. Mani Sir might not know Hindi but he senses when someone [the actor] is trying to make it [the performance] over-dramatic or go out of line. He knows how to hold it.
The film was very clear in Mani Sir's head. He knows exactly what he wants. He is a slavedriver [smiles]. He made me do so many drafts even after having so much clarity, which made me learn so much from him.
He had come down looking for a writer. I think Ram Gopal Varma recommended my name. Mani Sir saw Paanch as well. I was doing my own film [at the time]. I had written a film [Sangam Mail] for Shaad Ali. Shaad also told Mani Sir [about me].
I write very fast. And Mani Sir wanted someone who could do it [the Yuva script] very fast. I went down to Chennai for 20 days. I stayed in a hotel and did the drafts. I came back and started doing my own film. After that, he called me whenever he needed changes.
I don't understand Tamil. But I wrote for Nayak, which was based on Shankar's Tamil film, Mudhalvan. I watch a lot of Tamil films. I saw Sethu before it was made as Tere Naam. I have watched a lot of Bala's films.
The experience of working with Mani Ratnam was extremely rewarding. He pushes you to the limit and beyond. When I write for myself, I do a draft. I know where things are wrong. I formulate it in my head and make changes on the spot. I don't spend a lot of time on paper.
Mani Sir's working style is very different from everybody else's. He wants to design everything on paper. There is also a lot in his head that we don't know about till the final product comes out.
There is one spontaneous option: He says this is what is not working.
So I say spontaneously, this is how we can do it.
And he will say, "No, what if we do this?" He keeps pushing you.
There are as many as eight options he brings out of you; you end up being surprised with yourself. The thing is that you never realise that Mani Sir slowly manipulates you towards getting the best out of you.
He also makes you realise, "Don't think you are not capable of doing this."
Before working with him, I never thought I could work on light-hearted stuff. Everybody used to treat me as somebody very serious. He brought all these elements out of me. I realised I am as vulnerable and emotional as many other people.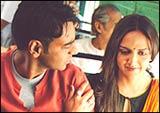 He is a man of very few words. Mani Sir doesn't gossip. That's the best thing about him. There is no frivolous talk. There is always work. He is always the first one to reach the office. The man wakes up at 5 am, reads the paper, and goes for a one-hour walk and still has that passion for cinema after so many films. He lives and breathes films.
Work with Mani Ratnam again? Anytime. I will go down on bended knee [to do so]. I have all of Mani Sir's films on DVD.
I have seen Yuva. I have not seen the Tamil version yet. I want to.
Yuva has shaped up brilliantly. Technically, they [Mani Ratnam and cinematographer Ravi K Chandran] have done things that give the film a whole new style. He has shot the three different characters in different hues, tones and styles.
I want to wait and watch the reaction to Yuva. In form, structure and attempt, it is so far removed from other films. It speaks to the youngsters. It also shows the youngsters to the elders as they are.
Mani Sir constantly attempts to go into an area [subject] where no one has gone before. My expectations are very high. I want to be there in the theatre and see how people react to the film and write about it.