Home > Movies > Interviews

The Rediff Interview / Shimit Amin

'I have different styles in me'

Sukanya Verma | March 01, 2004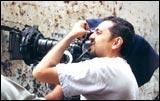 He is a filmmaker with a gypsy's heart. He doesn't want to be restricted to any film industry. He wants the whole world to be his studio. He wants to make all kinds of movies.
Meet Ram Gopal Varma's newest discovery: Shimit Amin.
The 30-plus director made his debut in the just released Ab Tak Chhappan, starring Nana Patekar as an encounter specialist.
So what is Shimit Amin all about? Sukanya Verma finds out.
How did a career in movies happen?
| | |
| --- | --- |
| | Ab Tak Chhappan on rediff: |
| | |
Ever since I was a kid, I was a big film buff. I just watched lots and lots of films. When I went to college, my passion for films eventually took over. As soon as I graduated I started working in the film industry. The general love for films motivated me. I didn't go to film school.
I grew up in Florida watching a lot of Hindi films. It was part of the mix, along with all the American and foreign films -- French, Italian. I realised cinema is a big world. It is something you want to be a part of.
And then?
I moved to Los Angeles and started working in Hollywood. I did everything from script development to camera assistance to editing, learnt the whole basic ropes.
Which Hollywood films did you work on?
I worked on a lot of independent films like SLC Punk, which nobody would have ever heard of. It was mostly experimental. The 1990s were a big boom for independent films there. I worked on lots of films that went to Sundance and all these festivals. They weren't like the big-big ones. I worked on a Robert Altman film, the title of which I don't remember now. I worked on Gingerbread Man.
When did you decide to move to Mumbai?
I didn't move here. Actually I am still in LA, in a way. I came here to edit Bhoot. A friend of mine, Sameer Sharma was one of the writers of Bhoot. He asked me if I wanted to work on the editing of Bhoot. I had seen Company that year. And I was really bowled over. I thought it was one of the best Hindi films I had seen.
I had occasionally seen Hindi films [when I was in The States] but I never thought I would actually work in this industry because it always seemed very far from what I was doing. Also, I didn't know if anyone would hire me here.
So I decided to take the opportunity and came here to edit Bhoot. While we were editing Bhoot, Ramuji and I were discussing projects. We thought Ab Tak Chhappan was interesting project to do a film on. It's exciting, interesting and dark. There are so many levels to it.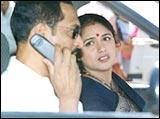 What was the shift like? From Hollywood to Hindi films?
It was very challenging. The way this company [Varma Corporation] makes their films, I fit in. I had heard stories of the way the films are made here. But I didn't experience that at all. It was quite easy, sliding into. That's why I was able to make this film [Ab Tak Chhappan].
Language wasn't a problem?
I knew Hindi. So it wasn't at all a problem.
What was the Bhoot experience like?
It was fantastic. It was the most enjoyable of all the films I had worked on, even back in LA. I had not had such a fulfilling experience: something that we set out to do even professionally or technically, having the audience to just go see it [the film], respond to it, and get all the stuff we were trying to go for. It was incredible.
If you compare the two film industries, what is the most striking difference, in your opinion?
Well, now, we have a certain other genre of Hindi films that is coming up which is moving away from that grand setup. Bollywood films are still unique. I think they should be unique because it's their identity. It must retain that. Not everything can be Hollywood.
What about the star system?
It's everywhere. There too, people do quite obnoxious things. It's just the business. Anywhere in the world you get to a certain level; you have a certain attitude and all that. So I don't think it's necessarily Bollywood or Hollywood. People in general have a certain way of reacting to success or who they think they are.
What kind of research did you do on Ab Tak Chhappan?
I had read about the subject matter in the newspaper and over the net. I was always fascinated how these things happen. We met many encounter specialists.
Apart from the encounter specialists, the film is also about how the police department functions. How their officers play a role in the whole structure of the department. And the society in general. It is an examination of what happens in real life.
Why Nana Patekar for the lead role?
Nana Patekar is one of my favourite actors. He has a level that I find is on par with a Marlon Brando or an Al Pacino. See, I had never seen him in a kind of a way that we wanted to show this person [encounter specialist]. The performance that he has given, no one could have done it. In fact, everyone in this film has done an incredible job to give it a certain credibility.
What kind of pressure did you feel while making this film?
Actually I didn't feel any pressure. I just walked in and finished the job. It was the most pleasant experience, in that sense.
What sort of rapport do you share with Ram Gopal Varma?
I really admire him in terms of how he approaches the medium. He has a really direct approach in making films. He tries things that cinema is meant for. He gets straight to the point. It's really important that you don't waste the three hours watching a film. I have seen his other films. He is an extremely talented filmmaker.
How come you didn't edit Ab Tak Chhappan?
I decided I didn't want to. It's one of things I just wanted to see how it was taking the backseat. I wanted to concentrate on the direction part of it.
How do you find shuttling from LA to Mumbai?
I enjoy it. I am able to see things in a new perspective all the time. Having lived here for the last one-and-a-half years, I have a different take on LA and US. The only way of making interesting cinema is by looking at things differently.
What is your ultimate goal?
I want to attempt different genres. I am a big film buff of lots of kinds of films. Everything from the Hollywood -- from the 1920s, 1930s, 1940s, French milieu, Italian realism, German expressionism. All this stuff is deeply rooted in me.
I see myself as a storyteller, a filmmaker who just wants to explore what it is like to tell a story in this medium that is still fresh and exciting after 100 years. I would like to keep the whole world as my studio. I have different styles in me which I want to explore.
Click here for More Interviews


What do you think about the story?








Read what others have to say:





Number of User Comments: 2








Sub: Lets hope for the best

Lets hope that Ab Tak Chappan makes it to the box office.Otherwise Shimit will have to go back to LA assisting in experimental films,names of ...


Posted by Diptarag









Sub: if he selects he is the best

ramu is ultimate inventor of new thoughts if he selects by ramu then no doubt he is the man of full talent ....and my message ...


Posted by imtiyaz






Disclaimer