Home > Movies > Interviews

The Rediff Interview

'I am seriously thinking of doing a Marathi film'

June 22, 2004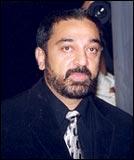 The second part of Shobha Warrier's fascinating interview with Kamal Haasan.
You have portrayed a variety of characters. Like stealing moments, were you consciously stealing them?
Could be. Virumaandi was 50 percent from my memory of where I come from. The rest came from my running around. I moved around that area where the story of Virumaandi took place for nearly three months. I would drive around aimlessly, absorbing the place. It was not method acting. I had lost touch with that place. And suddenly, it came back. I was like a man with amnesia trying to remember and put the blocks together in a puzzle.
How do you take criticism?
I might even agree with the person if it is sensible criticism. There are some people who criticise because they have to. Icon-bashing is the greatest of all sport. I can spot that at once.
From where do you get the real feedback?
See, you don't impose your status on your friends. They give you their honest opinion. They will give me the real feedback.
Are they friends from the film industry?
Not necessarily. But there are people from the industry like [veteran actor] Nagesh who will tell me both good and bad things. There is Crazy Mohan, There are even critics. I would rather trust them without their pens than with them, because they talk more honestly without the pen in hand. When you talk to them as a friend, they are more open. That is also stealing criticism!
How do you analyse your performance objectively?
Very easy. If you keep criticising yourself, the zenith of it is suicide. You hate yourself so much that you are ready to kill it. Yes, I said 'it' and not him or me. So criticism is easy. Some people suffer from it because they don't know when to stop criticising. It is like eating sweets. You must know when to stop.
Do you analyse your films too, especially the ones that don't do well?
Whether a film is doing well or not is not a criterion. That is only the business criterion. For me, excellence is the only criterion. It is not like cooking where you attain a standard and say, this rasam is good with this mixture. One day, it is rasam, the next day, another mixture to probably make TNT. Acting is beyond that.
How do you judge excellence? Where do you draw the line?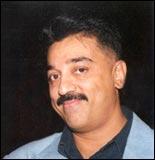 You can't draw a line for excellence. There is no end of excellence. It is the Peter Principle situation where you reach your level of incompetence.

For me, Aalavandhan is passé. It's boring. Hey! Ram is a film I love not because it is a neglected child, but I feel it is a more complete film than even Virumaandi. The success or failure of it does not matter to me. Success matters to me to make another film. But after my death, certain films will give me respect, like novels left behind by good novelists.

Like which films?

Avargal, Hey! Ram. Mahanadi, Apoorva Sahodaragal, Thevar Magan, Moondram Pirai, Nayagan, Silangai Oli.

These are timeless films. If you have noticed, I have not mentioned Indian or Swathi Muthiam.

I also like the films of others like Nirmalyam [M T Vasudevan Nair's first directorial venture. P J Anthony won the National Award for his performance in the film], is my all-time favourite. It might be boring, slow, not have been done well, but I have yet to see MT repeat it. It's a brilliant film. Even when MT is dead and gone, we will be talking about that film.

Another film that is timeless is [Guru Dutt's] Kaagaz Ke Phool.

Have you always been in search of excellence as far as your work is concerned?

That is why I listed only 10 out of the 200 odd films I have done. That's only five percent of the harvest.

There are moments I think of Charlie Chaplain who sat depleted while making Gold Rush. He felt he couldn't do anything anymore. The ideas were not coming. For two weeks, the entire unit waited. The amount spent was enough to make a small film.

Then, one day, he said, I have an idea. That was how the shoe eating scene was born. You don't know how much you will have to suffer or how easily it will come.

Did you have to face such moments in your career?

Oh yes! Many times. I always think of Chaplain and how he came out of it.

I felt that way before Apoorva Sahodaragal. I wanted to retire. I felt silly doing the same things over and over again. I kept asking myself what I wanted to do. People told me what I wanted to do would not run. Later, I understood. Don't listen to them, just go ahead and do it!

Is that why you became a filmmaker?

Yes. That is what has kept me alive. I design the architecture of Kamal Haasan's career.

Why did you decide to act in the Hindi remake of

Munnabhai MBBS?

There are certain films that I do without any questions asked because there is a lot of love behind the requests. Above all, I have been an advocate of success! When it is a success, you just have to accept it even if you don't accept its content.

Like, though I like Spielberg, I don't mind Arnold Schwarzenegger. But I don't go Schwarzenegger-bashing just because he is brawny and because of the cliche, all brawn, no brain. I think he has made some brilliant movies in his career.

Likewise, Sakala Kala Vallavan and all my films before Nayagan -- except for films like Silangai Oli and other intelligent ones -- the rest were crass. But they collected money and entertained people.

Wherever I go, I try to bring in excellence.

Do you dislike remakes?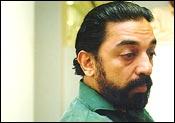 No. As a matter of fact, I quote A Jagannathan when asked why he makes remakes. He said even Kamban [who wrote the Ramyana] did remakes, and there is no shame doing it. If the original is good enough, why not remake it? [Akira] Kurosowa has done remakes of [William] Shakespeare.
You can't call that a remake. One is a play and the other a film.
Why not? Shakespeare is a playwright. People have done plays on Macbeth in Tamil. I don't venerate something because it is 400 years old. It has to have quality.
You are planning a Hindi film, to be directed by Singeetam Srinivasa Rao. Why Hindi?
I have made Hindi films before.
Is it because Hindi films have a national audience?
Then, come to think of it, why make a film at all? Why not Hindi? I have an audience there. Ask this question to [Tamil actor] Vijayakanth because they have not indulged in it. I am not saying he is not capable but he has not created an audience there. I have a captive audience which is willing to welcome me.
I don't have to do a Malayalam film now because Malayalees watch my films even if they are Tamil. If they feel I must do a Malayalam film, I will. It is as simple as that.
In fact, I am seriously thinking of doing a Marathi film.
Do you know Marathi?
I can manage. I didn't know Malayalam, Telugu or Hindi [earlier].
Marathi culture is a great culture which is as old and important as Tamil culture. It is a bigger state too. It is a pity they have given up all their culture to Hindi cinema. I don't know why they don't have the vernacular pride that Tamilians have. They should be producing 100 films a year.
I would love to act in a Marathi film, on my terms. I am not talking about money. It should be a good film.


What do you think about the story?








Read what others have to say:





Number of User Comments: 26








Sub: kamal a new definition for acting

i dont like to describe him with lot of word but only one line can do it 'THE ONE next to Marlin Brando' ...


Posted by Elvis









Sub: kamalhasan

There is no doubt that kamal is great actor and surely he will do sedately better than Sanjay Dutt in Vasul Raja MBBS. As he ...


Posted by Siva









Sub: Tad disapointment

Kamal - That was one of the frankest interviews i ever read. But there was a small part of me that went sad when you ...


Posted by Ch V Kalyan









Sub: kamal hassan

Kamal Hassan film like Nayagan,Apporva sahadargal, Indrudu Chandrudu are mouthpiece remembered forever I want kamal and Rajnkanth to act in a film their combination is ...


Posted by kamal naidu









Sub: kamal hasan

Kamal Hasan is a great actor and a good human. Your interview with him is very meaningful. He must act in Marathi and Kannada films. ...


Posted by M. Chandrashekar






Disclaimer