Home > Movies > Interviews

The Rediff Interview / Farhan Akhtar

Farhan Akhtar and the art of war

June 15, 2004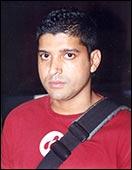 With the August 2001 release of Dil Chahta Hai, first-time director Farhan Akhtar hopped onto the Hindi film industry bus in outsize shoes. His quirky protagonist Akash, played by Aamir Khan, endorsed the soul beard and a gelled spiky hairdo as the look of the season. Co-stars Saif Ali Khan and Akshaye Khanna not only defined cool, they embodied all the spunk and attitude of youth that Hindi cinemacraved until then.
What also worked for Akhtar, son of lyricist Javed Akthar and scriptwriter-turned-filmmaker Honey Irani, was that Dil Chahta Hai was a stylishly crafted, squeaky clean entertainer. No sex, nearly no violence, enough romance to rock a boat and heaped ladles of laughs.
The 30-year-old director is back with a ponytail and a brand new film: the war drama Lakshya. Starring Hrithik Roshan and Preity Zinta in the lead, the film is set against 1999's Operation Vijay, in which the Indian Army fended off Pakistani infiltrators in Kargil.
Farhan Akhtar spoke to Assistant Editor Bijoy Venugopal on the making of Lakshya.
Dont Miss: The Rediff Lakshya Special!
How is Lakshya different from Dil Chahta Hai?
Lakshya is a different genre of movie. While Dil Chahta Hai could be categorised as a romantic comedy, this is a war drama.
Do you remember any war dramas you enjoyed watching?
Haqeeqat was a good war drama. There's a host of English movies I grew up watching like Guns Of Navarone, Battle Of The Bulge, Where Eagles Dare and, more recently, A Thin Red Line.
None of these movies inspired Lakshya?
No, the movie is not based on any of these.
You give a lot of importance to the look and hairdos. Do you think it is important for actors in your films to have a special look?
It all depends on the requirement of the script if the character requires a person to look a certain way. When you see that person it immediately reads to you what kind of person that character is like. In Dil Chahta Hai, when you saw the three looks, it immediately made them very young and very hip.
In Lakshya, with Hrithik, there is another look -- with the army, there is a look that you can't venture too far away from -- of somebody who is disinterested in the way he looks. His hair is a bit shaggy and is falling all over his face, and his clothes not really of the best design, so to speak. We wanted that kind of look, of somebody who doesn't take himself too seriously.
That suits his personality in the film?
Yes, it does.
Usually, army jawans are younger. Did you worry that Hrithik is perhaps a little old for this role?
He's not playing a jawan, he's playing an officer. The average age of an officer is between 24, 25 and 30 and plus, depending of how they get promoted and things. The average age of a lieutenant is in his mid to late twenties, which is the role Hrithik is playing.
Why did you choose Preity Zinta for this role?
The first reason is that I am extremely comfortable working with Preity. It probably stems from the fact that we know each other beyond film. We have been friends for some time. Apart from that, she is a really good actress. She is really versatile and has the ability to mould herself to look different in different characters, which not many people either want to do or tend to do. She is willing to do that and it works for me.
Is it true the shoot lasted for 115 days?
The shoot actually lasted for 150 days.
Is it true that you used 500 cans of oxygen?
Did we? I swear I wasn't counting! That is a production question.
How many members did you have in your production team?
At one point in Ladakh, when we were shooting the action sequences, there were about 300 people. And on other units, there were about 80 to 100 people.
Considering that in Ladakh, the terrain is not always conducive to transport, did people have to rough it out and walk a lot?
In Ladakh, there are only up to certain places you can drive to, especially when you go off road and film. There are a lot of locations where we had to walk a good 20 to 25 minutes. We tried not to get locations where people had to walk more than 20 minutes.
Did you encounter any altitude sickness?
Everybody at some point must have felt ill. At one point, I was completely dehydrated and had to be hospitalised. I am sure the altitude affected everyone.
You were working with senior actors like Amitabh Bachchan. Was there a health clause in their contracts?
There was a health clause and, really, a health recommendation from the production side to everybody. It was: travel to Ladakh a minimum of two days before they are required to work, because you need to stay horizontal for two days, to let your body acclimatise.
Any dietary restrictions?
Of course. Basically anti-smoking and not to drink too much. And for some weird reason while you are in Ladakh, you are recommended to eat a lot more meat. Don't ask why!
Did you have any vegetarians among you?
There were vegetarians who unfortunately had no choice. But apart from them, the rest were told to eat red meat for some reason. And drink a lot of water. All this stuff was made into a document and circulated to everyone.
How did you choose the location?
One of the locations is Tanglang La. We shot primarily in the Ladakh region. Operation Vijay is the background for one of the sections of the movie. The terrain that was required, and the kind of assistance we needed from the Indian Army were only possible in Ladakh.
Is it true that the stars were quite anonymous in that region?
No, I don't think so. The Ladakhis as a people are quite laidback. They don't tend to go around mobbing anyone. So, there would be a lot of smiles and waving but none of that mad mob frenzy that you find in Mumbai or Delhi or anywhere else. In Ladakh, they don't get into your face. The actors were recognised, but mobbing is not the Ladakhi way.
How did it feel being away from your cell phone?
Cell phones don't work in Ladakh. The only person who had a phone was Mr Bachchan who I think carried a satellite phone. On one level, not having cell phones helped the whole unit come together, because you only had each other for company. So people would spend more time with each other than sitting in their rooms telling people how much they love them and miss them!
Was it difficult to do sync sound there?
It was actually easier as it was such a quiet place. It gets tougher in cities where you have traffic and crows, etc.
Did you go for a younger crew?
The crew was aged between 22 or 23 up to 35. Of course, there were exceptions.
Certain parts of Dil Chahta Hai were autobiographical. Would you say the same about Lakshya?
The dilemma that the main protagonist goes through, which is the confusion of not knowing what he wants from life, and who he wants to be, is something I identified with. But I've not written the script so I can't say it's biographical. But I did identify with the problem, as it is something I have gone through for a very major phase of my life.
Is it true that Hrithik was once offered a lead role in Dil Chahta Hai?
That is true. While I was still casting for it I had seen the sneak preview of his first film Kaho Naa Pyaar Hai. I was very, very impressed by his performance. I met him and told him I was making a film and that I would like him to do it. But he unfortunately had other commitments with other directors, which would push my film back by a couple of years. Being a first-time hot-blooded eager person I wasn't willing to wait!
Movies from India with a war backdrop have not been that popular in the US. Do you think Lakshya would work there?
It's too unpredictable. You never know what's going to work anywhere. Even to say for a fact that it will work in India is presumptuous. I know for a fact that I'm happy with the film. People who have seen it have told me it is a good film. I am going to promote it as much as I possibly can. I will get as many people as I possibly can the world over to see the movie. Beyond that if anything goes wrong, I can't comment on that.
What are your upcoming projects?
After Lakshya, I will be doing the dialogue on my sister's [Zoya Akhtar] film, which she has scripted and will be directing. Ritesh [Sidhwani] and me will be producing it. It's called Luck By Chance.
Another project I am quite looking forward to, which is complete but hasn't released yet, is Gurinder Chadha's Bride And Prejudice, for which Zoya and I have co-written the lyrics.
Is it also true that you won't cut your hair until Lakshya is released?
It's not true, because I'm not going to cut my hair even after Lakshya is released!
Did you maintain a log or diary of the shoot?
I didn't. It's quite sad. I had planned it, but there was so much stuff going on that I didn't get the time. But I have a photographic journal of events from the time I started filming.
Was there anything crazy that happened that you remember?
There was crazy stuff going on every day. The kind of temperatures we were shooting in. At nights it was minus 14 [Celsius]. It was very crazy and beyond that nothing crazy could have happened. I'm sure every person at some point must have wondered why we were here and what we were doing.
What do you hope Lakshya will do for Indian cinema?
Personally, I don't know what it will do. With Dil Chahta Hai being the first film, and Lakshya being the second, what people can expect from Excel Entertainment as a company, and from me as a director, is just good, clean entertainment. And hopefully, some residue of an idea or thought that you can take home and mull over.


What do you think about the story?








Read what others have to say:





Number of User Comments: 16








Sub: hohohoho saif

Iam shara khan how are you saif how is the family and how is chirlen send me massage in my e mail adress my email ...


Posted by shara khan









Sub: Views on Farhan

I really do not know what to say. I have seen both of Farhan's movies. The guy is brilliant and is "today's" director if you ...


Posted by Karthik









Sub: The Lakshaya of Farhan Akthar

I have seen DCH over 20 times and yet I could see it a few more times..As of Lakshaya I have already seen it more ...


Posted by Indrajit









Sub: hi farhan ....u know the trend..keep it

i liked DCH...and now i am waiting to see laks ..waiting to hear all the goodwill the film will create and then enjoy to the ...


Posted by Anu al arafath









Sub: Well Done farhan

Farhan has done a great job Directing this movie all the actors have done their part very well the conditions they worked in and the ...


Posted by Vanessa Anes






Disclaimer