Home > Movies > Interviews

The Rediff Interview / Sushant Singh

Sushant Singh: Lakshya is Hrithik's film!

Sukanya Verma | June 14, 2004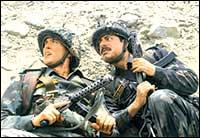 Sushant Singh has consciously tried to be part of unconventional films like Jungle, Kaun, The Legend Of Bhagat Singh, Darna Mana Hai, Samay: When Time Strikes and Matrubhoomi.
In his new film, Lakshya, directed by Farhan Akhtar, Sushant plays Captain Jalal Akbar whose wish Karan Shergill (played by Hrithik Roshan) strives to fulfil towards the end.

In conversation with Sukanya Verma, the actor recalls the tough times, the fun times and the inspiring times he experienced on the sets of Lakshya.
I play a Captain in the Indian army.
It [shooting for Lakshya] was a very good experience. It was the first time I visited Leh, which is at a pretty high altitude.
The movie was shot at Tanglang La Pass in Ladakh, above 17,000 feet. It is a beautiful place to shoot in. Fortunately or unfortunately, I wasn't [required] for that schedule. But I heard all the stories from the crew who went there [many cast and crew members fell ill and had to be hospitalised, including Akhtar]. It was pretty tough. 
 
Actors and crew members did faint and collapse during the making of the film. These things are expected at such high altitudes since oxygen levels are very, very low. For example, if there were too many takes for a shot that required light running, we had to use oxygen cylinders just to catch our breaths back.
 
There were tents erected in Tanglang La. At places where vehicles weren't allowed, donkeys were used. After the motorable road ended, it was an hour's trek [to the place where we had to shoot].
 
Once we were in Leh, we were in complete isolation. No mobile phones. After shooting, everyone would try and get in touch with their families in Mumbai. So there was always a big queue at the landline telephone. You had to wait hours to get your number connected. But it was good. You get tired of mobile phones. 
 
Leh, surprisingly, is quite a tourist spot. There are plenty of hotels and there is a big market. The locals are aware of Hindi films and actors. I thought no one would know me there. [But] somebody saw me and called out, "Dr Allan?" [his character's name in the Sony television serial, Dhadkan]. I was quite surprised.
 
[I found the] locals very friendly and aware of what's happening in the country. It's not like they are cut off [from the rest of the world]. There are flights operating in and out of Leh. Tourists are like a welcome sight for them [locals].
 
Back, to Lakshya, the battle sequences were shot during the nighttime. The temperatures would come down to -2 Celsius, -3 Celsius, -5 Celsius. We would be wearing thermals under our clothes. Even then, around 3 am, our fingers and toes would be completely numb. It was tough for everybody, not just for the actors, but the entire unit.
 
A lot of local labour was employed to carry our equipment. Mumbai guys would not have been able to carry such heavy lights and other equipment from one point to another.
 
Working with Farhan [Akhtar] was pretty good. Number one, we are in the same age group. So it is easier to connect. Second, he is hardworking. He is totally sorted out. There is no confusion. His script was ready. His storyboard was ready. His homework was up to the mark. That inspired me to give my best.
 
My [character's] interaction is mainly with Hrithik [Roshan]. We have become close buddies [during the making of Lakshya]. I did not have to interact much with Mr Bachchan [Amitabh Bachchan]. 
Hrithik is very clear-headed. He has no airs about his fame and position. He has experienced ups and downs, hits and flops. He had learnt positively from his experiences. He knows fame is shortlived. He works hard every day, for every scene. That's what I learnt from him and would like to emulate.
 
We had lots of fun on the sets of Lakshya. 
I remember there was a lot of traffic then -- it was the tourist season. There were many diesel cars — Toyota Qualises — in which tourists travelled. Hrithik and I would roll up our car windows and scream, "We came here hoping to breathe clean air. The diesel here pollutes the air more than Mumbai!" 
 
We would also play snooker when we were free. That was the main entertainment.
Once, we felt like having ice cream. Hrithik, Farhan, Sharad Kapoor and I took the car. There was no driver so I took the wheel. We had just finished shooting the convoy song [Kandhon se milte hain kandhe], which took three-four days.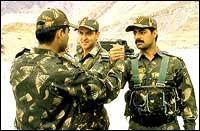 In the whole of Leh, we couldn't find a single shop selling ice cream. We drove 10 kilometres to some village. Even there, we couldn't find ice cream. People kept giving us wrong directions. Ultimately, next to our hotel, we found a small shop which had this softy machine. They didn't have any flavours [but vanilla].
So we crushed some chocolates and put them into the machine with the ice cream. And so we feasted on chocolate ice cream [smiles].
 
Lakshya is Hrithik's film. It is Hrithik's lakshya [goal]. All the other characters are there in the film to help find his lakshya. The war is the backdrop. The characters are army guys fighting for a cause. Lakshya isn't anti-Pakistan. Yes, it does have its share of patriotism, but it is not a jingoistic movie. 


What do you think about the story?








Read what others have to say:





Number of User Comments: 19








Sub: formal

hai hrithik, ur work is too good, excellent and ur dance is tremendous. ...


Posted by anshul saxena









Sub: Hritik is Energetic

Hritik is simply Elecrifying his presence will pull the crowd and i wish it to be a big hit another KNPH


Posted by HANU









Sub: lakshya

lakshya is not a film of Hritik rather it is a technical brilliance and background teshnology of F.Akthar's group.


Posted by sailen









Sub: Sushant...u have lot more to give us

He is very Honest and humble and this man will sure go places and prove to be one of the actors who will make our ...


Posted by Rao









Sub: indeed lakshay is hrithik's film.

i am a die hard fan of hrithik roshan! seriously he is so talented, and the song for MAIN AISAA KYOON HOON??? is ultimately choreograped ...


Posted by anna






Disclaimer