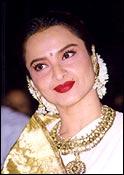 The world might know her as Rekha. But, according to the star, "I will always be Bhanurekha. Whatever she was, in me as a human being, she is still very much there. [She was] very shy. I would still like to believe it is true. [She was] a loner, which I am very much even now. I was never the kind of person who voiced my impressions or my feelings. I never told anybody what I feel. I still don't."
For someone so private, Rekha was candour personified on the 100th episode of Rendezvous With Simi Garewal aired on Sunday in India on the Star World television channel.
For perhaps the first time on air, Hindi cinema's diva spoke about her childhood, the absence of a father figure in her life, and her initial days in the Hindi film industry in the first of a two-part interview.
The actress, who turns 50 on October 10, turned up in a cream-and-gold brocade sari accompanied with matching kundan and gold jewellery.
According to Simi Garewal, this is Rekha's second television interview ever. The actress earlier gave an interview to Doordarshan's It's a Woman's World way back in 1984.
Calling her parents [actors] Gemini Ganesan and Pushpavalli's relationship 'romantic', Rekha said she never really missed her father since she was far too busy with her homework or wondering why her sister was so 'gori' [fair] and she so 'kaali' [dark].
At 13, Bhanurekha's dream of "getting married and spending the rest of my life with someone who truly, truly, truly cared for me and have children, lots and lots and lots of children", took a backseat when she dropped out of school to shoot in stuffy studios.
Yet there was no hint of bitterness. Thirty-five years, according to Rekha, is a lot of time to heal. "I don't feel the pinch or the sting now."
A casual question on the topic of her marriage to the late actor Vinod Mehra, though, showed the first dent in her composure. "Anybody can say anything," Rekha said. "I don't want to [talk about it]. It's not important. He [Mehra] was a well-wisher. He was close to me. He was very close to me."
And, finally, this is Rekha on relationships: "[For me, a relationship] was never spur-of-the-moment fun. It was always genuine, from my side at least."
The final part of the interview will be aired on June 13 at 2000 IST on Star World.