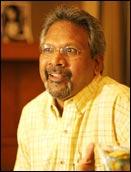 It must be a rare occasion when a filmmaker holds a press conference post the release of his film, to say that said film is not a flop.
Tuesday evening saw one such event, hosted by Mani Ratnam, arguably one of India's finest directors. For added emphasis, he was joined by stars of his latest film, Yuva: Abhishek Bachchan, Ajay Devgan, Vivek Oberoi, Kareena Kapoor and Rani Mukerji.
The agenda was simple. The refrain being: Yuva is doing well. It is not a flop. They do not agree with trade magazines and box-office reports that have declared Yuva a flop.
Read the trade verdict on Yuva!
Don't Miss: The Rediff Yuva Special!
Yuva released May 21. While most critics seem to have panned the film, Ratnam loyalists and fans and metro centre audiences seem to have loved the film.
Bachchan, who played the rogue Lallan Singh in Yuva, declared, "The Mumbai distributor of the film [Ramesh Sippy -- not the Sholay filmmaker, but actor Jeetendra's brother-in-law, and head of BRA Enterprises], told me he made Rs 3 crore [Rs 30 million] from Yuva. There must be some reason why he said that. So I don't agree with the statement that film is not doing well."
Devgan added: "I am here to say I have checked the collections and they are very good in Mumbai. The fact is, the film has done well in A class centres."
Ratnam had only one mantra: "Don't pre-judge the film," he tells Senior Assistant Editor Syed Firdaus Ashraf:
Is this press meet a damage control exercise?
(laughs) No, I don't think the damage is so severe. But now that we are here, we cannot leave without saying anything about the film. We are saying give the film a chance. The facts are there, figures are there, look at them.
What are the figures you have of the Yuva collections?
The distributors [of Yuva] are here. I have not come here with figures and facts. I have come here as a filmmaker. I don't carry figures with me. If I carry figures, I won't be able to carry scripts (laughs). 
I can say this film has done very well abroad. It is doing much better than other films in smaller towns.
You say the theatre collections of Yuva are good. Trade guides and box-office reports say Yuva is flop. These are contradictory facts. Are you questioning the trade industry process?
That is not for me to say. I have not looked at box-office figures in trade magazines. I don't follow them regularly. That is not my cup of tea. If they say the film is not doing well, we will give it some time. Wait and see for a week or so.
What is the research you have done to say the film has done well in A or B centres and the NRI market?
It is evident by the second week after the film's release how it has fared in the bigger and smaller areas. 
Have you called the trade journals to explain this?
I think the distributors will do that. This meeting is about a group of artistes and technicians who are meeting to say that we are happy with the film. We stand by the film. We are happy with the reaction of the audience.
Do you think there is a lobby working against Yuva?
I don't think so. I make one film in three, four years. Why or how would that matter to any lobby?
Would you cut the songs in Yuva -- filmmakers seem to do that after a film is labelled a flop.
No. If I had to cut the songs, I would have done so earlier.
Would you consider suing the trade magazines because this seems to have hurt your image and caused some financial loss to the film?
No, that cannot damage my image and money. A film is between you and the audience. The distributors are the ony people in between us. It is a straight equation.
But you say word-of-mouth about Yuva has been good?
That is what I am saying. People's reactions and word-of-mouth have been good. That is finally what matters for the film.
Yuva will sell. If you say the film is not doing well, that will counter the word-of-mouth. Give the film a chance.
What do you think has gone against the film when word-of mouth is good? What in your opinion has worked for the film? What hasn't?
Why do you assume anything has gone wrong? Nothing has gone against the film. Word-of-mouth is good. The film is good, so everything is okay.
It is also too early to analyse the film. If you ask a filmmaker to analyse his own film, it would take three or four years to do that, honestly. Because when you make a film, you have to be convinced about it. You are married to that film for a year.
I am very happy with the film. I am happy with the response I have got so far from the theatres.
I am glad that we can make bold films, different films within the commercial market and still do well.
How do you feel when people criticise your film?
You want to hit them first. (laughs).
After the anger has gone away, you try and find out whether there is a valid point in what they are saying. You know the ins and outs of your film. When I see a film, I have an opinion. Everybody has an opinion.
If you wanted to make a film the way you want, you go ahead and make it. I am here because I feel I can make a commercial film from my perspective.
Do you think the Hindi film industry needs a system whereby box-office figures come from one common source, not many?
I am not here to talk about trade guides and magazines.
All I have to say is, we will find out soon how the film has fared. Look at the film as a whole. I am not saying that because I am happy with what I have done. Look at the major areas and see how the film has done.
I am saying, don't pre-judge, don't anticipate that it will fall here and it will catch up in some other area. Facts are facts. Don't conclude in a hurry and hurt the film. This is an attempt to do something different that we believe in. Help it grow rather than kill it.
Do you think the Yuva trade status of 'flop' will change to 'average' or 'semi-hit'?
I hope it does not become a semi-hit (laughs). Why not a hit?
Reports say the Tamil version, Aayitha Ezhuthu, is not doing well either.
What can I say? If you have passed the verdict, why ask?
For myself, I am very happy with the results of both versions. The overseas results, everything has worked for the film.
When Dil Se.. did not do well at the box office, you accepted the verdict quietly. Why this hue and cry about Yuva?
I will accept the verdict of Yuva too. If it doesn't do well, there is nothing you can do. The only thing I am saying is, don't pre-judge the film.
Photograph: Jewella C Miranda