Home > Movies > Interviews

The Rediff Interview / Akshay Kumar

'Salman and I are like Tom & Jerry'

Subhash K Jha | July 30, 2004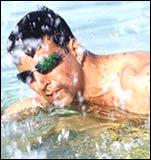 Akshay Kumar loves to make people laugh. His new film, Mujhse Shaadi Karogi, which opens today, allows him ample opportunity to do just that.
Directed by David Dhawan, and co-starring Salman Khan and Priyanka Chopra, the comedy turned out to be quite a 'fun' experience for the star. Reason: the actor 'got along like a house on fire' with Khan and shares a 'great working relationship' with Chopra.
Excerpts from a conversation with Subhash K Jha:
Mujhse Shaadi Karogi is looking more exciting than your other recent releases.
That is terrible! You are making my other films look bad. I am equally proud of all my films.
| | |
| --- | --- |
| | Don't miss! |
| | |
If Khakee or Aan didn't work that well, it didn't mean they were bad films. There could be various reasons for failure. Like too many films on the same theme, or wrong [timing of] release.

In Mujhse Shaadi Karogi, everything seems perfect, especially the chemistry between Salman and me. We are together for the first time. The audiences should find our combination interesting. I enjoyed shooting with Salman. Let's hope the audience feels the same way.

Was Salman Khan a difficult co-star at any time?

Not at all. After being warned about how difficult he was, I was on my guard. Let us not forget, Salman has repeatedly worked with [producer] Sajid Nadiadwala and [director] David Dhawan. I could have been the odd one out. But Salman and I got along like a house on fire from day one. I had a great time working with him.

In the script, we had our own individual space and purpose. He never once interfered with my scenes or dialogues, or muscle into my character.

Do you enjoy doing comedy?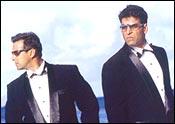 Oh yes! I love a joke, especially when it is on me. Even my most critically acclaimed performance in Khakee was a comic role.
I love making people laugh all the time. Whether it is Awara Paagal Deewana or Hera Pheri, I have always enjoyed doing comedies. One of my favourite films is Mr & Mrs Khiladi. And it was directed by David [Dhawan].
I did Mujhse Shaadi Karogi with a very positive attitude. If I didn't keep an open mind I wouldn't be able to perform properly.
I have never believed in being part of any one group or camp. People wonder how I could be so comfortable in a set-up where the director and my co-star [David Dhawan and Salman Khan] were such close friends. Honestly, not even for a second did I feel I was the outsider. I was very happy with my role.
How would you describe your role in Mujhse Shaadi Karogi?
If you believe in astrology, then I play shani [problem]. I create all kinds of problems in Salman's life. Come to think of it, we are like Tom and Jerry in the film. I harass him all the time. We may argue throughout the film. But [offscreen] we were so comfortable as actors. If Mujhse Shaadi Karogi clicks, I will have another male co-star to work with. In other films I made such a hit jodi [pair] with Suniel [Shetty] and Saif [Ali Khan]. Likewise, there is something special about me and Salman.
How do you react to all the gossip linking you with co-star Priyanka Chopra?
We made a successful pair in Andaaz. So we signed some more films together. Beyond that, let us not read meanings into our working relationship. I have a beautiful wife [Twinkle Khanna] and a lovely son [Araav]. I don't want to think about anything except my work.
Priyanka is a very hardworking co-star. In Mujhse Shaadi Karogi she has done a wonderful job. We are also doing Vipul Shah's Waqt, Abbas-Mustan's Aetraaz, and Suneel Darshan's Barsaat. She plays contrasting roles in Mujhse Shaadi Karogi and Aetraaz.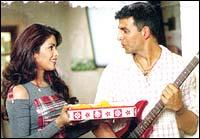 Could you elaborate on that?
Aetraaz is based on the life of [American] basketball player Kobe Bryant. He was sued for sexual harassment. This film is going to create a new kind of mainstream genre.
Earlier I had done a film on another bold theme, wife-swapping, with the same director duo, Abbas-Mustan. I even won my first award [Filmfare award for Best Actor in a Negative Role] for it. Priyanka and I will shock audiences in Aetraaz.
For now we are very comfortable in a nice, wholesome family film like Mujhse Shaadi Karogi. It's paisa vasool.


What do you think about the story?








Read what others have to say:





Number of User Comments: 6








Sub: hai

u are the cool guy in that movie[msk]. the film which u have done all are good.wish u a happy succes in life.


Posted by rashmiprakash









Sub: Hilarious Movie, Great Comedy Performances

Akshay was hilarious in this movie. Salman Khan, Priyanka Chopra and Amrish Puri were more the straight men, but also funny. I loved Akshay's roguish ...


Posted by sanman









Sub: Akshay Kumar

Akshay Kumar had his best friend Melwyn whatever happned to him and where is he now. Are they still friends


Posted by Prakash









Sub: Akshay friend

Is Aksay Kumar real name Rajiv Bhatia


Posted by Brian









Sub: hi akshay

u did a wonderful job in mujhse shaadi karogi. i loved it very much. i watched first day first show of this movie.salman and priyanka's ...


Posted by sneha






Disclaimer