Home > Movies > Interviews

The Rediff Interview / Director Ramana

'I am sorry I sold the artiste in me'

Shobha Warrier | July 15, 2004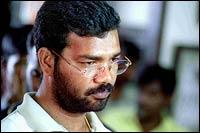 One of the most eagerly awaited Tamil films, Sullan, will release on July 16. It stars Dhanush.
After registering a hat-trick of successes, Dhanush had a bad release at the box office, Puthukkottayilirundu Saravanan, but everybody seems to have forgotten that.
Sullan is directed by Ramana, who has had a huge hit in the Vijay-starrer Thirumalai. The Ramana-Dhanush combination is deadly at the box office.
Sullan is an out-and-out commercial film, admits Ramana, who deep within him cherishes the dreams of making 'meaningful' films. In this interview, he comes out frank and honest.
| | |
| --- | --- |
| | More on rediff.com! |
| | |
Your first film, Thirumalai, was a hit. Your second film with Dhanush is ready for release. Are you nervous because of the high expectations?
Of course I am nervous! If you are as passionate as I am about films, you would be. I look at every film of mine as my first. I think all film directors feel the same.
I am happy that expectations are high. It is eagerly awaited not only in Tamil Nadu, but also in Andhra Pradesh. I have already got several offers to remake the film in Telugu.
I am giving a change of image to Dhanush in the film; he is an action hero for the first time in his career. I am making an action hero of a puny boy.
What made you choose Dhanush?
Dhanush is different from others because there is a vibrant energy in him. He appears forceful on screen. In fact, even in real life he is forceful. He has the fire in him to be an action hero. In my film, he has so much fire that if you touch him, you will burn!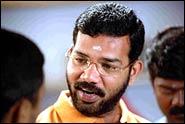 Did you include commercial elements in Sullan to make it a box-office success like Thirumalai?
Commercial filmmakers like Dharani, Lingusamy, Hari, and me are always under pressure, as producers invest more in our films. We are offered a minimum budget of Rs 7 crore for a film. Then distributors buy the film for nearly Rs 10 crore. That is not a small amount. It is our responsibility to see that the producer gets his money back. So we write the script in such a way that all types of audience are satisfied. The producers want us to make films of this nature.
Is it only to make money at the box office that you make films?
I will tell you what exactly has happened to filmmakers like Dharani, Lingusamy, Hari, and me. We were serious filmmakers; we looked at cinema as a serious medium. This is not the image we wanted. These are not the kind of films we wanted to make.
I had penned scripts like Kaargalam, Vannam, and Kalasu with few characters, and I ran behind producers with them. But nobody wants to make such films. Then comes the question of survival. We are married with kids. We have our parents to take care of. The first week of every month used to be hell. There was no money to pay the bills, the rent, the fees, etc. All we wanted was just Rs 5,000 a month, but that too eluded us. How long could we survive?
So it was purely for survival that you made a film like

Thirumalai, and now Sullan?
Yes. I have put a mask on my face and said, this is what I am, a commercial filmmaker. You wouldn't believe it, but the way people look at us is different now. There's a lot more respect.
Does it make you feel bad that there's a big difference between the filmmaker you wanted to be and the filmmaker you have become?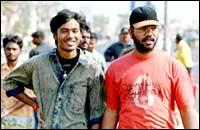 Yes. But I have a mother, a wife, and a kid to take care of. If I was alone, I would have struggled for some more years, waited for the real break. But with a family to take care of, it is not easy.
One day, my wife asked me, 'Are you trying to build a Taj Mahal on our graves?' It shook me. I could not sleep for days.
There are people like Bala and Cheran who are courageous enough to go ahead with what they believe in. I appreciate and admire their courage. They are my close friends and are known as serious filmmakers. But I am a commercial filmmaker.
When you approached the producers with a commercial story idea, did they lap it up immediately?
That is exactly what happened. I wanted to test my ability in creating a script with all the commercial elements in it. The moment I narrated the idea to a producer, he was very excited. He said this was what he wanted.
The producers were happy, but I was not. I felt I could have done this many years ago.
Were you not selling the artiste in you?
Yes. That's what I did. I apologise for that.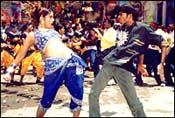 The moment

Thirumalai hit the screens, did your life change?
In a week, my entire lifestyle changed. A Ford Ikon car replaced my second-hand Hero Honda Splendor bike. From having food from an Udipi hotel, I have a Club card from Sheraton and the Taj. I bought a three bedroom deluxe flat for Rs 30,00,000. After 10 days, I asked myself, is this the real me?
Were you happy with those material possessions?
No. All I needed was a small house, and a vehicle to move from one place to another. Not a luxury car.
What I am going to do now is, for one more year, I will make commercial films and then, make only films that I like.
But after each success, people will flood you with more and more money. Aren't you in a trap?
That's what [noted cinematographer] K V Anand and Cheran tell me. They tell me, you are trapped. You cannot come out. I have commitments up to 2006. I am making a film with Vijay, and then with Jayam Ravi and Trisha Krishnan for S P Balasubramanyam Sir.
That's why I have started my own production house. From there, I will only make films that I want to make, the ones that I believe in.
Click here for
More Interviews


What do you think about the story?








Read what others have to say:





Number of User Comments: 2








Sub: film making is money making

ya i just read this articale.Ramana congrads u got all u like.but u dont have place in cinema industry .many comercial directors now in home ...


Posted by udhaya









Sub: Reg: I sold the artiste in me

Its an excellent article. Kudos to the director for his straight forward reply. Hope one day we will all see him making "Meaningfull" films. I ...


Posted by Kishore






Disclaimer