Home > Movies > PTI

Naseer: Enough of Bollywood!

PTI | July 13, 2004 18:25 IST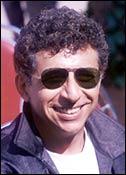 After giving meritorious performances in about 150 movies, Naseeruddin Shah, a name synonymous with meaningful cinema, has had enough of Bollywood. Shah, however, said he will never quit acting and will continue to live his passion through theatre.
The actor, who was recently in New Delhi to perform his highly acclaimed plays, Ismat Apa Ke Naam and Dear Liar, said he has lost interest in Hindi movies. "I will continue to do theatre lifelong," he said. "Hollywood movies fall in my lap at times. I can't say about Bollywood. Mera dil bhar gaya hai [I have had my fill].
Shah will be doing only a few Hindi movies. Among them is Asambhav, co-starring Arjun Rampal and Priyanka Chopra, which is slated for an August release. "Asambhav is a regular commercial movie," he said. "But apart from Asambhav I am working in non-commercial movies like The Great New Wonderful and a couple of other projects."
On why performances like Sparsh and Albert Pinto Ko Gussa Kyon Aata Hai are becoming sparse and he had switched over to commercial movies like Main Hoon Na, he said, "Art of meaningful cinema has dwindled because those film-makers have abandoned the cause and jumped on to the common bandwagon."
The actor, however, believes that all is not lost yet and commends the work done by some young film-makers who have dared to be different and yet appealed to the audiences.
"A different breed of film-makers is coming up who are making movies in which the audience can relate to the protagonist," he said. "This protagonist who speaks 'Hinglish' is much more close to them."
But Shah said no labels should be stuck on these film-makers. "One should desist from attaching labels like parallel wave or new wave to cinema," he said. "The media should refrain from statements like, 'we are witnessing another movement'."
Shah is working on his new production Katha Collage comprising three plays, two of them based on stories by the legendary writer Munshi Premchand. More often than not, his plays are based on stories that were written long ago. Shah's reasoning is that there are very few modern Indian playwrights. "Mostly they ape the Western writers," he said, "while there is a wealth of literature available in Hindi and Hindustani languages. The younger generation is totally unaware of this treasure and when they watch these plays they are surprised to know the depth of Indian literature. Paradoxically it is the younger generation, mostly students, who come to watch these plays."
Rumours have been rife that Shah will also be directing a movie. Dismissing these reports as 'premature', he acknowledged that he is planning to direct a film, but said he has "not been able to raise finance for it as it is not a commercial movie".
Is he satisfied with his career? "I am happy with the path my career has taken," he said. Success has changed him as well. "Of course, acceptance leads to better performance." Had he not been a successful actor, Shah revealed, he would have wanted to make a living through cricket. "But eventually I realised I was not good enough for that," he laughed.
On a more serious note, he said, "I don't know what I would have become. One thing is for sure: had I not been a successful actor, I would have remained an unsuccessful actor forever."
© Copyright 2005 PTI. All rights reserved. Republication or redistribution of PTI content, including by framing or similar means, is expressly prohibited without the prior written consent.



What do you think about the story?








Read what others have to say:





Number of User Comments: 2








Sub: Naseer bahi is biggest actor in Bollywod

Naseer is my favirate actor in handi-cinema.Naseer bahi film such as morra is super duper hit .Naseer bahi acting is very very good as compair ...


Posted by sohil









Sub: nasser u r great

Naser bhai, u are one among the few actors in HINDI CINEMA can go parllel to the world class. and belive me you are the ...


Posted by Razi Anwer






Disclaimer