Home > Movies > Bollywood News

'Pooja screamed so much!'

Ronjita Kulkarni | January 30, 2004 08:00 IST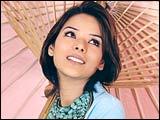 "Why is Pooja Bhatt screaming at me so much?"
That was Udita Goswami's constant grouse on the sets of her debut film, Paap.
The Dehra Dun girl who came to Mumbai to pursue a film career, seems to have had a rough time during the shooting. Director Pooja Bhatt was not the only reason.
Kaza, a remote village in Spiti, Himachal Pradesh, where a large portion of the film was shot, did not have television or telephones. The days were extremely hot, making shooting a tiring affair. And the nights were very cold.
"We would kill time playing cards, Uno and chess. Of course, I always lost in chess because I do not know the game," Udita says. "Sightseeing was out of the question -- we worked very hard in the sweltering heat. The locals were shocked to see an entire film unit shifting to Kaza for a month to shoot a movie -- it is so remote. Only National Geographic and Discovery channels had visited the place before us. The hotel where we stayed at was tiny. There was just one dining room and everyone had to eat together."
| | |
| --- | --- |
| | More on Paap! |
| | |
Udita says she saw the bluest skies in Kaza. "I've never seen such blue skies in my life! In the night, there were so many stars. We kept seeing shooting stars. That was another pastime. All of us -- from the makeup man to the associate directors -- would go to the terrace and wish every time we saw a shooting star. The location looks even better on film," she exclaims.

Udita, who turns 21 on February 9, had initially shifted to Delhi to pursue a modelling career. She sent some pictures for the MTV model hunt and won it. She even appeared on the cover of Elle when she was barely 17.

After readying a portfolio made by Farrokh Chotia, Udita was set. "I never had to struggle because MTV and Elle happened as soon as I reached Delhi," she says.

Udita claims she had always wanted to pursue glamour. So when Pooja Bhatt called her after seeing her cover picture in Elle, Udita agreed instantly. "Films were a natural step after modelling," she says. "I had always wanted to do films. I could not refuse Pooja Bhatt's banner, which had just given a hit like Jism. Besides, the fact that she was directing the film was a bonus. When she narrated the story, I thought it was best for me. It revolves around my character."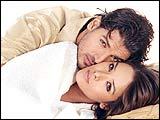 She bagged the role at their second meeting. "Pooja is a very talented director. She is very clear. I hope Paap does well because I know how much she has put in to make it work. She is very headstrong and strict. She would push me to the extreme to get a better scene. If I have to do it, I have to. There was no escaping. She would not allow a mediocre performance. She would go for many retakes. Only when she got the best out of you, would she leave you.
"I wondered why this was happening to me. She said she did not want to waste her time and mine, but she knew I could do better. I have just started as an actress. I didn't know to what extent I could perform. But she had seen something in me," Udita says.
"At times, I would feel bad. Now, when people appreciate my work, I feel it was good that she screamed at me. At the time, she would tell me she was doing this for me, that I was the one who would get the praise, films and money. But I did not realise it then. I was too traumatised!" Udita laughs.
Paap, which also features John Abraham, is about a small-town girl Kaaya, played by Udita. Her father (Mohan Agashe), a deeply religious Buddhist, wants her to follow a spiritual path so that she would have a good rebirth.
But Kaaya has her secret desires too. She sneaks out and writes poetry or goes swimming. On a chance visit to Delhi, she meets John, a man with modern views. The two fall in love. Now, Kaaya has to make a difficult choice: should she follow the spiritual path laid down by her father or the love of her life?
Udita has modelled for a few fashion shows with John. "John is not a star son," she says. "He does not have a filmi background and did not go for any acting classes. Still, he is a great actor. We come from the same field. So I thought if he can do it, why can't I?" she says.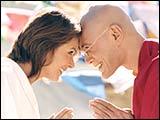 Udita insists that Paap is no Jism, where the raunchy Bipasha Basu seduced John. "This is no Jism 2. But you will see a reflection of Jism. It's a basic love story treated differently. Falling in love is a paap for this girl. So there is no question of anything happening further. Yes, there is a scene in the film, but one sees that in almost every film. Just because it is a Pooja Bhatt film, people expect 'more'. But there is none of that," she says.
To prove her point, she claims that she wears flowing robes through most of the film. "I wear beautiful robes in whites, blues, maroons and reds. There is no skin show. The clothes are such that without showing any skin, you will get everyone's attention."
She switches gears. "I hate waking up in the morning for shootings! For Paap, I had to wake up at 4 am in the biting cold. I used to hate putting makeup that early. Gradually, I got the hang of it. Now, I can even take the six 'o' clock morning flight easily!"
Even as her life changed after she entered the film industry ('People treat me like a star even though my film is not out yet!'), Udita continues her education. "I'm doing graduation in the Arts stream by correspondence. I miss college sometimes. I've never interacted with collegians, only with older people. I think I'm more mature than students. Some of them still take pocket money! But I don't mind [not going to college]. You win some, you lose some," she says.
Udita claims she will stay away from item numbers. "I will not do item numbers now. Later, if I become a star, I might. But not because of scarcity of roles. I will do them only if my song is the highlight of the film. Girls like Yana Gupta and Isha Koppikar started their careers with item songs and they made it. There are too many now."
Personal touch:
# I love spicy Thai and Indian food. I can't have food without ketchup. I have it even with my rice and dal. In fact, my friends call me Ketchup. They've even listed me as Ketchup on their cell phones!
# In between shots, I would sit in my makeup van and listen to music. Sometimes, my hairstylist and me would sip tea and discuss that day's work, what we liked or didn't like.
# The one thing I love about films is the whole process of filmmaking. There is so much detailing that goes in. After retiring, there are so many jobs one can go for because you have the experience by then. After modelling, I've learnt so much about dressing up that I can start my own clothesline, if I want. With films, there's so much more.
# I like to watch romantic, emotional and comedy films. I love all Paresh Rawal films. Shah Rukh Khan is a great romantic hero. But I don't like thrillers.

Click here for More Features


What do you think about the story?








Read what others have to say:





Number of User Comments: 2








Sub: General observation

Hey nice article.. I'm actually looking forward to the movie after this


Posted by anetra









Sub: hi

pooja really made a good film. in this film she has utilised the success of jism. all the best pooja. hope 2 make this type ...


Posted by ansuman nanda






Disclaimer