Home > Movies > Bollywood News

'There is nothing wrong in being sexy'

Syed Firdaus Ashraf | January 21, 2004 07:34 IST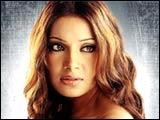 What does one do when the whole world labels you a sexy heroine?

"Nothing," Bipasha Basu says, in a matter-of-fact tone. "I have realised that once you get an image in the film industry, you cannot change it. But there is nothing wrong in being sexy. There has to be something sexy in every person, for someone to be attracted to you. People have the power of pen and they can write what they want. Journalists will write and readers will read. I cannot do anything about it [the sexy image].


| | |
| --- | --- |
| | Also Read |
| | |
"I have played an air hostess, a scientist and a simple girl, but I found it very difficult to break my sexy image. Now I don't want to break that image because I am not losing anything at the end of the day. I get all the roles I have ever wanted," she smiles.

The actress claims she is content and is happy to achieve whatever she has so far. "I was happy five years ago and still am. But yes, if they [the media] write anything against my parents, I would be very upset. I would see that the person does not get away easily after writing those lies."

Bipasha's latest film Aetbaar, directed by Vikram Bhatt, will release on January 23. She is upbeat about the film and claims that she was happy working with Amitabh Bachchan and John Abraham in the film. "I cannot comment on Amitabh Bachchan, as I am no one when you compare my life to his. I cannot judge nor do I have his capability. The only thing I can say is that he is a very easy person to work with. We all had a great time," she says.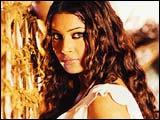 Aetbaar is the second film in which Bips, as she is fondly called, co-stars with real-life beau John. The first was the surprise hit Jism, which released early last year. "John and I are good friends and have a cordial working relationship," Bipasha claims. "This gives me a comfort level while working with him. If you ask me to rate him as an actor, I will give him a 9 out of 10." The couple will be seen once again in Tanveer Khan's Mumkin.

In her short yet successful film career, Bipasha has rarely worked with the big stars and big banners. When asked about this, she says, "Those do not matter to me. I follow scripts while signing a film. I pay attention to the fact that my character gets importance in the film. My films' budgets are between Rs 12 crore (Rs 120 million) and Rs 15 crore (Rs 150 million). And I don't think that's less money. Besides, if you spend Rs 35-40 crore (Rs 350-400 million) in a film and do not recover it, it is a huge loss for everyone. So I love small budget films. If I had been a businesswoman, I would make small budget films where the production levels would be high and close to my heart.

"Besides, to be successful, one needs to be content in life. Today, if I want to be Aishwarya Rai, I cannot be her. The same stands true for Aishwarya [to be Bipasha]," says the actress.

The fact that Bipasha's Jism fared better than Ash's debut production Dil Ka Rishtaa last year does not matter to Bips. "I don't want to give any controversial statement. I don't feel good if any film flops. I, too, have had a lot of flops. When you compare Jism with Dil Ka Rishtaa, I feel our story was better than Dil Ka Rishtaa and that is why it worked. There was emotional content in the film. I was the conniving heroine. Nobody had seen that before. People had seen only the niceness of heroines. So we had something new to offer and the audience loved it."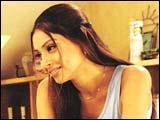 Bips claims that she will not go the Karisma Kapoor way yet and get married. "I am very young now, compared to other heroines. I have been in the industry for only two years. I enjoy doing films. If I decide to get married, I will tell everyone. I have no regrets. Marriage is good. I completely believe in it," she says.

Bipasha says she associates most with her role in Yash Chopra's Mere Yaar Ki Shaadi Hai. "Though I can relate to that character, I don't like to play that role. I don't want to be myself on screen. It is easy to act what you are but very difficult to act what you are not," she says.

She reveals a plan she has been nurturing: she would like to open a restaurant. "I also want to open a shop selling household goods. But it would be a simple home store, not very fancy and expensive. And I want to be married with kids in a great house!"

Click here for More Features





What do you think about the story?








Read what others have to say:





Number of User Comments: 3








Sub: i don't think Bips is sexy!

Bips is not sexy she is sensous. And just incredibly beautiful, educated, articulate and has an almost overpowering screen persona. Its starlets and wannabe actresses ...


Posted by prabal









Sub: hi bips

hi bips everything bot u is good but ur kind of acting in every film is almost the same not much of change of expression ...


Posted by sweetie









Sub: Lecherous icon of the century

Bips is rather personal in her statements about being a sexy heroine. Honestly is it the reality. Well if one were to understand what really ...


Posted by N.D.Raghupati Rao






Disclaimer