Home > Movies > Interviews

The Rediff Interview / Bobby Deol

'I am not signing any films!'

December 22, 2004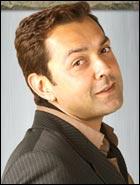 Bobby Deol made his debut in 1995, in Barsaat. Nearly a decade down the line, he hasn't done more than 20 films.
"I am choosy and don't want to do a film that is not worth it. I don't want to regret doing a bad film at a later stage of my life," Bobby told News Editor (Entertainment), Syed Firdaus Ashraf.
What is your role in Ab Tumhare Hawale Watan Saathiyon?
It is the story of a man who has his own ideas about life. It is about his relationship with his grandfather. There is a conflict between their ideas. My character then understands ;how you have to grow and take responsible decisions in life.
Is it true that you have a double role in the film?
You cannot call it a double role. I am playing my own father, but father and son never meet in the film. We are never in the single frame together. So I don't call it a double role (smiles). 
| | |
| --- | --- |
| | More on rediff.com! |
| | |
Is this an pro-Pakistani film?
It is not a war film. It just shows how India-Pakistan relations have proceeded since 1971.
The film moves towards a message. It tries to answer questions like, 'Hey, look, why are we fighting? We should fight those who create a rift between the two countries.'
Can we say your brother Sunny did anti-Pakistan film like Gadar while you are doing a pro-Pakistan film?
I don't think Gadar was an anti-Pakistan film. It was not about India and Pakistan. It was about a man who loved his wife. The man fought the family of that woman. Gadar showed lot of people in Pakistan who favoured Indians.
But the media made the film anti-Pakistan. The pen is very mighty. It can make anything bad or good. You cannot argue with the media.
Have you taken a backseat, of late, in films?
Definitely. I am not signing any films. I don't want to do just anything on screen, and get frustrated watching myself in a film. Sometimes you have to take chances. That is what I am doing. Anyway, I have not done many films so far in life. I am doing more limited films than I used to do.
Don't you feel you will be out of sight and out of mind for audiences?
I don't know. People say distance makes the heart grow fonder.
No one knows the future. Only the right films work. I am listening to lot of scripts but I am not comfortable doing them. My dad, Sunny bhaiya and I want to do a film together for a long time but we are not getting the right script.
Your cousin Abhay has also joined the industry.
Abhay Deol is my chacha's son. He is doing a love story about confusion in love. It is a lighthearted emotional love story called Socha Na Tha.
Everybody has done a good job in the film. Ayesha Takia, the girl who acted in Taarzan, is the heroine and has also done a good job.
Are you comfortable in romantic roles?
I have done both action and romance, so there is no big deal. One has to do both to survive.
But don't your fans prefer you in action roles?
I don't think so. Audiences are changing and they accept new things from every actor. Nowadays, people want to identify with your character in the film. I think that is important.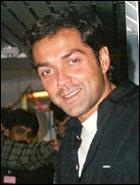 What is the status of your film, Jurm?
It might release in early 2005.
We three school friends are making this film. Ashish Singh is the producer, Vikram Bhatt is the director and I am the actor. We had made a small film, Manav, when we were in school. Vikram directed it and Atull Agnihotri (actor turned director) played my father. Ashish was also one of the actors in the film. I am too embarrassed to see that film now! It was a Godfather kind of a film. It was a serious film, but now when I see it, it looks very funny!
What next?
I am busy with my film Barsaat.
This is the film directed by Suneel Darshan...
This is a different Barsaat compared to my debut Barsaat with Twinkle Khanna. The only common factor is Nadeem-Shravan's music.
In the new Barsaat, I play an ambitious character. I am an engineer and want to achieve everything in life. It also highlights the issue on how human being should never forget their roots when they grow in life.
Why the name Barsaat again?
I asked the same question to Suneel Darshan. You must ask him this question!
Is it true Akshay Kumar was supposed to do Barsaat?
Yes. I was to do another film with Suneel, and Akshay was to do Barsaat. But Akshay's dates were clashing and he could not do it. Akshay is a friend and we sat together and decided that I would do Barsaat.
Akshay and I will do a film together later, called Dosti.
Do you still work out?
My father and brother always forced me to work out and I never liked doing it. Now, I have grown up so they don't force me. But I work out whenever I can (laughs).
How far does your father advise you in life?
What I am today in life is because of him. I am very blessed to have a father like him. Whenever I need anything from him, I ask him. He is always there for me.
Have you achieved everything in life?
I have got two sons and a great family. I am also doing films. Life is really good for me.


What do you think about the story?








Read what others have to say:





Number of User Comments: 5








Sub: bobby

hej, iam from Europa. iam you'r new fan after Barsaat and Dosti you are greet keep it.you are the best


Posted by bardia









Sub: Amazin g actor

Hello Bobby incaseif u get this msg You are amazing actor .but u are very stiff on your dancing .Improve on those .I love to ...


Posted by Rupa









Sub: bobby is wonderful

i like bobby very much his personality his acting and everything regarding him.i like this article also .


Posted by saman









Sub: Very choosy about his films, IS HE

Unlike Dharmendra or Sunny Deol, Bobby was never really good in any kind of a role. He did not have the screen presense, or the ...


Posted by sreedhar b









Sub: The Family

When I heard that a film "Family" has gone on the floors, i could just imagine Dharam Ji, Sunny and Bobby acting in the film. ...


Posted by Pooja






Disclaimer