Home > Movies > Southern Spice

Actor Vikram's new post!

Poornima | December 20, 2004 20:21 IST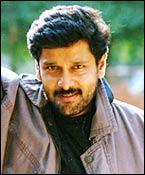 Last week, National Award winner Vikram took time off from the shooting of Shankar's Anniyan, and paid a visit to Vidya Sudha, a learning centre for children with special needs.
Vidya Sudha is an initiative of the Sri Ramachandra Medical College in Chennai, and is located within the medical college premises.
| | |
| --- | --- |
| | More on rediff.com! |
| | |
The school is for children aged below five. With one teacher for every three students, it functions on a philanthropic model relying mainly on sponsors.

At the press conference, after inaugurating the school, Vikram said, "Every individual should sponsor such children." He has volunteered to adopt one such child.

Appreciating Vikram's involvement with such children, the school made him their Goodwill Ambassador.

Chellamay completes 100 days

Nobody expected Chellamay, starring Reema Sen, Bharath from Shankar's Boys and newcomer Vishal, to do well at the box-office.

Besides, when was the last time that a film with a female protagonist did well at the box-office? And Reema Sen is no Simran or Jyothika, two of the current top ranking heroines.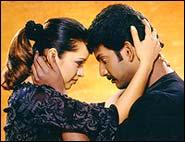 But Chellamay, directed by the little-known A R Gandhi Krishna, surprised all. The film has shades of the Shah Rukh Khan-starrer Darr in it. But here, the obsessive lover is a teenager (played by Bharath).
Music by Harris Jayaraj, though not as exciting as his earlier Kaakka Kaakka, grew on people. Lovely picturisations have also made the songs popular.
Bharath as hero in Kaathal
While his Chellamay is completing 100 days, Bharath's new film Kaathal has just been released to much appreciation.
Kaathal is the first production under Shankar's S Pictures banner, and is directed by Balaji Sakthivel, his former assistant. Balaji's last film was Samurai, an action film with Vikram. Acting opposite Bharath is newcomer Sandhya.
There may be nothing 'new' in this tragic love story between a motor mechanic and a 12th standard student, but the film seems to really touch the heart.
Parthipan in Raudy and Ade
Producer-director-actor Parthipan loves to experiment. Unfortunately, the experiments crash at the box-office. The latest on the list is Kudakkul Mazhai.
After this debacle, he has decided to act in two commercial films so that he would have enough finance to make the films he believes in.
Those who went for the launch of Raudy and Ade were initially shocked to see kids dressed up as drunkards and thieves and ushering in the guests at the launch function with knives pointed at them. It was a novel gimmick purely for shock value.
Industry angry with Satyaraj's latest film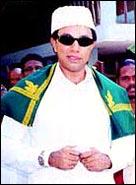 Satyaraj's latest film Mahanadigan has irked those in the film industry with political ambitions, as the film pokes fun at them. The artistes association, the Nadigar Sangham, has come out openly against Satyaraj. Its president Vijayakanth and general secretary Sarath Kumar, a DMK MP, have also expressed their anger.
Directed by Sakthi Chidambaram, the film is about a man who enters politics through films.
Though the film claims that the characters are fictional, it bears resemblance to many, both dead and living. It is a light-hearted satire on the film industry and its nexus with politics, and the caricatures are quite hilarious.
Meanwhile, Satyaraj has expressed shock over the reaction of some of his colleagues. He said the film was not intended to hurt anyone, and that it was a satire. Those in the film industry might not have enjoyed the film, the public sure seemed to enjoy every minute of it!


What do you think about the story?








Read what others have to say:





Number of User Comments: 6








Sub: a message to vikram

hi vikram, u may have many fans now as u are established.but iam ur fan right from the time when u was not successful.iam from ...


Posted by meera









Sub: something to tell u

Hi vikram . do u know that i have started likeng u more after i watched the movie Anniyan?? I really wish i could share ...


Posted by nadera









Sub: hi dear

hi viki, i like you very much because my boyfriend likes you da he is a big fan of you he never miss your movies ...


Posted by aruna kumari









Sub: hai

Hai Vikram, I am from tanjore, I watch all the movie of yours, My wife is also an ardent fan of yours. The film Dhool ...


Posted by murali









Sub: Reg vikrams new post

Actors should do some social work like this. hats off to vikram.


Posted by chami






Disclaimer