Home > Movies > Bollywood News

'I hope I get some good films'

Syed Firdaus Ashraf | August 25, 2004 14:00 IST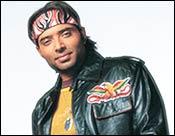 Unlike his costar John Abraham, Uday Chopra did not have a passion for bikes. But Dhoom changed that.
"I simply love them now! We have a lot of bike stunts in the film, and I have fallen in love with motorcycles," Uday says.

Uday plays Ali, a motor mechanic, in Sanjay Gadhvi's Dhoom. He helps a policeman (played by Abhishek Bachchan) to chase a gang of robbers, led by John Abraham, who travel in racer bikes.
| | |
| --- | --- |
| | More on rediff.com! |
| | |
"I play a Bambaiya tapori," Uday elaborates. "A fun loving person, who does not take life seriously. Though we had a lot of bike stunts, there were no accidents. We were very lucky."

When asked why he's always a part of two-hero films, Uday sounds philosophical: "I guess I get only those kinds of roles. I do not get interesting scripts for single heroes. People feel that I am happy in two-hero films! But I don't mind it if the script is good."

Uday loves doing action films, even though he barely gets any. "I have done action films like Haasil and Supari. But at the moment, I am offered only comedy roles. My face and my screen presence gives me an edge for comedy, so people offer me those kinds of roles. My face looks witty and comedy is second nature to me. I guess audiences like me in those kind of roles. I want to do intense action roles but no one is offering me those," he says.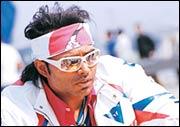 The film has Esha Deol playing his love interest. Rimii plays Abhishek's wife.

"Dhoom is a very different kind of film. Audiences will be surprised to see the characters in this film," says Uday, who claims to be a laid back person in real life. "I enjoyed the song Dilbara. [Music director] Pritam has given great music."

Unlike his father Yash Chopra and brother Aditya Chopra, Uday does not have any immediate plans of turning director. "No way! I have not thought about that yet. As a child, I always wanted to be an actor. I have done drama in school and college. Acting has always been a part of my life. I always wanted to make a career out of acting. I don't know if direction will happen in the future."

"I hope I get some good films, yaar," Uday says. "I don't know what the future holds and what I will do next year. Right now, I only want Dhoom to succeed."

Dhoom will release on August 27.





What do you think about the story?








Read what others have to say:





Number of User Comments: 3








Sub: massage

hi u r so cute looking very joolious. u smile too beautiful . i see in u r face "masumiat".


Posted by neetu shukla









Sub: hi

u look so bore in comedy.Comedies didnot match to u mohabbetain ur character is good.


Posted by anu









Sub: ruf and tuf

ur looking very ruf and tuf in the movie dhoom , particurly when ur riding the bike, and at backseat with abishek, donot do comic ...


Posted by syed






Disclaimer