Home > Movies > Bollywood News

KBC will not be revived yet

Subhash K Jha | August 24, 2004 17:12 IST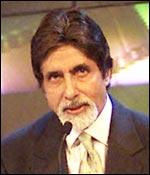 A

mitabh Bachchan woke up on Tuesday morning to discover newspapers informing him that the trend-setting, fortune-turning game show Kaun Banega Crorepati -- that made Star Plus the number one television channel overnight and resurrected his career -- was going to be revived.

"That was news to me," he laughs. "KBC being revived? Hmm. Not a bad idea. But how come I haven't been told about it?"

"There has been no communication to this effect from [Star India Chief Operating Officer] Sameer Nair, who has been coordinating the show since it was aired. Of course, I am committed to Star Plus to do a certain number of episodes of KBC. But how, when and where will depend on mutual convenience. They cannot just announce the date. We have to sit down and work out the new schedules according to my film shootings," says Bachchan.

So how did the story of KBC's revival get out?

Apparently, when Ekta Kapoor's new television serial Karm was launched on August 23, the producer failed to make an appearance. Ekta was down with a bout of food poisoning.

Star managers then decided to play the KBC card.

"Just like KBC once bailed us out," laughs a Star personnel. "Since Ekta did not turn up, we had no choice but to deflect the attention by talking about KBC. As things stand, there have been no further developments on the revival of the game show, nor any further talks with Amitabh Bachchan on the matter."

KBC was lasted aired on December 31, 2001.





What do you think about the story?








Read what others have to say:





Number of User Comments: 2








Sub: revival of kbc

it is good that kbc has 2 be revived .it was the best quiz in our country hosted by the best and no1 superstar bigb.if ...


Posted by Ajith Sathyanand









Sub: KBC

Though I was never selected for KBC, luck did not favour me, is another matter. But, it was so refreshing and entertaining, apart from being ...


Posted by utkal ranjan acharya






Disclaimer