Home > Movies > Bollywood News

No baby for this Spice!

rediff Entertainment Bureau | August 20, 2004 13:30 IST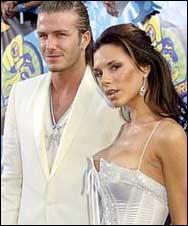 The answer is no. All the speculation about Victoria Beckham's (aka Posh Spice) alleged pregnancy can now be quelled.
Following reports about her visiting childbirth specialist Dr Malcolm Gillard at the Portland Hospital, Central London, a spokesman said she was not pregnant, reports annanova.com.
Five years ago, Dr Gillard delivered the Beckhams' first son, Brooklyn. Footballer David Beckham has never made secret of the fact that he wants a sister for his sons, Brooklyn and Romeo. Beckham told The Sun: 'Victoria and I will have children again at some point. I've always wanted two boys. I always wanted a brother when I was little. In fact, when my younger sister was born, I was quite upset! I'm glad I've had two sons -- but now I'd like a little girl.'
The Sun also quotes a source close to Victoria, as saying, 'Victoria has been putting on a bit of healthy weight recently and she and David do want another baby. Victoria has no real work commitments at the moment as she isn't releasing any records. It's the perfect time to have another child.'