Home > Movies > Interviews

The Rediff Interview / Fardeen Khan

'Fida isn't an erotic film'

Subhash K Jha | August 20, 2004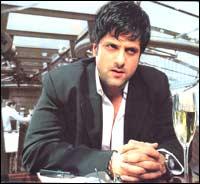 I

n Dev, Fardeen Khan shared a kiss with Kareena Kapoor.

In Fida, he shares a bathtub with her!

Ask him about that, and he'll laugh. But he adds quickly, "Fida is not an erotic film."

Directed by Ken Ghosh, Fida also stars Kareena's real life boyfriend, Shahid Kapoor. The film releases today, August 20.

Subhash K Jha

chats with Fardeen about the film.

Are you pleased with your career?

Of course, I am. I have been busy shooting and traveling. I've barely been in Mumbai this year. Now, I've pretty much wrapped up my assignments.
| | |
| --- | --- |
| | More on rediff.com! |
| | |
made money for everyone. The film had a brilliant opening in India. Now my dad [Feroz Khan] is working on two or three subjects. You know how he is. He takes a break between every film.

As of now, I'm in it [one of the films].

Are you happy with Fida?

I'm definitely pleased with my role. It offered me a chance to do something different from what I've done in the past. It helped me to discover a new look for my character and to discover new facets to my acting ability.

The publicity was squeezed into just a month. Therefore, audiences felt they saw a lot more of the three of us than they normally would have.

Did you feel left out in the Shahid-Kareena promotional campaign?

No, why should that be?

This impression could be created by the fact that out of the four songs on air, I feature in only one. That's the way it is in the film, so that's the way it was shown on television.

I never felt sidelined. Bebo and I are very good friends. On the sets, we were professionals, getting the work done.

Tell us about that scene in a bathtub with Kareena.

(laughs) Yes, our director Ken Ghosh put us in the water for so long that at the end of it, we were pruning!

But Fida isn't an erotic film. It's a thriller with an interesting twist.

You are quoted saying that you had a hard time shooting with Shahid in Fida.

No comments.

I really do not want to get into that. I had given just one quote about the matter. That's it.

I had a great deal of fun working with Shahid and Kareena, especially Kareena who is a close friend. We worked together earlier in Khushi and Dev. This was a third and totally different experience. This time the dynamics of our on-screen relationship were very different.

As for Shahid, he's a talented kid. He's going to go places.

What about Ken Ghosh?

Ken and I got along like a house on fire. He is one of the most relaxed people I have worked with. He is a very stylised kind of filmmaker, who knows exactly what he wants. That makes an actor's job easier.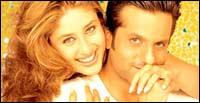 Dev gave you a chance to play a non-glamorous character.

Yes, it was an incredible experience. I'd definitely count it among the most significant films that released in the last decade. It's a pity it didn't find its audience. It's definitely one of my top three films.

Not everyone has Govind Nihalani's conviction. All the actors plunged into the sensitive communal issue because we had full faith in him. We knew the issue would come out balanced and unbiased. I never had any doubts about being able to portray the character.

I had seen his work, and I knew we would be able to work out a credible look and life for my character. Getting the look right was important. It was half the battle won. I got incredible support from the script and the director.

You sound very pleased with Dev.

Dev

was a great learning experience. Having played so many glamorous characters before, it was a challenge to be so real.

The film made me think about our priorities as citizens. It taught me the power of stillness. My character had a lot of inner conviction which translated very well on screen. It had a lot to do with the director's conviction. I couldn't hold the same kind of calmness in a film that was shot differently.

On the other end of the spectrum, is my forthcoming film No Entry.

But that's a comedy.

Yes. I worked with Anil Kapoor earlier in Om Jai Jagadish. I look up to him for his dedication. If it wasn't for Anil, I would not have done No Entry.

I worked with Salman Khan for the first time. In No Entry, I have a hysterically comic role. I've made a conscious effort to be funny. Let's hope it works.

[Director] Anees Bazmi is fantastic. His forte is comedy. The film is shot in Bangkok.

What next?

I haven't signed anything else. I'm looking at projects carefully. We're looking at a different audience today. It's not like before, when one could get away with anything.

I am mostly being offered love stories and glamorous roles. Fida, again, is a very glamorous role. But it has a dynamic twist.





What do you think about the story?








Read what others have to say:





Number of User Comments: 4








Sub: Jaanasheen

A hopeless movie. Made money ! all rubbish. Baaaacha you should avoid to act in your father moview. Boring movie of the decade century or ...


Posted by raj









Sub: oh!

really it is a good,fantastic movie except few loop holes in its story. karina has acted superbly. bi bi... ...


Posted by sun









Sub: ''o shahid u was the best'

o shahid u danced so well,,,,,i liked u so much......u was terrific......i m anxiously waiting 2 watch the other flick of yours so plssssssssss don't ...


Posted by rima









Sub: FIDA

Hi, Fardeen is the excellent actor of the millenium because he acts really well and good. I bless him that he will definately succeed in ...


Posted by Sajid Khan






Disclaimer