Home > Movies > Bollywood News

Justin, Cameron plan winter wedding

rediff Entertainment Bureau | August 17, 2004 14:46 IST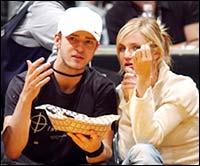 Justin Timberlake and Cameron Diaz have decided to put all rumours to rest.
The hot couple, say reports, are making plans for a  winter wedding.
The Charlie's Angels actress has, apparently, always dreamt of a big white wedding.
According to ananova.com, Diaz also wants her wedding to be unconventional and 'fun'.  In fact, it may be themed on the popular fairytale, Cinderella. The actress even wants a snow machine for that 'White Christmas' effect.
The venue, apparently, has yet to be decided.
The weddings plans are being kept strictly under wraps, as the couple wants a private ceremony.
Photograph: Getty Images