Home > Movies > Interviews

The Rediff Interview

'I feel bad about playing Ash's uncle' :-)

Subhash K Jha | August 13, 2004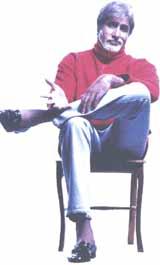 Y

et another Amitabh Bachchan film releases today, August 13.

Samir Karnik's Kyun! Ho Gaya Na... also stars Aishwarya Rai and Vivek Oberoi. It is produced by Boney Kapoor.

On the day of its release, Bachchan gives an objective assessment of the film. "[It has a] very competent presentation, excellent visuals, wonderful music and is well picturised. That's what my wife [Jaya Bachchan] feels too. And you know, I never question her judgement. Jaya liked the film very much. But she also liked Deewaar..."

Bachchan tells Subhash K Jha what KHGN is all about.

There is a belief that your role in KHGN is a cameo.
| | |
| --- | --- |
| | More on KHGN! |
| | |
But it is a cameo! I play a man in charge of an orphanage. I also play Aishwarya's uncle. I felt so bad about it! [laughs].

One thing I liked about my role was it gave me chance to interact with kids. After Mr Natwarlal, this is the first time I get to do that. So playing Ms Rai's uncle became bearable!

Also, most of my recent roles have been very uniformed -- either a cop, an army officer or a prisoner of war -- and grim. So if people are looking for a change in me, they know where to go.

But won't yet another AB film be less attractive for the audience?

You will have to ask the audience that. I'm just doing my job. I was offered the role; I did not force myself into the project. When it gets released and how is not my look out. It's up to the producer. For me, KHGN was another job. I hope I have done it professionally.

Given a chance, would you prefer your releases better spaced out?

I don't think that is possible. The number of films I do makes it difficult. Producers keep approaching me to do films. I need to do them, so I do them.

How was Samir Karnik as a director?

For a first-timer, he had great confidence. He's a mature director, well-organised and gregarious. He had all the shot compositions and takes printed on our call sheets before we arrived on the sets. That was very comforting.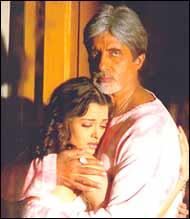 What about Aishwarya, as co-star?
Ah, she's exceptionally beautiful. According to me and Jaya, she looks wonderful in KHGN.
I feel she needs to do more mature subjects now.
Is she one of your favourite co-stars?
All my co-stars are my favourites. You don't have to take me to task because I like Ms Rai. Who doesn't?
I get along with everybody. Those I don't get along with, I do not work with. With her around, there is joy, laughter, fun and a good working atmosphere.
What about Vivek?
He's fine. We were together in Coorg for a 20-day schedule. That was it. My work was over.
Any films from you in the next few months?
I don't know. I have a cameo in a song and a scene in Yash Chopra's film with Shah Rukh Khan, Preity Zinta, Rani Mukerji and Hema Malini. That's in Diwali.
Then there is Anil Sharma's Ab Tumhare Hawale Watan Saathiyon.
Finally, Sanjay Leela Bhansali wants to release Black in December. So I guess, you can breathe easy for a few months.
How was it shooting for

Black in Shimla last week?
Amazing, except for the fact that a columnist made some very unfair comments on how I traveled to Simla.
According to him, I traveled with a cavalcade of cars all paid for by the government with money, according to this columnist, that should have been spent for the betterment of Shimla. He's right about the cavalcade of cars. I travel with about 15 cars and a personal staff of 20 people. But I pay for all of them.
There were 150 people in the unit of Black. Surely a few cars would be permissible to carry so many people?


What do you think about the story?








Read what others have to say:





Number of User Comments: 6








Sub: It is over now

Amitji please avoid over exposure else your condition would also become like Devanand after some time. You are a legend of indian film industry and ...


Posted by Anil Mishra









Sub: give it up

It was an OK experience reading Mr Bachchans interview about his new release. Considering his calibre as one of Indias top actors I did expect ...


Posted by preeti









Sub: amitabh bachchan on khgn

it is ok amitji, the more we have of you, the more we like you, keep going.... best of luck dileep


Posted by dileep nambishan









Sub: amit and rajesh

firstly congratulations to mr bachhan on his second innings.i am sure lots of the 70s kids like myself would love to see amit and rajesh ...


Posted by ravi









Sub: ABOUT AMITJI

simply saying AMITABH BACHCHAN IS GREAT.HE IS UNIQUE.


Posted by VIRENDRA KUMAR






Disclaimer