Home > Movies > Report

Actor Mohnish Behl's father dies in fire

August 04, 2004 09:37 IST
Last Updated: August 04, 2004 12:51 IST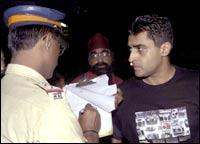 Actor Mohnish Behl's father Colonel Rajneesh Behl died on Tuesday after his flat in the 32-storeyed apartment complex in upscale Colaba in South Mumbai caught fire. He suffered third degree burns.      
Rajneesh Behl was the husband of famous actress Nutan.
The fire reportedly started in Behl's penthouse apartment. The body of Rajneesh Behl was found in a badly charred condition, almost four hours after the fire broke out.
Although the fire brigade personnel had asked the residents of the building to evacuate it, they did not realise that Bahl was inside the top-floor flat in which the fire had erupted.
His son was also away on a shooting and arrived later in the night, the police said. The body was discoverd after fire fighting operations concluded at around 4 am.
The body has been sent for post-mortem, the police added.
The 32-storeyed Sagar Sangeet was constructed in 1976 and is located opposite Colaba Post Office.
Over ten fire tenders and high speed elevators were pressed into service to contain the fire.
All the other residents of the building were evacuated and power supply disconnected. Three other buildings in the compound -- Acropolis, Heliopolis and Petropolis -- were also evacuated.
Photograph: Deepak Salvi


What do you think about the story?








Read what others have to say:





Number of User Comments: 4








Sub: Commander Behl\'s Sad Demise

first and foremost, Please get your facts correct. It should read commander Behl instead of Colonel Behl. He was a retired naval officer. Secondly, how ...


Posted by Barun Chakravarty









Sub: HEARTFELT CONDOLENCE TO THE FAMILY

Please convey my heartfelt condolence to the bereaved family. I pray to the Almighty for peace to the departed soul and give courage to the ...


Posted by TP SIMON









Sub: sad demise

it was a very big tragedy with col behl.my condolence is with the family.may god give the family the courage for the sad demise of ...


Posted by sonia duneja









Sub: Sorry Mohnish

It was sad to know about the death of F/o Mohnish Behl May i confirm whether he was an Colonel, as far as i know ...


Posted by Shivanand R Prabhu






Disclaimer