Home > Movies > Interviews

The Rediff Interview / Ehsaan Noorani

The Indian melody in Vanity Fair

Shilpa Bharatan Iyer | April 21, 2004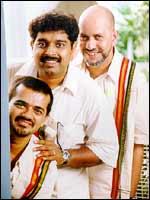 The hit musical team of Shankar-Ehsaan-Loy and lyricist Javed Akhtar came together to record one track for Mira Nair's (Monsoon Wedding, Salaam Bombay!) Vanity Fair.
The soon-to-be released film features Reese Witherspoon, Jim Broadbent, Jonathan Rhys-Meyers and James Purefoy.
Ehsaan Noorani spoke to Shilpa Bharatan Iyer about working on the international film:
The call came out of the blue. We were told Mira Nair wanted us to work on a song for Vanity Fair. 
I think the song came to us because Mira was looking for good musicians. Period. I don't think her decision was influenced by our recent commercial successes.
Javedsaab penned the lyrics of the song, though it still doesn't have a title! Having worked with Javedsaab before -- from Dil Chahta Hai to Kal Ho Naa Ho -- we have always had a good rapport with him.
Mira showed us the rough cut of the portion she wanted us to create the music for. We haven't seen the full movie -- just the part that we had to record the song. The song comes towards the end of the film, and is a climax number.
It is in Hindi, and it is happy. We have tried to give it an Indian ethnic feel. It is not a regular Bollywood number, just very Indian. We have not used the synthesiser, just the tabla and other Indian instruments.
We were really rushed at that point. We were concentrating on getting the music right -- the way Mira wanted it. So I have no anecdotes to share.
There was this feeling of working with a professional. Despite her living outside India, she is extremely Indian. So we connected not just musically, but on other levels as well.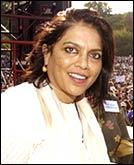 Richa Sharma and Shankar have sung the song. Having Shankar sing a song has its own advantages because of his knowledge of Indian music. 
Each of us -- Shankar, Loy and I -- have our own sphere of expertise; every composition is put together by all of us.
Finally, the composition and arranging is done by all of us together.
That is why you won't find any particular song bearing 'my' stamp or 'Shankar's' stamp. We are a team.


What do you think about the story?








Read what others have to say:





Number of User Comments: 2








Sub: Shankar Ehsaan Loy

This trio is like 21st century's Amar Akbar Anthony....


Posted by Somesh









Sub: shankar-ehsaan-loy

the trio gave a fabulous music in KAL HO NAA HO.


Posted by vishesh anand






Disclaimer