Home > Movies > Bollywood News

Syed Firdaus Ashraf | April 08, 2004 14:07 IST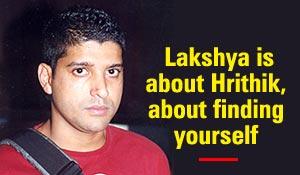 Being Farhan Akhtar is no easy feat.
It means being the son of Javed Akhtar, one of India's foremost poet lyricists. It means being the son of Honey Irani, one of Hindi cinema's celebrated scriptwriters. It means being the stepson of Shabana Azmi, one of India's finest actresses.
And it means having to come with baggage: Farhan Akhtar who once gave us the witty urban comedy, Dil Chahta Hai, in his very first outing.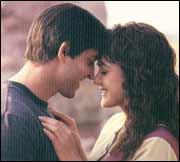 Perhaps it was that baggage that made Akhtar shift focus to a more internal movie with Lakshya. As the director describes his second film, "It is about a boy who finds himself. I just chose the army to set him in."
Shot in Ladakh, Dehradun and Mumbai, Lakshya stars Hrithik Roshan, Preity Zinta and Amitabh Bachchan, and has a score by Dil Chahta Hai composers Shankar Ehsaan Loy. The film is scheduled to release on June 18.
Senior Assistant Editor Syed Firdaus Ashraf caught up with the director to learn more about the film:

What is the genesis of Lakshya? 

Growing up often means that we do not know what to do in life. I know so many such people. I went through that process too: finding your calling in life, finding yourself. 
That is what I identified with most, when the script [of Lakshya] was offered to me. That is what Lakshya is about: finding yourself.

Why did setting a movie against the Kargil conflict appeal to you?

Lakshya is not about Kargil. You could take the same character, the same situation and set it somewhere else, and the core of the story would still remain the same.
It is about a boy finding himself. That he finds himself in the army or the corporate world is incidental.
What appealed to me was the challenge of shooting this film in Ladakh, having to recreate the battle sequences, and shooting at night. We shot the movie in Ladakh over five months. And I can say it has been a truly rewarding experience.

Does your film play on Hindu-Muslim sentiment too?

No. Fortunately, Lakshya does not send out any strong India-Pakistan message. The film is not about that. It is about this boy.
Indo-Pak relations are improving and everyone is happy. But we cannot change what happened. The film tells us that history should not be forgotten. Call it a mistake or an event, but many lives were lost. It is important to learn from history.
Lakshya also says if you ignore history, it is more than likely that it could be repeated. Most of all, let us not treat soldiers as statistics but as human beings.
Would you say Lakshya will not create a dent in the Indo-Pak detente?

This film is not anti-Pakistan. It is not a fictional story where Pakistan is an enemy. It is set against an incident that did happen in 1999.
The important thing is, war is only a backdrop to the film. We have not tried to resolve any issues here. 
It also takes a look at things from the army's perspective. Like (Chief of the Army Staff) General N C Vij says, 'We (soldiers) are for you and because of you.' The army goes into action only when the public wills it to go into action. They don't do it of their own free will.
They approach it like a job that needs to be done. And they do it to the best of their capability, better than you and me at our jobs.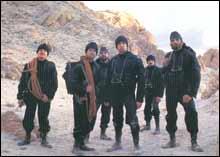 How different is Lakshya from other war films?
Very different. Other war films are based on the operations that took place and are purely about war.
Lakshya is more of an understanding about what these soldiers go through even behind the scenes, not just at battle. It tries to bring a human face to these people. 
We are very de-sensitised to the casualties of war. When we hear news reports about two dying here and three shot there, they remain numbers to us. It is important that people know these soldiers, that they feel that sense of loss.
If we understand that and the fact that we are not sending robots but human brings to fight for us, the chances of us sending them there will be a lot less. There will be more space for dialogue and tolerance, as opposed to resorting to war at the first given opportunity.
More specifically, in Lakshya, you will get to know Hrithik's character very personally and feel what he goes through. Whatever you learn about the Kargil war or India and Pakistan, you will learn through him. You will meet new characters through him.
Hrithik will take the audience like a big team to the border. The audience will never go beyond what he knows. That is what I have tried to achieve.
This is the first time you have worked with Hrithik Roshan. What made you choose him, and what was the experience like?
The script demanded who the actor should be. My dad [Javed Akhtar], Ritesh [Sidhwani, producer], and I agreed on Hrithik because he has the physique and the looks that suited the character.
Physicality was important because he should look like he is in the army. He should be able to convey physical as well as mental toughness.
Hrithik also has the knack of looking slightly confused, slightly spoilt and rich. He plays this rich Punjabi boy in New Delhi. But we also wanted someone who could look vulnerable, could portray a sense of responsibility and feel the sense of loss.
It was a tremendous experience working with him. We have known each other for a very long time now. It wasn't about dealing with him in a professional manner. I was happy to strike a relationship with him on a personal level. He is very sincere and honest.
Humour was the dominant element in Dil Chahta Hai. What can you tell us about Lakshya?
In our films, we often see a happy-go-lucky yuppie guy who falls in love and gets married. Sometimes, the way we depict a doctor or engineer is so boring that no one would want to be in that profession. I have tried to avoid that happening in Lakshya. Of course, there is humour in Lakshya, but it is a different kind of humour.
Also, because the film is based on the army, the look that was needed was natural. Hrithik's hair had to be short, he had to be clean-shaven. It was important that it should not be dull and boring. So instead of a boring crew cut, we tried to make his hairstyle stylish and interesting, as long as it remained within the parameters of what the role required.
Tell us about Preity Zinta.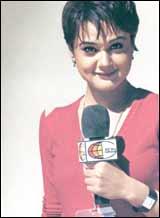 I have known Preity for a very long time too, much before Dil Chahta Hai. I have known her since she came to Mumbai. We understand each other and share a good personal relationship. Our comfort levels are high.
She can mould herself -- the way she speaks, works and her body language -- and adapt herself to roles. That was important for this film because she has two looks here. One is the younger look before Hrithik joins the army. They are just out of college.
The second is her more responsible and socially aware look as a journalist. We needed to get that slight amount of ageing, maybe three or four years. Her character also had to understand what was required of her. It is very subtle, but beautifully done.

You researched a lot to build Hrithik's character. What research did you do for Preity's character?
We had a couple of meetings with [NDTV journalist] Barkha Dutt. She was around when we were discussing the film. We asked her about her dilemmas and experiences on the job. We also read a lot of books.
Amitabh Bachchan has not really been promoted in the film.

No, and he has not been side-tracked. He has an important supporting role. We simply did not want people to misunderstand that it was his story. That is why we have not put him in the promos.

While directing him, were you nervous at any point?
I was more nervous at the thought of directing Amitabh Bachchan than actually directing him. I have always been in awe of his work. But the comfort level I shared with him had a lot to do with him because he never lets you feel he is a superstar. He is completely there for you as an actor. He will listen to you, understand what you want and give you what you need.
Which was the most difficult shot?

Well, let's just say it was a hard shoot. But shooting battle sequences at night in Ladakh was tough. As you know, the Kargil war was mostly fought at night. Getting into the routine of shooting at -8C or -9C and running up hills at night was difficult for everyone.
I am still to unwind from the shooting. I am going to go on a long holiday to the beach!
Tell us about the film's music.

Shankar Ehsaan Loy understood what was needed for the songs. They really pushed themselves to do something new.
They are very talented and great to work with. I don't have to worry about how they will take my comments. I can tell them what I feel honestly. They are very open. It was a good creative atmosphere because you have the freedom and space to talk about things freely.
It is very difficult for me to say whether Lakshya will create the same magic of Dil Chahta Hai, but I know for a fact that it is good music. It is the kind of music I listen to and people will enjoy it.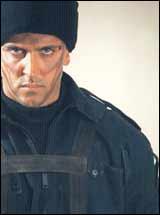 How did you come to work with Prabhudeva?
Main aisa kyon, the song with Prabhudeva [who also choreographed the dance sequences in the film], was supposed to be set in a very surreal environment. We wanted someone who could do some surrealistic moves. We also wanted to make it a challenge for Hrithik so he could have some fun. And, of course, as a viewer, I love watching Prabhudeva dance.
Fortunately, it was not difficult to rope in Prabhudeva because we went to him after the song was recorded. He had liked Dil Chahta Hai very much, so that was useful. And he really wanted to work with Hrithik.
They came very close to working with each other in Koi... Mil Gaya but it did not work out. Prabhudeva was meant to have choreographed a song in that film, but it didnt happen.
Main aisa kyon has a very lazy, hip-hop kind of music. It reflects the character [Hrithik], who is a typical Capricorn, not a very active, out-there kind of person. He is very laidback. He is a very scruffy guy who may wake up in the morning and go to his friend's place without even brushing his teeth.
Later, you know the army rules: you have to be immaculate.
You worked with your father extensively in Lakshya. What was the experience like?
My father told me, Bachche baap ban jaten hai (Children become the father)!
It was a whole new experience for me and him. We did work earlier on the lyrics of Dil Chahta Hai. But this was a lot more involved.
Whatever I know about the craft of writing comes from him. He has complete control over his craft. It has been an educational process -- not many have the mastery that he has over his pen.
Do you feel pressured to make another hit like Dil Chahta Hai?
No, there is no pressure. I just made my film. Now I can only hope that people like it.
Additional reportage: Ronjita Kulkarni


What do you think about the story?








Read what others have to say:





Number of User Comments: 15








Sub: Hrithik looks great

I think Hrithik suits perfect for the role .. the looks , physique .. he looks awesome in the movie .. i cant wait to ...


Posted by sunny









Sub: Lakshya Is A Film Different From Other Films

As Farhan's Dil Chahta Hai Was A Most Liked Film By The Youngsters . And By The Trailors Of Lakshya We Can Get To Know ...


Posted by Gaumzee Khatri









Sub: Lakshya

I liked the movie dil chahta hai. But after so many flopped movies why hrithik roshan! I think Vivek oberoi would have that have been ...


Posted by Esha









Sub: Following Farhan

Its not about Hritik, Priety or even for that matter Kargil. Its about the promising Farhan Akhtar. Dil Chahta Hai was a definative next step ...


Posted by Sachin









Sub: lakshya

after Dil chahta hai we have lots of hope on farhan akhtar and he lives upto the hope as the promos of lakhshya looks cool....hrithik ...


Posted by arnab






Disclaimer