Home > Movies > Interviews

The Rediff Interview / George Michael

George Michael: Exposed!

April 06, 2004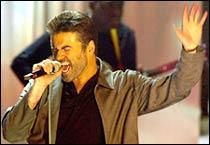 George Michael has always blazed a unique trail. And a hugely popular one at that.
His albums like Faith, Listen Without Prejudice, Older and Ladies And Gentlemen have been big hits. Ladies And Gentlemen went platinum eight times in the UK.
After eight years, the singer now releases his latest album Patience. The single Amazing is already riding its way up the music charts. A chat with the singer:
Why the title Patience?

Well, I struggled for a long time to come up with a title. Quite often, the title emerges from the last few tracks you record for an album. My best work tends to be towards the end of the album because most of the anxiety is gone. I couldn't think of anything.
| | |
| --- | --- |
| | More on rediff.com! |
| | |
In a way, when I hit on patience, it made sense for two reasons. One, because of the time and energy I had spent on the Iraq situation and the secular vs religious world situation. To me, we are being introduced via satellite in a very rude manner. On top of that, we have war, which almost all of us believe is about oil. I believe the only thing that will save us from total destruction is patience.

The pictures on the album sleeve of the two boys are supposed to represent the fact that it is our children who will decide whether or not we get through this. They need to be introduced in a more human manner, really. So patience represents the world state.

Second, of course, my fans. The most patient fans in pop history as far as I am concerned, who had to wait eight years since my last collection of songs. No fan should have to wait that long.

What was the inspiration for the single Amazing?

The strange thing about Amazing is that it was one of the first things I started on. It did not get finished until about three weeks before the album was completed, which took five years.

I wrote the first half after I met [his partner] Kenny. It is remarkably unusual to hear me singing something so lovey-dovey. Normally, I am better at writing about misery. I think it [Amazing] is a great song for two people falling in love. The great thing is that I still feel the undying love. That was why it was easy for me to finish it with the same energy I started with.

How is your personal life?

The truly liberating thing about love is that everybody knows the feeling or should know the feeling that you have just met somebody who you think has changed your life or is about to change your life. You are open in so many ways to so many people.

Real love, if reciprocated, is something you can turn into a positive for the rest of your life. It makes you more open to humanity.

This album has a few dance grooves...

I have always listened to dance music. I listen to it a lot less, now that all the music is what you call 'foot on the floor'. My ultimate dance records are funk records. I would still dance any day to One nation under groove or any of those great funk or Prince records.

I find funk sexier than 'foot on the floor' music. Funk is all about gaps. There is no time for any gaps in modern music. That has taken all the pleasure out of it for me.

But I still like the occasional dance records. The thing about dance culture is it tends to throw out accidental pieces of genius that are never followed up by that same group of people. It tends to be more of an accident about what happened in the studio than a question of intent.

So occasionally, I get records that I play to death like Tokens miracle, which I played for about a year. There is always some dance record I love but I don't follow artists anymore. 

But if people still played great music or what I consider great music in clubs, I would still be in clubs, because I used to dance three-four nights a week in clubs when we started with WHAM. 

What are the lyrics about?

The lyrics are actually about reality television culture and the idea that you now have people who you don't know why they think they can sing or do what they do.

I have to say I cant watch pop auditions because I just feel too much for the kids. Most people just get a laugh out of it. I can relate too much to the days when I was told I was crap and to go home.

The song is about the fact that ordinary people now see very ordinary people becoming wealthy and famous. That is creating a kind of hysteria in terms of people wanting to become famous and trying to find some way to become famous.

The kind of things people allow of themselves to be shown on television because they feel they have the responsibility to take that moment!

It is quite bizarre and I wanted to write a song about the young hopeful really.

I think the gay clubs will absolutely adore it, which would be nice. I have never made something with that [gay clubs] in mind, but I had it at the back of my mind when I made this record.

What inspired you to dedicate a song to John Lennon and Elvis Presley?

In a strange way, John & Elvis is dead is written for a generation before mine. Something that most people don't notice about my career is that I have the career principles of a 1970s rockstar. The kind of principles everyone has given up now.

Even though I am written about as though that was not the case, I have very old-fashioned ideas about modern music.

Some of the songs on the album are very personal to me. But Around there is a very universal idea of the fact that you are going to live in roughly the same area your whole life. For some people, that is a choice. For others, it is not.

I have been around the world many times. I have had the opportunity to go and stay anywhere. Yet, most of my life has been concentrated around a five-mile radius. I went to school, have an office, my mother was born a quarter of a mile from where I have an office. I have such affection for my hometown and memories that I live where I do.

I think many people can relate to that and to the warmth of that song.

What do you dislike about being a celebrity?

The only good part about being a celebrity is that I can use it occasionally to a positive effect. Of course, the other major part is that my celebrity guarantees a certain amount of exposure every time I make an album.

I think it is quite obvious that I don't like [being a]celebrity because that is why I am rarely spotted. I tend to shy away from people especially if there are large amounts of them. That is sad.

Without having a lobotomy, I do not think I would have an easy time about my being famous. I think that was something I wanted when I was very young. And perhaps if I was introduced to the music industry in my mid-twenties instead of as a slightly older man, I would have made different decisions.

I can't complain because I am happier than I have ever been in my life. So, obviously, even though my world has been made smaller, there are people who fight really well against it. But I am too aware of my environment and the way people behave with me. However, I am happy in my own skin so that is not a problem.

Tell us a little about your relationship with Kenny.

The best part of the whole journey with Kenny is that I get to share the rest of my life with him. It is not something fleeting. I plan to do that for the next 30-40 years, which is great!

Any plans to visit Asia?

Japan is the only part of Asia that we have played in, besides Hong Kong. The only funny incident there was this group of schoolgirls who followed us everywhere. They would smile or laugh covering their mouths, which I did not understand.

Besides that, I had a bodyguard who was a little sensitive. He once challenged me to a game where you thrash the mouse or gofers as a test of your reflexes. This bodyguard said he had lightening reflexes because of his military training. I thrashed him at the game.

He was so annoyed that two minutes later, when a Japanese guy, who was maybe 50 and really pissed out of his head, came into the amusement arcade and was yelling at everybody, my bodyguard ran over to him, got him in a headlock until the poor little guy almost passed out. It was terrible because the Japanese was harmless!

Will you consider touring this year?

I am more open to the idea now than I used to be. I feel a sense of responsibility to play in the countries that I
haven't played in before. I think it would be a good experience because I would get to say hello to the people who listen to me. Besides, I have Kenny with me so it's a lot easier.

But it would depend on how this year has been, not from the sales point of view, but whether it will be enjoyable to be in the limelight again.

If I walk into another wall of negativity or homophobia, I don't need to keep doing this. If that happens, I am very unlikely to tour. That may be weak of me but, ultimately, I know myself. I know I have spent 12-13 years of my life in pain over one sore or another. Either waiting for someone to die or recovering from humiliation.

But I feel lighter now than I have in years and I want to hold on to this feeling for a while. If that means people don't get their tour, then so be it. I hope they get it.

Photograph: Getty Images

Click here for More Interviews