Home > Movies > Report

Real-life drama at Karisma's wedding

Vijay Singh outside R K Cottage, Mumbai | September 29, 2003 15:00 IST
Last Updated: September 29, 2003 20:40 IST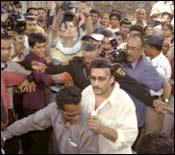 These could easily have been scenes out of a Bollywood blockbuster.
Only, they took place just minutes ago in Mumbai.
The cast: Bollywood's stars, their fans, the Mumbai police.
Location: Karisma Kapoor's wedding at R K Cottage, Deonar, Mumbai.
Backgound: Policemen have been deployed to oversee the security arrangements for actress Karisma Kapoor's wedding. An excited crowd has gathered outside R K Cottage, knowing that a star's wedding will attract other stars, causing a traffic jam.
| | |
| --- | --- |
| | Don't Miss! |
| | |
Bollywood's Who's Who drive in as the crowd cheers them.

The media -- electronic, print and online -- are there in full force.

Scene 1: Jackie Shroff arrives. For once, the security guards specially hired for the Kapoor khandaan forget their duties as they gather around the affable actor, coaxing him to pose for photographs with them. Shroff obliges before making good his escape though the gates of R K Cottage.

Scene 2: Salman Khan arrives. Before the star even realises what is happening, he is embraced by a man wearing a white driver's uniform. Khan is too stunned to do anything but hug him back. Then, he puts his hand on the man's shoulder and moves towards the gate of the cottage. By which time the police swing into action. They grab the man in the driver's uniform and drag him away as Khan enters the gate.

Scene 3: Jackie Shroff exits from the cottage after the wedding. The media hound him for information. The crowd presses in to listen. Shroff cannot locate his car because of the huge crowd. He chats with a couple of fans as he sizes up the situation. Then, before anyone can react, he hops on to a bike stuck in the traffic jam. 'Okay, turn the bike around,' he tells a shocked Ravi Bangera. Ravi obliges and races toward's Shroff's car which is parked a little distance away. The crowd chases them. Shroff thanks Ravi, hops into his car and zooms away.

A thrilled Ravi, who works for a courier company and was in the area to deliver a package, can't stop smiling. "This was one of the most pleasant and most exciting experiences of my life," he told rediff.com

Click here for More Features





What do you think about the story?








Read what others have to say:





Number of User Comments: 93








Sub: Karishma's Wedding.

I am surprised that you did not mention the Kapoor Cottage as being their "ancestral home" as some others have termed it. Having once seen ...


Posted by Joseph C.Fernandes









Sub: non sense

i wonder, if karisma gets married every year, is rediff going to make a big fuzz like this everytime????


Posted by Amol









Sub: karishma weds ...

but you forgot to mention (a) whether gulab jamuns were served in the wedding feast (b) manish malhotra dressed the bridesmaids - but who dressed ...


Posted by sudarshan









Sub: Karishma's wedding

I dont know why people in rediff need to write such useless things.... it is an utter waste


Posted by padmaja Raman









Sub: Karishma Marriage

Congrats to Karishma on her wedding ! I hope rediff should continue publishing this type of articles as well. why only politics? here people are ...


Posted by suhail






Disclaimer