Home > Movies > Reviews

Step aside Sunny. Ajay is here.

Priya Ganapati | September 26, 2003 13:40 IST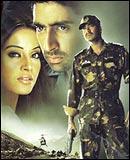 In the last two years, a new genre of Hindi films has evolved: action films where Pakistan and its evil inhabitants are the villains.

If Sunny Deol could patent it, the rights for this kind of plot would surely go to him.

Zameen, starring Ajay Devgan, Abhishek Bachchan and Bipasha Basu, takes inspiration from this brand of patriotic potboilers.

The plot is based on the December 1999 hijack of the Indian Airlines Airbus to Kandahar and the subsequent release of Masoor Azhar, Omar Sheikh and Mushtaq Zargar in exchange for the passengers.


| | |
| --- | --- |
| | More on rediff.com! |
| | |
Colonel Ranvir Singh Ranawat (Ajay Devgan) captures Baba Zaheer (Mukesh Tiwari), the head of Al Tahir, a terrorist organisation fighting for Kashmir. Six months later, four terrorists infiltrate from Pakistan into India with the mission of securing  Zaheer's release.

Meanwhile, Additional Commissioner of Police Jai (Abhishek Bachchan) is tracking a gang that trafficks arms and his efforts lead him to the terrorists who have entered the country. Ranawat and Jai join hands to foil the terrorists.

Zameen is a fast-paced action flick that bets on the fairly contemporary references of the plot for its kicks. There are numerous mentions of the attack on the Akshardham temple and the Indian Parliament.

The plot does have more than a passing resemblance to Yeh Dil Aashiqana, starring Karan Nath and Jeevidha, that released in 2002.

In his debut film, director Rohit Shetty puts together a tight narrative and does not give in to the temptation of stuffing the film with too many songs that could have slowed down the impact. Where he does go overboard is the slow motion shots and the action sequences. Reining those in a bit would have helped.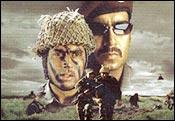 Screenplay by former rediff.com staffer Suparn Verma ensures that the film moves at a brisk pace and the plot does not digress. It also guarantees a dose of technology (with desktops, laptops and button cameras that can be pinned on to a shirt), an element that is quickly becoming an hallmark of the action films written by Suparn. Remember Qayamat?

Ajay is pretty much the rock in the movie. He deadpans, shoots from the hip and mouths about 15 lines through the film. Which seems to be getting increasingly familiar, since that is what he did in his last action film, Qayamat.

Abhishek has been betting on this action movie to give him the hit he desperately needs. Apologies to Abhishek fans, but the truth must be told. He is awful! Abhishek does try hard to play the cool cop who is struggling to prove himself. Yet there is no raw intense anger in him (no, I am not drawing any comparisons with his pa) or the overwhelming urge to prove himself under that seemingly calm exterior. His eyes don't glint with intensity or the quiet mania of a man who needs to prove to himself, as much as his former boss, that he can put his life on the line when the situation demands.

The film lacks finer nuances. There is little interplay and even lesser chemistry between Abhishek and Ajay. There are many loose ends and unanswered questions. For instance, the motivation for characters like the Mumbai professor or the army turncoat, both of whom collude with the Pakistanis and have fairly key roles, is unexplained.

The action is also unimaginative. Cars topple over and burst into flames with monotonous regularity, there are numerous chases along the highway and the bad guys are throwing grenades whenever they can.

What does work for the film is its tight pacing. The first half does not give the viewer much room to breathe or think. The plot unfolds rapidly and there are just two songs, allowing little room for boredom to creep in.

Post-intermission things go awry. Pakistan-bashing takes prominence and that is where the clichés start creeping in.

The plane's Muslim pilot, who delivers a monologue explaining the true meaning of Islam to the Muslim hijackers, is an example. Or, for that matter, the dialogues about how Pakistan was created thanks to handouts from India and how our tolerance should not be mistaken for cowardice.

In all, Zameen is for those viewers who like a high dose of rhetoric and action but would like to get those without Sunny Deol in the film.

CREDITS
Cast: Ajay Devgan, Abhishek Bachchan, Bipasha Basu, Mohan Joshi, Pankaj Dheer, Kamal Chopra, Mukesh Tiwari
Producer: N R Pachisia
Director: Rohit Shetty
Music: Himesh Reshammiya
Lyrics: Sameer
Cinematography: Aseem Bajaj
Action: Jai Singh
Screenplay: Suparn Verma
Dialogue: Javed Siddique



Want to see this movie? Check out Rediff Movie Tickets!



What do you think about the story?








Read what others have to say:





Number of User Comments: 68








Sub: Who is this Priya?

I watched Zameen.. and believe me.. Abhishek.. as per his character.. played excellent.. Who is this Priya?.. is she really able to understand the character?.. ...


Posted by Sonu









Sub: Abhishek is Brilliant !!

Hello , By All Means , abhishek has tried his best and has given a really good performance .. Sorry news for Priya , .. ...


Posted by sachin









Sub: indiafm

Name: Nabeel Chaudhry You Said It: It is a good movie and I enjoyed watching it. I think Ajay Devgan is turning out to be ...


Posted by samrat









Sub: who is priya by the way?

Hey Guys, I was just surfing through viewers review and when I saw every secnd letter is criticism for Priya, I could not stop myself ...


Posted by Anshuman









Sub: Go Back Priya, Its U who is Awfull !!

Priya, With due respect to UR understanding of a film, I think U need to take a break and write tragic artices. Please do write ...


Posted by Gautam






Disclaimer