Home > Movies > Bollywood News

'Karisma's wedding is a relatively small affair'

Lata Khubchandani | September 26, 2003 12:49 IST



Prem Chopra is related to the RK family by marriage. Chopra married Uma, younger sister of Raj Kapoor's wife Krishna. Here, the big bad villain of Hindi films remembers the lavishness associated with weddings in the Kapoor khandaan: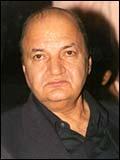 I have attended all the RK weddings obviously as we are all family. I will be attending Karisma's wedding too. This one is a relatively small affair compared to other RK weddings.
| | |
| --- | --- |
| | Don't miss! |
| | |
Unlike other people's weddings, which are celebrated in five-star hotels, they [the Kapoors] organise their marriages in their own cottage in Chembur, which is quite a big property. It will be a very informal get-together. This wedding is a morning affair. But it is up to the children, how they decide to do it.

I remember Daboo [Randhir Kapoor] and Chintu's [Rishi Kapoor] wedding. Chimpoo's [Rajiv Kapoor] was in Delhi. But again Rima's [Raj Kapoor's youngest daughter] was at RK.

Being the first son, Daboo's wedding was very extravagant. All the leading personalities from films, sports, and even politics were present on that day. We had a great time.

In Raj Kapoor's household singers would normally come and perform from time to time. I remember he had invited the singer Reshma to sing. Although I can't quite recall whether it was during Daboo's marriage or someone else's.

But these extravaganzas were usual with Raj Kapoor. Daboo's wedding had every possible celebrity. Rima's wedding was slightly different because Raj Kapoor had passed away. I must add that the three brothers left no stone unturned to make it a magnificent affair.

Now this time this marriage is a more personalised affair. Weddings are getting smaller and smaller even otherwise, I guess.
I will be attending one function at Karisma's wedding, which is on September 29: the marriage itself and the lunch. I am not aware if there is a reception.

Click here for More Features