Home > Movies > Bollywood News

'These functions are like a reunion'

Lata Khubchandani | September 26, 2003 19:18 IST



Son of yesteryear actors Premnath and Bina Rai, Prem Kishen tried to follow in his parents' footsteps with films like Dulhan Wohi Jo Piya Man Bhaaye and Hamare Tumhare. But he never made it as an actor.

Prem Kishen is closely related to the RK khandaan. The late Raj Kapoor's wife, Krishna, is his paternal aunt. As a part of our coverage of Karisma Kapoor's wedding, rediff.com spoke to Prem Kishen on what makes an RK wedding special. Excerpts:

We are all from the same fraternity. The film industry is like a family. We were present at all the RK weddings.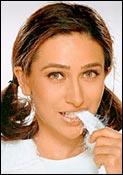 I have grown up with the RK kids. I remember all the weddings, right from Ritu's wedding [Raj Kapoor's daughter, Ritu, is married to Rajan Nanda. Their son, Nikhil, is married to Amitabh and Jaya Bachchan's daughter, Shweta; Nikhil and Shweta have two children. Karisma was engaged to Abhishek Bachchan, but the engagement was broken off in January this year].
When Raj uncle [Raj Kapoor] was around, he had his own way of doing things. Today, his children have grown up and they do it differently. At RK weddings, the family always got together so it was a nice way of meeting everybody.
| | |
| --- | --- |
| | Do not miss: |
| | |
I remember [singer] Mukesh uncle was part of the family. He used to sing at the sangeet parties [singing-dancing ceremony]. It was great: everybody letting their hair down at the same time. All the well-known singers used to be present and we used to be thrilled.

This time, they [the Kapoors] have decided to have it all at home. Even the reception is going to be held at home. It's going to be a family affair. All their close friends and co-stars are invited. I haven't been to be to RK cottage recently but Krishna aunty is at my place [with his mother, the legendary actress Bina Rai] today because her house is being decorated.

I am going to wear a churidar kurta for the marriage and the reception. I find the outfit extremely comfortable.

Click here for More Features





What do you think about the story?








Read what others have to say:





Number of User Comments: 1








Sub: prem kishan ??

who is prem kishan ??


Posted by srinath






Disclaimer