Home > Movies > Bollywood News

Dev Anand: a role model

Deepa Gumaste | September 26, 2003 12:52 IST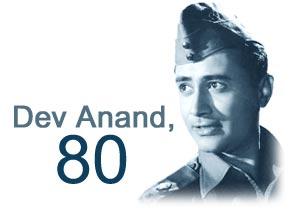 That mischievous, sparkling smile. Those arms flapping carelessly in the air. Neatly puffed hair and an air of studied casualness.
These qualities have defined Dev Anand's acting style from the early days. While Dilip Kumar and Raj Kapoor bore the mantle of seriousness, Anand oscillated between characters from the murkier underbelly of urban India and suave, sophisticated gentlemen. Anand's best work invariably saw him portraying heroes with shades of grey who somehow redeem themselves in the end.
On his 80th birthday, rediff.com lists some of Devsaab's best roles:
BAAZI (1951): It was with Guru Dutt's Baazi that Dev Anand adopted the stylised manner of acting and distinctive dialogue delivery that would define his screen persona over the next five decades. As Madan, a minor gambler who inadvertently gets embroiled in a murder mystery, Dev Anand left his first indelible print on celluloid history and made a place for himself among the most popular stars of his generation and then some.
| | |
| --- | --- |
| | Simply Dev Anand! |
| | |
KALA PANI (1958): Often accused of being a flippant actor with a woefully limited emotional graph, Anand proved his detractors wrong by winning his first Best Actor Award for his finely nuanced performance in the crime drama Kala Pani.

As Karan, a man on a mission to prove his incarcerated father's innocence, he matched the pathos of the drunken refrain in Hum bekhudi mein with the boyish playfulness of his mischievous duet with Madhubala, Achchaji main haari.

HUM DONO (1960): Playing a double role seems to have fascinated most prominent Bollywood stars down the years and Dev Anand was no exception. He produced Hum Dono and cast himself as two armymen thrown together in a war. When Major Verma is believed to have died on the battlefield, Captain Anand, his lookalike who has to break the sad news to his family, is mistaken for him and forced to take his place. Apart from Verma's prominent moustache and distinctive hairstyle, Anand used a gruff voice and stern stance to distinguish this character from the more amicable Capt Anand.

GUIDE (1965): In his most challenging role, Dev Anand brought remarkable maturity to his portrayal of Raju, the smooth-talking tourist guide who liberates Rosie (Waheeda Rehman) from a disastrous marriage, defies tradition and his beloved mother's wishes to live with another man's wife, and grooms her for a successful career as a dancer.

Halfway through the story, Raju's own ambition overtakes the relationship and lands him in prison. Finally, he redeems himself by putting the cause of a rain-starved village before his own self and becomes a reluctant messiah. With a finely shaded performance that earned him popular and critical acclaim, Dev Anand touched the zenith of his eventful career.

HARE RAMA HARE KRISHNA (1971): Dev Anand made his last unforgettable screen outing as a man determined to find his estranged little sister (Zeenat Aman) who has joined a band of dope-smoking hippies in Nepal. The film displayed Anand's trademark combination of nonchalantly clumsy mannerisms and a suave urbane personality yet again.

What made this act remarkable was the fact that the evergreen star fit perfectly into the film's youthful ambience at the ripe young age of 48!





What do you think about the story?








Read what others have to say:





Number of User Comments: 7








Sub: INBORN QUALITIES OF DEV ANAND

There is no doubt that a person like Dev Anand has deep inborn acting qualities. And my long lasting wish is that if possible in ...


Posted by RAJESH BHALLA









Sub: Dev Sahab ''The Evergreen Legend''

I saw first movie of Dev Sahab was Jewel Thief at the age of 6-7. I don't know that this is the man who's name ...


Posted by Vijay Mehra









Sub: The evergreen simpleton

Dev Saab is dedication personified. God made him for films. Guess he knows that !! I wish him a long and healthu life. I wanna ...


Posted by Gautam









Sub: De anand

Yah, you also forgot to add CID, Nau Do Gyara, and so on. Dev Anandd is an institution in itself. Raj AAkppor comes close to ...


Posted by Sumer Singh









Sub: Devsaab's best roles

You have forgotten to add the evergreen 'Johnny Mera Naam' in this repertoire. While the film has its own charm even after almost 3 decades ...


Posted by Abhay






Disclaimer