He shares his birthday with Aamir Khan; both of them were born on March 14.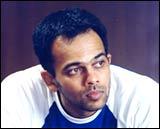 He uses the phrase 'I am very lucky' generously.
He is no novice to the show business.
Sukanya Verma meets Rohit Shetty, son of the late villain and fightmaster Shetty, who gears up for his directorial debut. Zameen hits the marquee on September 26:
A budding fascination
I was interested in films since childhood -- I belong to a film family. At 13 or 14, I was certain I wanted to be a director. I never thought of becoming an actor.
I completed my Secondary School Certificate at St Mary's School, Mumbai.
| | |
| --- | --- |
| | More on Rediff! |
| | |
Then I started working, first as an apprentice with Kuku Kohli during
Phool Aur Kaante
[Ajay Devgan's debut film that costarred Madhoo]. Then I assisted him in
Ek Aur Kohinoor
, which was never released. I also worked with him in
Suhaag
[Ajay, Akshay Kumar, Karisma Kapoor],
Haqueeqat
[Ajay, Tabu] and
Zulmi
[Akshay, Twinkle Khanna].
By then, I had developed a good rapport with Ajay [Devgan]. After that I worked with Aneesji [Bazmee] on Pyaar To Hona Hi Tha (Ajay, Kajol), followed by Ajay's home productions, Hindustan Ki Kasam and Raju Chacha.
During the making of Pyaar To Hona Hi Tha, I knew I was ready to make my own film. When we were planning Raju Chacha, it was decided that I would make my directorial debut after Anil Devgan, and Ajay would act in it.
Forming a team
My film had to be an action adventure. Ajay introduced me to my writer [former rediff.com staffer] Suparn Verma. Everyone liked the idea when he narrated the script. 
I have known Abhishek Bachchan for a long time. When I was doing the promos for Pyaar To Hona Hi Tha, he was working [handling production] on Major Saab. My film was a two-hero film, where the script required a guy like Abhishek. So he was in.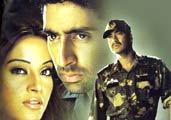 Bipasha plays an airhostess in the movie. When I approached her, she said yes. All the actors in Zameen are original choices.
It was very easy working with Ajay. I never had to tell him, "Aisa kar lete hain [Let's do it this way]" or anything -- we share a great rapport. Abhishek and I discussed his character in detail before we began shooting -- what he would wear, how he would move. It was the same with Bipasha.
Abhishek is quite the prankster. When he is around the sets, everyone knows, "Abhishek aanewala hai, matlab ek ghanta shooting nahin hogi [No shooting will happen until at least an hour after Abhishek turns up]. He will play pranks with the lightman. He will fool around with the junior artistes or fight masters.
No pretensions
Zameen is about a hijack. It is a one-track film based on a mission. A plane has been hijacked and the hijackers demand the release of some terrorists.
It is not based on any real incident as speculated. Only the idea came from [the hijacking of the Indian Airlines flight from Kathmandu to Delhi] there.
I think the audience will like the screenplay, the mounting of the whole story, the way the plot unfolds.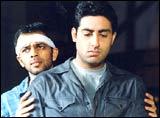 It has been made exactly the way I conceived it. When you make a sleek action film, you need great technicians. And I had a great team. We shot extensively in Hyderabad, Pune, Manali, Delhi and Mumbai.
Action unlimited
I love watching action thrillers. I think I am better at making them.
Right now, I am not interested in experimenting with other genres. Let me establish myself first. I am working on a script but nothing has been finalised.
Goodwill hunting
I have made a lot of good friends. I have met some great human beings. I am very lucky. People say that industry involves a lot of struggle. But I am privileged to have such amazing people around me, taking care of me.
I am really lucky my first film has turned out so big. See, the script needed a good budget and a big canvas. I am lucky to have a producer like N R Pachisia who had faith in me.
I have no ugly incidents or bitter episodes to narrate. I am very lucky. Wherever I worked, whether with Kukuji or Ajay, I was treated like a child.
But yeah, some people look at me from head to toe and ask, "You made Zameen?"
Winds of change
I think times are really changing. Earlier, after a movie, people would say, "Yaar film achi hai, par gaane bahut daalein hain [Cool movie, but there were too many unnecessary songs]."
Had I made Zameen four-five years ago, I would have had to add six-seven songs. The film would have turned out to be something else.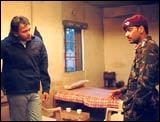 Times are changing for the better.
Inspiration
Vijay Anand (Jewel Thief, Teesri Manzil, Guide), Rajkumar Santoshi (Damini, Ghayal, Lajja), Ram Gopal Varma (Satya, Company, Bhoot) and Michael Bay (Bad Boys II, Pearl Harbor, The Rock) are my favourite filmmakers. Mughal-e-Azam, Mother India, Jewel Thief, Sholay, Ghayal and Bhoot are some of the best directed films I've seen. The characterisation, the hard work comes across. You learn from these filmmakers.
I am here to make movies. God willing, I will be able to do it.
Click here for More Interviews