Home > Movies > Bollywood News

An RK affair to remember!

Lata Khubchandani | September 23, 2003 22:44 IST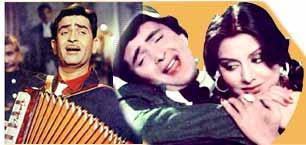 When legendary showman Raj Kapoor built his own studio, it was so he never had to wait for studio dates and could work at his leisure.
| | |
| --- | --- |
| | More on Karisma's wedding! |
| | |
The studio became a sort of home for him.

In time it played host to the weddings of his children.

All marriage ceremonies were held at the Kapoor cottage at Deonar in northeast Mumbai, but lavish receptions were held at the RK Studios. The huge halls lent themselves to the occasion.

RK Studios is now being readied and decorated for Raj Kapoor's grand-daughter Karisma's wedding on September 29. Karisma marries childhood friend and industrialist Sunjay Kapur.

Close friends and photographers who have attended RK weddings in the past remember them as glittering affairs. "Raj Kapoor's eldest daughter Ritu was married in 1968," recalls a family friend. "It was the first wedding there. It was a fun affair and typically Raj Kapoor. The festivities went on for days -- the Punjabi-style sangeet parties, the marriage ceremony and the reception. Like in all Punjabi households, at Ritu's wedding too the women sat with the dholak and sang, teasing the bride and groom.

"I recall Raj Kapoor frantically going up and down looking after the arrangements.

"I even remember Ritu's lehenga -- it had real pearls stitched on it. It was so heavy. She wore a sari for the reception, if my memory serves me right.

"Hema Malini had danced at the reception. She was a newcomer then. Begum Akhtar had been invited to sing too.

"I remember the entire industry had turned up. All the women were gifted gold rings encrusted with garnets from the bridegroom. This was part of the traditional gift the groom gives the bride's girl friends and relatives after they hide his shoes.

"Ritu was even taken away in a real doli. You know, the kind you see in films: the wooden one with four men carrying it."

An old-time photographer recalls being present at the weddings of both Daboo [Randhir] and Chintu [Rishi]: "The receptions were held at RK Studios. There was much fanfare. It was hugely colourful. The entire film industry was present to wish the family.

"Raj Kapoor's personal touch, his generosity, his sense of showmanship -- all were evident at these weddings."