Home > Movies > Reviews > Readers' review

Tanuja is the heroine!

S Manasvi | September 08, 2003 19:14 IST



If I say I liked the film because I had no expectations, I would be demeaning the director's sincere effort.

Rules: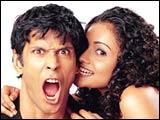 Pyaar Ka Superhit Formula makes you part of the story from the start. Mainly because some of the characters in the film speak to the audience at frequent intervals. A technique that failed miserably in Pyar Mein Kabhi Kabhi, but works beautifully in this film. You will realise their role in the story as the film progresses.
Rules, the story of a girl learning tricks from her grandmother to win her dream man, may remind you of Love In Simla.
But that is where the similarity ends. No Sadhana cuts, no behenji to modern girl transformation and no cosmetic makeovers.
Just five simple rules that target a man's psyche.
This is where the screenplay steps in. Ajitabh Menon has woven a simple story into a gripping screenplay that offers Tanuja a lead role after many years.
Tanuja is the heroine of the film. As she sleepwalks through her well-written role, she makes you wish for a grandmother like her. Milind Soman is in the best role of his career as Vikram Verma. He delivers the goods with plausible ease.
Newcomer Meera Vasudevan as Radha rides her dream debut vehicle with tremendous confidence. Namrata Barua disappoints in the two good scenes she had for herself. Raj Zutshi and former anchor Mandeep shine in their supporting roles.
| | |
| --- | --- |
| | More on Rediff! |
| | |
Special mention should be given to Sandesh Shandilya's music score. He has given us Piya Basanti, You are my Sonia (Kabhi Khushi Kabhie Gham) and Road earlier. Here too, he gives us four wonderful songs which are coherent to the film. Strange, Pyaar ke naam par and Uljhanon ko aren't on the charts yet.
Chinmaya Khatri's minty cool cinematography shows some sparks in a few scenes. Parvati Balgopalan's direction is good. The gay monologue, Radha's confession, Vikram making fool of himself at the escalator and Dadima's encounter with Vikram at the park are some of the scenes which have been dealt with amazing maturity.
Full marks to Parvati and Nirja Shah for making such a refreshingly different film. Rules: Pyaar Ka Superhit Formula is a welcome relief from Bollywood formula films. Thanks for bending the rules. We love this changing scene of Indian cinema.
S Manasvi is a student at the Film and Television Institute of India, Pune
Click here for More Reviews