Home > Movies > Memories

Why Prakash Mehra wanted Charles Bronson

Arthur J Pais | September 02, 2003 15:59 IST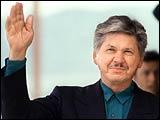 Filmmaker Prakash Mehra was dead serious about making an international film. "I can think of only one man who will be in the lead," he had said in a New York hotel suite about 15 years ago.
Mehra, maker of such huge hits as Zanjeer and Muqaddar Ka Sikander, wanted Charles Bronson.
"I will make Charles Bronson cry and sing," Mehra had said, referring to the grim-faced, brawny Hollywood actor.
Bronson, who was enormously popular in India for his first two Death Wish films, had by then ceased to be a commanding actor in Hollywood. There were at least four versions of Death Wish, including Awaaz, made in India in the 1980s.
Mehra thought Bronson's career could be resurrected. But the intended project never took off.
Bronson died of pneumonia in Los Angeles late last Saturday. He was 81.
Though he acted in a number of high-profile, action-dominated, dramatic films in the 1960s, including The Magnificent Seven, The Great Escape, The Battle Of The Bulge, The Sandpiper and The Dirty Dozen, Bronson is best known for the 1974 vigilante drama Death Wish.
Though he played the lead in four more Death Wish movies, most did not do well at the box office. Death Wish V was released in 1994.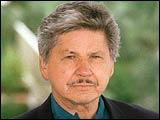 Bronson also clicked in such hit films as The Valachi Papers, Chato's Land, The Mechanic, Mr Majestyk, Breakout and Breakout Pass.
| | |
| --- | --- |
| | More on rediff.com! |
| | |
In the late 1970s and early 1980s, he was one of the highest paid actors in Hollywood, earning over $1 million per film.

His career illustrates the best and the worst in America.

One of 15 children of a Lithuanian immigrant who worked in a Pennsylvania coal mine, Charles Buchinsky often wore his sister's old clothes to school because of grinding poverty.

Eventually, when he found work as an actor in the movies after working as a coalminer and serving as an air force gunner in World War II, he was worried about his name. There was a red scare across America in the 1950s and people with Russian-sounding names were at times suspected to harbour communist ideals. So he switched to Bronson.

Like Clint Eastwood, Bronson went to Spain, Italy and France in search of roles. In the late 1960s, America finally started taking him seriously. Though critics often slammed him for his limited range of expression, he scored about a dozen hits, particularly the controversial Death Wish.

The movie showed Bronson as a rich and liberal architect whose life is shattered when his wife is killed by thugs. Frustrated by the inability of the police to bring them to justice, he vows to rid the city of such vermin. The theme of vigilantism brought widespread criticism, with some critics slamming the film for its 'fascistic' thoughts.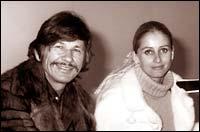 In many Bronson films, his wife Jill Ireland, whom he married in 1968 after she divorced British actor David McCallum, played key parts.
Ireland died of breast cancer in 1990 after fighting it for several years. Ireland, who was heavily into New Age, wrote a best-selling book, Life Wish, about her struggles. She followed it with Life Lines, in which she told of her struggle to help her 27-year-old son Jason McCallum Bronson fight drugs. He died of a drug overdose in 1989; she died a year later of cancer.
Bronson remarried in 1998, but people close to him said he never overcame the loss of Jill Ireland.
Photographs: Getty Images
Click here for More Nostalgic Features