D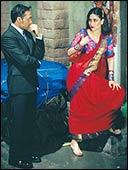 irector Anant Balani died last week of a massive heart attack. His film Chameli, launched in July, is on the floors. The film stars Kareena Kapoor and Rahul Bose. Following is a report from the film's sets days before the director died:
"I want a picture of Kareena!"
Six-year-old Aliyah loves Kareena Kapoor. And she has been waiting almost an hour to have a photograph clicked with the star.
Rahul Bose smiles indulgently at his niece. He knows the little girl wants to show the picture off to her friends at school the next day.
| | |
| --- | --- |
| | More on Anant Balani |
| | |
Kareena Kapoor is wearing a gaudy red sari, bright red lipstick with matching eyeshadow, a blue flowery blouse, and golden shoes.

We have just walked on to the sets of her latest film, Chameli, where she plays a sex worker. 

The film, to be shot in a start-to-finish schedule, does not have elaborate sets. Shot indoors, it includes a flooded road with a car parked under a streetlight and a sheltered footpath. The entire film takes place in one night, so the sets are relatively dark.

The atmosphere is very friendly and relaxed. Rahul and Anant are discussing the scene and chatting amicably while Kareena watches. Soon, the crew is ready for the shot.

The lead couple wants a rehearsal first.

Rahul puts on his jacket and the two take their position. A boy joins them.

The scene is simple. Kareena introduces Rahul to Johnny, a chaiwala. She brags about him, as she makes him pour his coffee to the duo and also recite a nursery rhyme Johnny Johnny, yes papa.

Just before the final shot, the atmosphere becomes tense.

"Baarish!" yells Anant. But the artificial rain does not fall. There's a moment's silence before someone says the boys responsible for the rain have stepped out. They had been told they would not be required for this particular shot.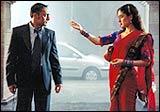 Anant wonders if they can do without the rain, then decides against it. "Baarish!" he yells again.
There are echoes, as people scramble to call the boys back onto the sets.
Finally, there's heavy rainfall within the sets and everyone heaves a sigh of relief.
After a few shots, the final take is canned.
Chameli is about a rainy night when an investment banker (Rahul Bose), is forced to take shelter with a sex worker (Kareena Kapoor). The film tells of their night on the footpath together.
The unusual combination of Rahul and Kareena seems exciting: "Rahul and I are from two different schools of acting and I'm learning a lot from him," says Kareena. "The combination is very interesting and different. Since we are very different from each other, opposites attract. So the film brings out the chemistry between us."
Rahul agrees. "Kareena is very intelligent, curious, instinctive and confident. She takes directions well. I haven't spoken to Kareena much because we play strangers in the film. If we had been husband-wife, we would have been talking. I just react to what she does on screen."
The shooting continues till 10 pm as everyone rushes to complete the day's shooting.
But not before little Aliyah has her picture taken with Kareena.
As the cameraman gets ready to click, Aliyah smiles shyly while Kareena hugs her good-naturedly. That is one tiny tot who can't wait to go to school the next day.
Click here for More Features