Home > Movies > Interviews

The Rediff Interview / Kaizad Gustad

How AB became Bade Mia

Arthur J Pais | September01, 2003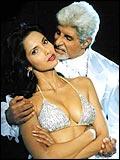 Kaizad Gustad went to heaven not once but many times while studying filmmaking at New York University.
When Martin Scorsese, who was one of the many distinguished guest professors at NYU, took the students frame by frame through his classic Raging Bull, Gustad was in paradise.
He also enjoyed dealing with the seemingly mundane, like making the required short films in his four-year degree programme. I have a suspicion he made more short films -- I guess at least 20 -- than were required by the students.
Mumbai-born Gustad, 35, had fallen in love with films quite early in his life. His family owned theatres in Wadi, Karnataka. The movie passion followed him when the family migrated to Australia. And it went to New York with him. And from there to Bollywood.
His second feature film in India, Boom (the first was Bombay Boys), has an eclectic cast that comprises actors like Amitabh Bachchan, Zeenat Aman, Jackie Shroff and Gulshan Grover and a raft of models, including Madhu Sapre, Katrina Kaif and Padma Lakshmi, the New York-based model, food writer, and occasional movie actress.
The film also stars Bo Derek, who was a worldwide sensation two decades ago.
Gustad shared his cinematic views with Arthur J Pais by email from Mumbai:
How did the idea for Boom evolve?
| | |
| --- | --- |
| | More on rediff.com! |
| | |
I am interested in the fashion industry and always wanted to make a film on the subject. Also, I always thought gangsters are very fashionable in their personal lives. So I thought, why not make a film combining these two industries? So this is an original kind of film.

Why should people see Boom?

I cannot, in all sincerity, answer this question. There are way too many different and original aspects of Boom. To identify any single one or two reasons is impossible. I'd like to think that the strong point of the film is that it is original, different and fresh. It does not look or sound like anything else coming out of the Indian film industry right now.

What were some of the challenges on this film?

Three countries, 50 locations, 60 days and managing everyone from Amitabh Bachchan to Zeenat Aman.

Amitabh Bachchan has an unusual and interesting hairstyle in Boom. How did this look come about?

I worked very closely with my designer Anna Singh in creating a very specific and distinguished look for each character. The names of the three gangsters in the movie are Chhote Mia, Medium Mia and Bade Mia. Hence it was important to create a look that identified with the character specifically.

Bachchan's character lives and works 200 feet above sea level on the top floor of the Burj Al Arab in Dubai. I wanted him to have a look that he has not used before. So we darkened him three or four shades, gave him green eyes, a white Mohawk-styled yak hair wig, and dressed him in all-white. Even his socks and shoes are white except his socks have cartoon characters on them and there are diamonds on the soles of his shoes. He looks like a rock star in Boom.

What has he given to Boom that he hasn't given to other films?

I don't think Bachchan has played a character as wild as this in a long time. The basic brief was to come up with a performance, sensibility, genre and look very opposite to everything he had done before.

How did you convince the financiers and producer that this is a viable project?

I didn't. I just gave them the screenplay to read. A good project doesn't need to convince anyone else on its behalf.

What drew you to Bo Derek?

You are kidding, right? I mean, she's Bo Derek after all! Who doesn't remember that classic scene from the movie 10? In Boom, she recreates that magic for Amitabh Bachchan, except that she emerges from the water wearing a golden sari, not a golden bikini.

If she had refused, who would have been the next choice?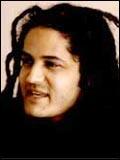 If Bo Derek had said no, I would have dropped the sequence completely. It was only intended as a cameo role and would not have impacted the narrative in any way. Moreover, Bo Derek was playing herself and not another character.
How did you persuade Padma Lakshmi to act in the film?
It worked the other way around. She had to convince me she was right for the role.
Would this film have a big appeal outside the urban centres in India?
I really don't know. I hope so, but you can never tell.

Who would be the target audiences for this film abroad, in England and America?
I try not to pigeonhole my audience as I think that only serves to insult their intelligence. I make movies for the widest possible audience to see.
What was the fun part of making this film?
All of it. Making movies is the most fun you can have with your clothes on. I would pay for the privilege of making a movie.
And the frustrating part?
All frustrations are part and parcel of the job definition.
Do you plan to make a film in New York?
I made a film in New York called Corner Stores Blues when I was a 24 year-old student at NYU. Currently, I am developing two projects, Jaisalmer and Mumbai Central.
In a nutshell, what are Jaisalmer and Mumbai Central about? Will they have an international cast?
It is too early to discuss them. I'm still developing these two projects.
Boom

has an unusual musical score.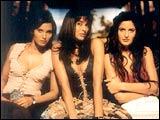 I am very proud of the film's music. It was composed by Sandeep Chowta and Talvin Singh. The album is doing very well worldwide. The music is a refreshing blend of globally influenced Indian music and features the likes of Punjabi MC, Rishi Rich, Groove Armada, Sandeep Chowta and Talvin Singh, among others.
What would the making of a film like this mean to young desi directors in the West who want to make interesting films in India?
I really don't know. Everyone will take from the film what they choose. I hope it opens more doors to people with original and fresh ideas to enter the industry.
Who are some of the Western and Indian filmmakers who have influenced you the most?
Martin Scorsese, Oliver Stone, Jim Jarmusch, Francois Truffaut, Ritwick Ghatak, Guru Dutt and Raj Kapoor.
New York is a great city for movie buffs as you get to see films from all over the world easily. Aren't you missing the city? And if so, what do you miss most?
I miss it very much indeed. I spent four of the most productive years of my life there. I was a student at NYU. I used to sneak in from the back entrance of the Angelika Film Centre and see a double bill most nights. I miss the access to new cinema, theatre, and most of all I miss New Yorkers. They have a unique point of view of the world.
Click here for More Interviews


What do you think about the story?








Read what others have to say:





Number of User Comments: 3








Sub: my Response on a Mindblowing movie!!!1

i would like to convey my heartiest congratulations on his new project. this is probably the first movie that will jump into the indian screen. ...


Posted by Arnab Banerjee









Sub: any body intrested in a subject very true to make a joint production.

contact if you are really intrested to make a award wining and heart wining project.


Posted by RAJESH JOSHI









Sub: good things last long

so many have given so many messages.hardly anything new left to say. good luck and best wishes.


Posted by RAJESH JOSHI






Disclaimer