Home > Movies > Reviews > Readers' review

A mindblowing movie!

S Manasvi | September01, 2003 19:12 IST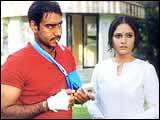 After watching Gangaajal, you can forgive Prakash Jha for making Bandish, Dil Kya Kare and Rahul. Here is a film that gets to the point from the very first minute and never loses track.
Portraying Bihar seems to come easy to Prakash Jha. He has accorded the perfect dialect to a perfect cast. The Bhagalpur blindings case (of 1979-1980, when 30 undertrials were blinded by policemen) has also been used beautifully in the tightest script seen in Bollywood since Govind Nihalani's Ardh Satya. How power filters down from corrupt politicians to the policemen to the suppressed public has been dealt in a very effective manner.
| | |
| --- | --- |
| | More on rediff.com! |
| | |
Ajay Devgan as SP Amit Kumar, who gets his first district posting in Tejpur, expresses himself through his eyes. We don't really need to write dialogues for him anymore.
But it is Mukesh Tiwari (China Gate, Refugee) who steals the scenes from under the nose of a seasoned actor like Mohan Joshi. He is a treat to watch when he portrays guilt, disgust, anger in the well-written scenes he has been given.
Gracy Singh has nothing to do. I wonder why some article had mentioned that her acting in this film is something to watch out for when she actually has no role to play.
This songless film tells the director to make music videos and good stories separately and not in the same film.
Once again, congratulations to Prakash Jha and Ajay Devgan for making this mindblowing film. Please don't ever attempt a Dil Kya Kare again.
S Manasvi is a student at the Film and Television Institute of India, Pune.
Click here for More Reviews


What do you think about the story?








Read what others have to say:





Number of User Comments: 3








Sub: excellent movie

worth a watch ... reflects reality a lot


Posted by mayur









Sub: Exaggerated

The way u wrote the article reflects the point that its one of the best movies made.Its good but speaking some rude dialogues and portraying ...


Posted by Harshavardhan









Sub: justified review

I am very happy with u review because u have been honest and not criticed prakash for getting the same idea but appreciated him thats ...


Posted by roger






Disclaimer