Home > Movies > Bollywood News

Bhoot, now in Tamil

rediff Entertainment Bureau | October 29, 2003 16:31 IST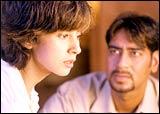 Ram Gopal Varma's horror thriller Bhoot will now be remade in Tamil.
Starring, Prashanth and Simran, Shock will be directed by Thiagarajan, former actor and father of Prashanth.
Thiagarajan is known for his roles like Malayur Mammatiyan, and as the villain in Mammootty's New Delhi, which was based on the Irving Wallace book, The Almighty.
Prashanth, touted to be one of the young turks -- along with Ajit and Vijay -- who would take over from Rajinikanth and Kamal Haasan, fell by the wayside, with no big films in the last three years.
| | |
| --- | --- |
| | More on rediff.com! |
| | |
Simran, after breaking up with choreographer Raju Sundaram, having a rapidfire, and controversial, relationship with Haasan, and apparently readying to marry a Delhi-based businessman, is now cutting back on acting assignments.

She recently suffered the indignity of being thrown out of Mani Ratnam's Ayudha Ezhuthu (she had earlier acted in his Kannathil Muthamittal opposite Madhavan which, a couple of months ago, was the hightlight of the 26th Asian American International Film Festival in New York).

Ratnam's objection to Simran was that she did not know Tamil fluently. He then proceeded to cast Esha Deol, who is the daughter of Hema Malini, who reportedly talks Tamil at home with her daughters.

Ayudha Ezhuthu is being shot in both Tamil and Hindi. In Hindi, the film is called Yuva, and will star Ajay Devgan, Vivek Oberoi, Hrithik Roshan, Rani Mukerji, Kareena Kapoor and others. The Tamil version features Madhavan, Surya, Shaam, Meera Jasmine, Esha Deol and Trisha.

Ravi K Chandran is the cinematographer and A R Rahman the composer for both versions.

Click here for More Features





What do you think about the story?








Read what others have to say:





Number of User Comments: 8








Sub: Hrithik?

Yuva doesn't star Hrithik, its Abhishek Bachchan who stars in that movie. Please verify facts before writing the articles. chela


Posted by chela









Sub: stale news

your messages are so damn stale why dont u update the messsages?????????????? plzzzzzzzzzzzz


Posted by niya









Sub: hrithik roshan

for god`s sake it is not hrithik but abhishek who features in maniratnam`s hindi film.why dont u check up the facts before writing the article? ...


Posted by gopi









Sub: Verify facts

The film stars three heroes- Madhavan, Surya and Siddharth from the film 'Boys'. The film also has three heroines- Simran, Trisha and Meera Jasmine. Abhishek ...


Posted by AM









Sub: Yuva - Simran

simran may be out of ayutha yezuthu but certainly is in yuva, the hindi version.


Posted by shankar






Disclaimer