Home > Movies > Report

Anupam Kher is new chief of censors

rediff.com Entertainment Bureau | October 08, 2003 16:37 IST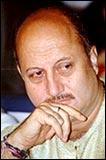 Actor Anupam Kher has been appointed chairman of the Central Board for Film Certification, more commonly known as the censor board.
Kher takes over from 'acting' censor board chief and former Bharatiya Janata Party MP Arvind Trivedi. Trivedi remained acting chairman for almost a year and a half.
In July 2002, filmmaker Vijay Anand had resigned after then Union information and broadcasting minister Sushma Swaraj turned down his proposal to allow selected theatres to screen pornographic films. That was when Trivedi pitched in.
A versatile actor, Kher's performances in films like Saaransh, Karma, Daddy, Chaalbaaz, Dil Hai Ki Manta Nahi, Lamhe and the international hit Bend It Like Beckham have brought him a lot of acclaim.
Kher made his directorial debut last year with Om Jai Jagadish. The film bombed at the box office.
The 80 year-old Dev Anand, elder brother of Vijay Anand, was offered the censor board chief's post recently. But the legend declined and Kher stepped in.


What do you think about the story?








Read what others have to say:





Number of User Comments: 4








Sub: Live it up, Anupam !!!!

"The 80 year-old Dev Anand, elder brother of Vijay Anand, was offered the censor board chief's post recently. But the legend declined and Kher stepped ...


Posted by chanakya









Sub: on selection as censor board chairman

it was lovely to hear that you have been nominated for this prestigious post. am sure you will not only do the justice to the ...


Posted by praan kumar kaul









Sub: Kher appointment

Respected Kher Sahab, congrats for the said appointment. You have done proud for the community.


Posted by Sunil Kaul









Sub: Re: Re: 'SIMI does not teach to kill'

What rubbish! Anyone seen his B-grade movies? He has been one of the vulgar actors! Don't we have any respectable person to head the post?


Posted by Sinedie






Disclaimer