Home > Movies > Sound Check

Madonna poses a problem

Blind Melon | October 01, 2003 12:49 IST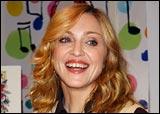 The next time you sit down cross-legged to have your picture taken, make sure nobody's done it before. You could be sued for copyright violation.
At least that's what Madonna has to deal with.
A long-dead fashion photographer's son has sued the controversy-baiting pop star for allegedly copying his father's images in a set of videos for her song Hollywood.
Samuel Bourdin claims to hold the rights to his father Guy Bourdin's images, created before his death in 1991. The lawsuit filed last week in Manhattan accuses Madonna, 45, of copyright infringement for imitating poses and images from about 11 of Bourdin's works. The late photographer's works were published in the French Vogue from the mid-1950s through the late 1980s. His son seeks unspecified damages from Madonna and the companies and individuals involved in producing the videos.
The elder Bourdin was regarded as an influential fashion photographer for his stylised, constructed compositions in unusual settings. His son compares his photographs with Madonna's video images in the lawsuit. In one Bourdin picture, a scantily clad woman peers into a round mirror. Madonna is seen doing the same. In another, a woman squats on the floor with what appears to be a large television screen between her legs. Madonna is pictured in the same pose.
And they say imitation is the sincerest flattery!
Warning: this suicide is not staged
| | |
| --- | --- |
| | More on rediff.com! |
| | |
Stage blood was a concept pioneered by heavy metal bands. Onstage gallows were a standard Alice Cooper prop. Similar heinous deeds have been attributed to Ozzy Osbourne in his demonic heyday.

But here's something to warm the cockles of Dr Jack Kevorkian's heart.

Hell On Earth is the name of the Florida hard rock band that is dying to get away with assisted suicide in defiance of a new city law. The band was quoted as saying a terminally ill person would commit suicide during their concert in St Petersburg, Florida, to raise awareness about right-to-die issues.

The unusual protest comes in the wake of the city council's unanimous approval of an emergency ordinance, which makes it illegal to conduct a suicide for commercial or entertainment purposes and to host, promote and sell tickets for such an event.

Circuit Judge John C Lenderman of St Petersburg granted the city a temporary injunction against the band, preventing them from advertising the show and allowing the suicide.

But bandleader Billy Tourtelot said, 'The show will go on.'

Tourtelot, 33, said the concert would be played before a 'a select few people' at an undisclosed venue in the city. It would be shown live on the band's website. He would not identify the terminally ill person or the mode of suicide.

The act is an impetus for the band, already known for bizarre stage stunts like chocolate syrup wrestling and grinding live rats in a blender.

Tourtelot said the band aimed to raise awareness for physician-assisted suicides to be legalised in Florida.

'If you can die for your country, why can't you die for yourself?' he asked.

New releases

If Elvis Costello's career ever longed for direction, he seems to have found it. North, the British singer's new album released last week, departs from rock instrumentation and is dominated by Steve Nieve's piano, with Costello playing guitar on only one of the 11 tracks.

Click here for More Sound Check