Home > Movies > Interviews

The Rediff Interview / Ravi Chopra

'I was fated to direct Baghban'

Ronjita Kulkarni | October 01, 2003



Ravi Chopra seems to have an unspoken bond with Amitabh Bachchan.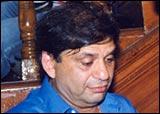 His directorial debut Zameer (1975) starred Bachchan, then an upcoming actor. Twenty-eight years later -- 11 years after his last release, Kal Ki Awaz (1992) -- Chopra makes a comeback to the big screen with none other than Amitabh Bachchan as his lead actor.
Baghban, which releases worldwide on October 2, is the story of a husband and wife (Bachchan and Hema Malini) who sacrifice everything for their children and hope they will, in return, be looked after in their old age. But when the time comes for the children to take on their parents' responsibility, the children spurn them. In the end, it is their adopted son, Salman Khan, who comes to their rescue.
Ravi, who assisted his father B R Chopra in Daastan (1972) and Dhund (1973) and his uncle, Yash Chopra, in Aadmi Aur Insaan (1969) and Ittefaq (1969) before he went on to become a full-fledged director, plans to launch two more films this year. After all, the BR tradition of making thought-provoking family films is now his responsibility.
On the eve of Baghban's worldwide release, Ravi Chopra chats with Ronjita Kulkarni about his comeback film and his future plans.
According to your website, the story of Baghban was conceived 30 years ago. Do you think it is still relevant today?
Yes. Baghban is the story of a family. This problem of children deserting their parents in times of need started in those days and has become worse today. Dad was supposed to direct it but he fell ill. Then, we got busy with the television series, Mahabharat. Later, I decided Baghban should be our comeback film. Since Dad was still ill, he asked me to direct it.
The role was actually meant for Dilip Kumar...
Yes. Let me tell you what happened. I was shooting for my debut film, Zameer, starring Amitabh Bachchan and Saira Banu. I needed a big garden and we just couldn't find one. That's when Dilip [Kumar] uncle loaned us his garden.
During the shooting, Dad and Dilip uncle were sitting and chatting. That's when he narrated the script to Dilip uncle, who loved it. But Dad was busy with other films and Dilip uncle wanted to start another film first. I guess I was fated to direct it.
You've known Amitabh Bachchan since his struggling days as an actor. What changes have you seen in him?
From an upcoming actor to the star of the millennium, the one thing that hits you about Amitji' is his hunger for work. That is why he is where he is. He is very professional and punctual. He has learnt a lot from his experience over the years. He understands every nuance that goes into acting. He has evolved into a fantastic actor. It is great to see a man reach this stage in his life and yet be so much into his work.
You go a long way back with Hema Malini as well. You directed her in The Burning Train (1980).
Yes. When I told Hemaji I wanted to do a film with her again, she was surprised. I narrated the subject and she said she never thought she would get a role like this. It is a role of a lifetime! It is difficult to get it when you are young. To get it when you are old is even better. No actor could have refused it.
She has improved tremendously. I couldn't believe it. I thought Amitji might leave her behind as he is such a fantastic actor. But she has walked with him step-by-step throughout the film.
Didn't Salman Khan's 'bad boy' reputation make you apprehensive?
No. Salman is a sweetheart. I don't know how he got this reputation. Maybe, he has never had a good relationship with the media. I had a great time shooting with him and would love to do another film with him. He has really got a heart of gold.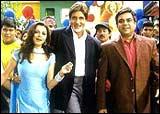 In Baghban, Salman plays an orphan who is brought up by Amitji. I needed someone who looked very decent because he's the good guy in the film. His character is indebted to the man who has raised him. Salman has done a great job.
I chose Mahima Chaudhry because I needed a girl who would look good in Western and Indian outfits. And she fit the bill perfectly.
Baghan sounds suspiciously like the Rajesh Khanna-Shabana Azmi-Sachin starrer, Avtaar.
No, Baghban is totally different from Avtaar. My film is more about the romantic relationship between Amitji and Hemaji. In Avtaar, the father wants to take revenge on his children. There is no revenge in my film.
Actually, just because both the films have a father-son relationship, people feel it is alike. But there are only 10 relationships in the world and all films revolve around these select relationships. It doesn't mean that all films are alike.
Why was there a long gap between your last film Kal Ki Awaz (1992) and Baghban?
Our films are aimed at the family audience. But we realised the family audience was sitting at home watching television and films on video due to the video boom in the 1990s. Since I was also keen to do television then, we switched over to television and made serials like Mahabharat. Now, our target audience is back in the theatres and watching films in a big way. So it made sense for us to make a film again.
You have assisted your father in two films.
Working with Dad was always a high. He was the one who taught both Yash uncle and me. His knowledge of films is fantastic. He has that earthy sense when it comes to telling a story. He knows exactly what a good story is. No one in the industry is as good as him.
For him, the story is king. He will do anything for it. If the story requires him to go to Mount Everest, he will go there. In contrast, Yash uncle gives importance to the story as well as the form. I learnt from both of them.
When the Chopras [BR, Yash, Ravi, Aditya] direct, the atmosphere on the sets is very casual; it's like being with your family. We're not tense at all. My father and Yash uncle have always shared a very good relationship with the actors in our films. It is difficult to give your best performance if the atmosphere is tense.
Dad never comes to my sets because he hasn't been too mobile for the last 12-13 years. But I ask him for advice all the time. Whenever I have an idea, I tell him and vice versa.
Can you tell us some incidents from your father's directorial days?
I was very young then, but I will tell you some interesting stories. One morning, I heard this horn blown outside my house. Dilip uncle was standing near his car, dressed in a lungi and kurta. He asked me, 'Tera baap hai andar [Is your father at home?]'
They were to start shooting for Naya Daur two days later. At home, the two of them enacted the entire script that day. They worked out every detail. Actually, before this film, Dilip uncle was known as the tragedy king because he had done films like Devdas. In Naya Daur, he was to play a flamboyant tangawala.
There was another incident when Sunil [Dutt] uncle was required to swim for a certain scene in a film. To practise for that scene, he would go to Mumbai's Sun 'n' Sand hotel every evening after shooting and swim 40 laps. He wanted to be in shape and do that scene well -- and to think that scene was actually a very small one!
That is the kind of dedication these actors had. And that helped in making great films.
Do you think the industry has changed?
Yes. Today, money has become paramount. The dedication is not visible. I still see it in the older actors, but not in the newer ones. You can recognise the actors who are dedicated because of the heights they have attained. Importance today is not given to what you are doing but to what you can get out of it. It is sad because the money comes in any case if you do good work. Anyone who comes to this line for the money is a fool because you will definitely make enough to be comfortable. You should strive to be recognised.
The technicians, on the other hand, are still crazy about their work.
What plans do you have for the BR Chopra banner?
I will not change the USP of BR Chopra Films. I have always tried to make family films and television programmes and will continue to do so.
We [B R Films] always try to make films with a difference -- our films entertain and have a social message. That's what made my father different from other filmmakers. Take any of his films: Nikaah [based on the Muslim man's right to divorce his wife by saying talaq thrice], Insaaf Ka Tarazu [which dealt with rape and its aftermath], Ek Hi Raasta [which focussed on widow remarriage]. Sadhana was Pretty Woman made as far back as 1958! It was about the rehabilitation of a prostitute.
In Baghban too, there is a thought: will you help the man who helped you walk your first step take the last steps of his life? I could have made it a simple story of a couple having problems with their children. But highlighting this message makes Baghban different from the rest.
What other social messages do you plan to highlight?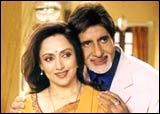 We're working on three films that have social messages. The first is why money has become all-important in life, instead the means to an end?
We're also doing a costume drama set in British India. We want to highlight that, after God, it is your country that is most important. This story is about a father and his two sons. Amitji will play the father. I'm talking with Salman about playing one of the sons.
I want to start these two films this year.
There is a third film which highlights the fact that, in any relationship, the woman must have the right to say no.
Click here for More Interviews


What do you think about the story?








Read what others have to say:





Number of User Comments: 9








Sub: Baghban

The legend of The Big "B" continues.the movie is just superb.Many can easily identify the rationale of such strong social plots.Once again The team from ...


Posted by Vijay Malhotra









Sub: baghban is a lovely movie !!

baghban is a great movie all the youngsters MUST watch this this movie .. hema and and Amithab are reallly PERFECT as usaul in this ...


Posted by Anisa









Sub: about baghban

it's a wonderful film.big b has dominated throughout the film.he is great.his performance is top in the movie.


Posted by prasad kulkarni









Sub: Baghgban

This movie sounds like a Telugu film remake (most of the story). In seventies there was movie done by NTR and Anjali Devi, I am ...


Posted by Lakshmi









Sub: baghban

amithab NAAM hi kaafi hai ,really nobuddy can dance like his own style but in the Guju Cafe in BHAGBAN ,he danced that will be ...


Posted by rajesh






Disclaimer