Music was Ram Sampat's destiny.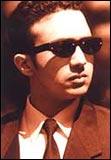 "It [music] has been in my life all through. My dad used to play a lot of LPs at home," he says.
His father would listen to Beatles and Jimi Hendrix, while his mother preferred the likes of RD Burman, SD Burman and Carnatic music.
"Most people have the television on in their homes. In our house, it was the music system," recalls the 28-year-old music composer.
In his teens, Sampat began writing melodies. "But I was far more interested in English music than I was in Hindi music in terms of production values and what I had to say," he says.
He adds: "I have done about eight years of Carnatic vocal training from various teachers all over the place. I never had the same teacher for over two years. It wasn't very consistent.  What was consistent was that I did a lot of Hindustani classical later." 
Remembering his school days from Chembur's Our Lady of Perpetual Succour, in Mumbai, Sampat chuckles about being a 'horrible student'. "I was rebellious in ridiculous ways, breaking school norms," he says.
He must have earned good grades to attain admission at the Podar College of Commerce in Mumbai. "They were very lenient with attendance. I didn't have any opposition from them, but faced opposition from my own peers. Which is very strange," he says.
Evidently, music was the only thing on this talented youngster's mind. Graduation plans were laid to rest, and he pursued a career in music at 16, composing for jingles. 
Sampat has no qualms about dismissing his work at an adolescent stage as "horrible stuff done for the moolah", adding, "it was a great experience."
Composing jingles is good learning ground, he says: "It's brief but that's the whole point. You get to learn and hone your form. With commercials, you learn to communicate very quickly."
"Often, we get films which aren't very clear, in spite of the dialogues. A lot of times, the music has the narrative. You are actually getting paid to tell the narrative. You also learn to make brief musical statements," he explains.
The big break came in the form of Times Of India's Pradeep Guha. "He spotted me. I had gone over to his place with some friends for lunch. He asked me what I did. I told him I make music. He was like, 'You are too young. Are you sure you can make music for a living?'
"I said, 'Yeah, you should listen to some stuff I have done.' He hired me to do the music for Femina Miss India 1994 and 1996. After that, Guha introduced me to a lot of people in the advertising industry."
Eventually, he says, "I wasn't interested in making commercial music. I was anarchic as a teenager. It was tough for me to figure out what I wanted to do because I couldn't find the right kind of partnerships. I had a friend called Siddharth Achrekar, a guitar player with another band. He was the only musical collaborator I could think of."
That is how the rock band Color Blind came into existence. "I started making noisy music for a good part of my life. It was liberating," he states.
Real acclaim came with the success of his singles, Tanha dil and Bhool jaa in collaboration with singer Shaan. "The song is still on the air. People still listen to it. It has definitely exceeded my expectations."
Sampat acknowledges sharing a special rapport with Shaan. The duo worked together on the latter's album, Loveology. "He and I started around the same time. We have always had a good time working together. He has decided to go his way now and is producing his own album."
As for Indian pop music, Sampat shrugs, "Indipop has completely lost its direction."
Becoming a hardcore Bollywood music director was never on Sampat's mind. "In a South Indian household, if you are not an engineer or doctor, you are dead. Luckily, I have chilled out parents. So when they figured I could do this decently, they were okay about it."
And so, for Ram Madhavani's unconventional project Let's Talk; Sampat went backpacking, to look for singers from Allahabad, Lucknow, Benares, Patna and Kolkata. "It was a great experience working on the background score because it was beautifully structured and followed the idea of thumri," he says.
Sampat is now enthusiastic about the score for Rajkumar Santoshi's cop drama Khakee, featuring Amitabh Bachchan, Ajay Devgan, Akshay Kumar, Aishwarya Rai, Atul Kulkarni and Tusshar Kapoor.
Sampat bagged the project after his actor-cum-filmmaker friend Pratap Pothen referred him to Santoshi. "Santoshi was looking out for someone fresh and new because [Santoshi's favourite] A R Rahman was busy working on something else. He asked me to get in touch with him. I auditioned for the film, as is the case with anything that big. And Khakee is a huge movie," he stresses.
Khakee has everyone that matters, "except for me," insists Sampat. "I have been in this business so long but I have been this obscure person. I have enormous contempt for this fake burden of fame and adulation that comes your way with movies," he adds.
Khakee, rumoured to be inspired by Mike Figgis's Internal Affairs, is a tense drama about police officers.
Santoshi and the script were the two reasons Sampat agreed to sign this film. That Khakee doesn't really offer much scope for music doesn't bother Sampat. "One thing I really liked about RD Burman was that he worked in movies where music was not necessarily welcome. Take Kaalia or Don. They had great music. Most composers today are scared to take on action films because they aren't very inviting of music. The music has to be really amazing for it to stand out," he explains.
Sampat's brief was to do a Bollywood score. "I really enjoyed that. I have done hatke all my life. Here, I have done a stereotypical score," he quips.
Sampat is full of praise for Santoshi: "He has an amazing music sense. He is almost encyclopaedic about the Hindi film industry. His heroes are Guru Dutt and Hrishikesh Mukherjee. He has so much tehzeeb [refinement], and that comes across in the music of the film. He likes a certain timelessness in the melodies."
Sampat made Santoshi hear around 45-50 melodies. "He finally selected this one [Wada raha] and said, 'I love this. I can hum and sing it. It doesn't tire me. It doesn't bore me'. Santoshi has a unique view on club songs. For Aisa jadoo, he wanted a dynamic range -- it goes fast, then slows down, and then jumps again."
Speaking of the other songs in the album, Sampat says, "There is a song called Ooparwale, which sums up the spirit of the film. It is about cops when they head out on a mission. There is a song called Mera maula karam, which is a mother's prayer to the Lord to take care of her son. Teri baahon is a love song."
Khakee, he says, is "A round album with a lot of flavours." He believes the viewer will get a fair idea of the film after listening to the soundtrack.
Sampat also mentions that, "Aishwarya Rai was very sweet about the Vaada raha song. She told me she couldn't stop humming it."
He holds Ram Gopal Varma as a big influence on background scoring. "Company had a really interesting background [music]." His only grudge is, "The new trend of background score is too loud. There is not enough silence in the movies. It tends to be dramatic. Sometimes it is like an assault, which is not healthy. In India, we lack subtlety."
In comparison to the advertising world and producing non-film albums, Sampat rates Bollywood as a tough act to follow. "What is really scary is that the onus to communicate musically with the entire country lies on your shoulders. You have to write a sophisticated melody, which has to connect at a mass level," he says.
He only has one fear: "Of letting myself down. But I am satisfied."