| | |
| --- | --- |
| | Article Tools |
| | |
Dinesh Raheja
Parveen Babi, one of the most popular actresses of the 1970s and 1980s, passed away in January 2005. Her memory, however, lives on; she is an unforgettable icon in Bollywood's history.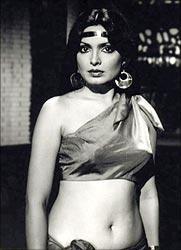 Filmmaker Mahesh Bhatt, who had a relationship with the actress in her heydays, is now making a film based on her life. Woh Lamhe sees Gangster actress Kangana Raut play Parveen, while Shiney Ahuja plays Bhatt.
But how many of India's youth really even know the glamorous star, who acted with the top stars of her day, including Amitabh Bachchan -- whom she partnered in many films.
First published in May 2003, we reproduce this article to offer readers a closer look at who Parveen Babi really was.
There was a great schism in the seventies between the fans of Zeenat Aman and the fans of Parveen Babi. The two were constantly singled out for comparison because both were sex symbols who spoke anglicised Hindi, had lustrous hair and long legs, were favourites of reigning superstar Amitabh Bachchan, and had made their mark in no-holds barred, unconventional roles (Zeenat in Dev Anand's Hare Rama Hare Krishna, Parveen in Yash Chopra's Deewar).
The very definition of the seventies Bohemian cool, Junagad-born Parveen Babi was studying in Ahmedabad university when B R Ishara discovered her in a chance meeting. Ishara, who was keen to cast a new girl opposite ex-cricketer Salim Durrani, chose Parveen for his Charitra (1973), a bold follow-up to his Chetna. Charitra bombed but the tall, bright-eyed Parveen stood out. Her second release, the Kishore Sahu-directed Dhuen Ki Lakeer (1974), also flopped, but a song from the film, Teri jheel si gehri aankhon mein, lingered in public memory, as did Parveen's beaming countenance.
Parveen Babi's landmark films

Year

Film

Costars

1974

Majboor

Amitabh Bachchan

1975

Deewar

Amitabh Bachchan

1977

Amar Akbar Anthony

Amitabh Bachchan

1979

Suhaag

Shashi Kapoor

1981

Kaalia

Amitabh Bachchan

1981

Meri Awaaz Suno

Jeetendra

1982

Namak Halal

Shashi Kapoor

1982

Ashanti

Mithun Chakraborthy

1982

Khuddar

Amitabh Bachchan

1983

Rang Birangi

Amol Palekar
Despite having no success to her credit, a chubby-cheeked Parveen, who looked younger than her age, found instant acceptance and surprised everyone by being snapped up for nine more films. B R Chopra's taut thriller, 36 Ghante (1974), didn't last for much longer in the theatres; but the Amitabh Bachchan-starrer, Majboor (1974), where Parveen had a conventional arm-candy role and sported elaborate hairdos and outfits, finally furnished a hit for the actress.

But it was Parveen's small but crucial role in Yash Chopra's Deewar (1975), that was largely responsible for formulating her image as the sleek, chic, Western woman whose long, open tresses, flying wildly in the wind, became an unspoken expression of her desire to be unshackled by convention, both on and off screen.
With Deewar, Parveen defied Hindi films' norms and played a heroine who not only flaunted her drink openly but also indulged in premarital sex with her lover, Amitabh. Parveen's understated performance brought her big notices. Her sophisticated demeanour and cool nonchalance proved a further double whammy. The poignancy that reverberated when her dream of wearing the sindoor ended in a blood-soaked wedding sari made her death one of cinema's most memorable scenes.

After Deewar, Parveen's biggie with Dev Anand, Bullet, misfired. The actress also fired blanks in a trio of insignificant roles with Randhir Kapoor (Bhanwar, Mama Bhanja, Mazdoor Zindabad) and a dud called Rangeela Rattan opposite Rishi Kapoor.

But Parveen had no reason to fret. A gold mine, Amar Akbar Anthony (1977), awaited her. AAA was essentially an Amitabh show, but Parveen had the best role among the heroines. Also, the fact that she was paired opposite superstar Amitabh contributed significantly to her halo.

Her career was booming and she was singled out for the rare distinction of being featured on the cover of Time magazine. But Parveen, who was part of the hip Juhu (northwest Mumbai) crowd, was always one to respond to her heart. At one stage, she even placed her career on the backburner and took off with bearded boyfriend Kabir Bedi, who was to play the title role in an Italian television serial, Sandokan. Fortunately, Parveen returned in the nick of time to pick up the threads of her career with renewed fervour.


Parveen Babi's famous songs

Song

Film

Singer

Teri jheel se gehri aankhon mein

Dhuen Ki Lakeer

Vani Jayram, Nitin Mukesh

Aankhen milayenge, nazdeek aayenge

Bhanwar

Lata Mangeshar, Kishore Kumar

Humko tumse
ho gaaya
hai pyaar

Amar Akbar Anthony

Lata Mangeshkar, Mukesh, Mohammed Rafi, Kishore Kumar

Main toh beghar hoon

Suhaag

Asha Bhosle, Shashi Kapoor

Baahon mein tere masti ke ghere

Kaala Patthar

Lata Mangeshkar, Mohammed Rafi

Pyaar karne waale pyar karte hain

Shaan

Asha Bhosle

Maaara thumka badal gayee

Kranti

Lata Mangeshkar

Jawani jaaneman haseen
dilruba

Namak Halal

Asha Bhosle

Raat baki
baat baki

Namak Halal

Bappi Lahiri, Asha Bhosle

Angrezi mein kehte hai ke I love you

Khuddar

Lata Mangeshkar, Kishore Kumar
It was the era of multistarrers and she snapped up a mixed bag of roles in ensemble fares. She was Vinod Khanna's neglected wife and a mother in B R Chopra's The Burning Train (1980), Amitabh's beauteous leading lady in Ramesh Sippy's star-studded follow-up to Sholay, Shaan (1980), and had an interesting cameo in Manoj Kumar's Kranti (1981). She was also Amitabh's love interest in Do Aur Do Paanch (1980) and Kaalia (1981).
Parveen reached the pinnacle of her popularity at the turn of the new decade with a couple of interestingly dark-shaded roles in Meri Awaaz Suno (1981) and Namak Halal (1982). Her unapologetic turn as the gangster's moll dancing to Kanwarlal in Meri Awaaz Suno revived memories of Deewar. Next, she dazzled audiences with her two cabaret numbers, Raat baaki and Jawani jaaneman, in the blockbuster, Namak Halal.
Convincingly essaying the role of a seductress who, under duress (her mother is held captive), baits Shashi Kapoor into a death trap, she exuded unlimited oomph. Compliments flowed in even from the most unexpected quarters. A serious actress like Deepti Naval expressed the desire to do a role a la Parveen Babi in Namak Halal.
No more could Parveen's detractors regard her as the poor man's Zeenat. Nor was she a bonsai star who grew in Amitabh's shadow. Now she was a star-actress in her own right.

In 1983, after a prolonged effort to extend her oeuvre by working with middle-of-the-road directors like Vinod Pande (Yeh Nazdeekiyan with Marc Zuber), Esmayel Shroff (Dil Aakhir Dil Hai with Naseeruddin Shah) and Hrishikesh Mukherjee (Rang Birangee opposite Amol Palekar) came to naught, Parveen, the emotional gypsy, mysteriously flew off again, this time to the US.

Some claimed it was her association with the spiritual guru, UG Krishnamurthy, the release of Mahesh Bhatt's Arth (a semi-autobiographical look at his extramarital relationship with Parveen) and her disturbed state of mind that prompted her to abandon everything. But Parveen never confirmed the veracity of any media speculation.

When she returned after an extended stay in New York, a bloated Parveen vented spleen at Amitabh and accused him of a deep-seated conspiracy.