Home > Movies > Bollywood News

Bollywood's upbeat mood

Subhash K Jha | June 30, 2003 15:35 IST



In the last few months, at least six Hindi films -- Raj Kanwar's Andaaz, Ken Ghosh's Ishq Vishk, Aziz Mirza's Chalte Chalte, Ram Gopal Varma's Bhoot, Tigmanshu Dhulia's Haasil and Sujoy Ghosh's Jhankaar Beats  -- have either made profits or broken even.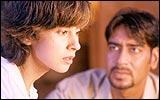 Failures like Padam Kumar's dark gangster film Supari and Tarun Kumar's comedy Nayee Padosan have been completely ignored.
Now, all eyes are trained on Sooraj R Barjatya's Main Prem Ki Diwani Hoon which released last Friday. The film, though a victim of negative reviews (like Barjatya's Hum Aapke Hain Koun...! which had been declared a dud on release in 1994) opened to good collections all over the country. It remains to be seen how MPKDH finally turns out.
Most of the above-mentioned filmmakers have also quickly decided to launch their next projects.
Suneel Darshan, who produced Andaaz, is laid down with a slipped disc. "It has given me a chance to plan my next move. I am now launching two films, one of which will definitely star Akshay Kumar. One of the two will be directed by my Andaaz director Raj Kanwar."
Darshan thinks the time is right for filmmakers to gather their creative and financial strengths together.
Ken Ghosh, whose Ishq Vishk was a surprise success of the season, has decided to make his second film with Shahid Kapoor in the lead. Tigmanshu Dhulia, whose film on student unrest Haasil got the audience gradually warmed up, is well into his second film Charas, a thriller about the drug racket. The film will star Jimmy Shergill, who also starred in Haasil, and Uday Chopra.
Dhulia feels the mood within the industry is conducive to all sorts of films: "If a typical mainstream film like Andaaz does well, an experimental Haasil is also getting an audience."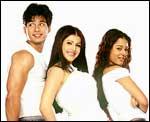 So upbeat is the mood in Bollywood that even Padam Kumar, whose Supari took a nasty beating at the box office, is ready to produce two more films. "One of then will be directed by E Niwas [Dum] while the other, probably a Thelma & Louise styled thriller will be directed by me," reveals Kumar. He adds, "No matter what the fate of Supari is, I will only make the films I believe in.
With the release of two medium-budgeted supernatural thrillers next week (Anurag Basu's Saaya and Guddu Dhanoa's Hawa), there is bound to be more reasons for optimism among Mumbai's filmmakers.
Director Sujoy Ghosh of Jhankaar Beats is now in London scripting two films. "One of them is a masala film and the other is more experimental. Jhankaar Beats has done well enough to give me the confidence to do anything I want. I don't think fringe filmmakers like us have had so many choices ever before in Hindi cinema. Otherwise how could a film like Kushan Nandy's 88 Antop Hill release the same day as Sooraj Barjatya's Main Prem Ki Diwani Hoon?"


What do you think about the story?








Read what others have to say:





Number of User Comments: 2








Sub: Bollywoods Upbeat Mood

i hope main prem ki diwani flops. because it sucks. god i cannot believe sooraj bharjatya made this. it is unbelievably stupid.


Posted by janet









Sub: andaaz

one would rather like it if films like andaaz are not made a hit...thats one of the worst films i have seen..no originality..no nothing


Posted by sai






Disclaimer