Home > Movies > Reviews

Madness at 88 Antop Hill

Deepa Gumaste | June 27, 2003 21:56 IST

88 Antop Hill falls in the 100 Days (Jackie Shroff, Madhuri Dixit) category of mediocre murder mysteries that rely heavily on contrived plot situations and finish with hopelessly simplistic resolutions. The only area in which Kushan Nandy's debut film improves on 100 Days is in some impressive camera angles by cinematographer Hari Nair and a couple of interesting visual effects.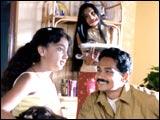 Just like Ramgopal Varma's recent hit Bhoot, this film goes overboard with its sound design. In fact, all the shrill screeching and screaming in the background leaves you more deaf than scared.
The story itself is akin to a B-grade sex-and-violence thriller. A bank employee Pratyush (Atul Kulkarni) has a spat with his wife (Suchitra Pillai). She walks out on him with their daughter. The next morning his friend Aslam (some unknown guy who believes illicit sex is the answer to the world's problems) suggests that he visit a call girl called Teesta (Sweta Menon) to rid himself of his woes.
Late at night, Pratyush gets a frantic call for help from Aslam asking him to come to 88 Antop Hill. Now, 88 Antop Hill is supposed to be a shady building right in the middle of a heavily populated area in central Mumbai. In the film, however, it looks more like the typical abandoned purani haveli of the Ramsay variety than a downmarket chawl housing prostitutes.
Since Nandy has to justify his visual and sound effects, authenticity is conveniently bumped off in reel one itself and the stereotypical 'rainy night, eerie location' prototype is faithfully reproduced.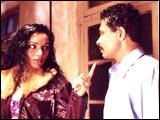 As Pratyush soon discovers, Aslam is nowhere in the picture and has, in fact, conned him into visiting Teesta. Why an ordinary prostitute should live in a house with bizarre lighting is a good question to ask. In fact, all the characters in the film live and move around in spaces that are lit so unnaturally that you wonder whom the director hoped such clichés would terrify.
Pratyush ends up spending more time with Teesta than he wanted to and is the unfortunate witness to a murder. Worse, a dirty blackmailer who lives in the same building and a watchman spot him leaving in a hurry with blood on his shirt.
The next morning, Inspector Arvind Khanvilkar (Rahul Dev) arrives on the scene of the crime and starts unravelling the mystery, which leads him to Teesta's ex-boyfriends, her former friend Sonali (played by a woman called Jasmine) and her millionaire boyfriend (a wooden-faced model-turned-non-actor) who lives in an obscene house and looks deranged enough to fit in perfectly with the rest of the ensemble.
Clever Mr Khanvilkar snubs his deputy at every opportunity and solves the mystery quite easily, while poor Pratyush spends the entire length of the film stumbling from one murder scene to another.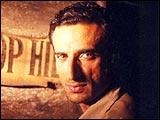 Films like 88 Antop Hill don't exactly need a saving grace -- they are better off not being made at all.
But if there is something worth a mention, it is a couple of scary moments and solid performances from Atul Kulkarni and Rahul Dev. Both actors rise above the frailties of the film (and the rest of the cast), but their heroic efforts aren't enough to salvage the situation.
Nandy's screenwriting partner Kiran Shroff has scripted episodes for television thriller series like X-Zone and Thriller at 10. 88 Antop Hill is exactly like one of these small-screen productions unnecessarily stretched into a full-length feature film.
CREDITS
Cast: Atul Kulkarni, Rahul Dev, Suchitra Pillai, Sweta Menon
Director: Kushan Nandy
Producer: Sarvodaya Visuals
Music: Uttank Vora
Want to see this movie? Check out Rediff Movie Tickets!



What do you think about the story?








Read what others have to say:





Number of User Comments: 29








Sub: Why do u need a politically correct Review?

Why do reader want a politically correct review? Its strange reaction on part of some readers. A reviewer should look into each aspect of the ...


Posted by VK









Sub: The heroine is awesome until she opens her mouth

Forget abt anyones reviews.. The movie is a joke.. Man I dunno why people would ever wanna watch a movie like dat, and why did ...


Posted by kurt_slave









Sub: deepa deepa deepa

deepa tell me one movie u haven't criticized.


Posted by ritesh tiwari









Sub: 88 Antop Hill

In todays times the viewer has become the master. He/she decides what he wants, & the review given by Deepa Gurnaste denotes the same. It ...


Posted by T J









Sub: REALLY good review

It's been ages sice I read a good review of an Indian film, i.e. one not composed of the usual tripe which plays down the ...


Posted by JMB






Disclaimer