Home > Movies > Interviews

The Rediff Interview / Nandita Das

'Acting is not about wearing undersized outfits'

Vickey Lalwani | June 10, 2003



Nandita Das is very particular about the films she signs. When it comes to roles, meaty and meaningful are more appealing than regular and stereotypical. That explains why the talented actress rarely has more than two releases a year.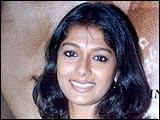 Early 2003 saw her essay a lighthearted role in Raja Menon's Bas Yun Hi. Next, she will be seen as a gangster in Padam Kumar's Supari, which releases next week.
Nandita's recent marriage to Soumya Sen, creative director of advertising agency Ogilvy & Mather, has not deterred her from shuttling between Delhi (where she lives) and Mumbai (where she works).
Vickey Lalwani catches up with the actress on the sets of N Chandra's Kagaar -- Living On The Edge (Om Puri and newcomer Amitabh Dayal).
Tell us about your role in Supari.
I play an underworld don. Usually, one looks within one's self to portray characters and emotions, but the coldness required for this role was something else. I found the story and the image that [producer-director] Padam Kumar had in mind for my character very interesting. I took the film up as a challenge.
Did you do any special homework for this role?
I would have loved to. I have heard of people gaining or losing weight, visiting places, or learning to play a certain instrument to get under the skin of the character. But so far I have not been offered a role that required me to do that. I think if you are observant and sensitive to things around you, you tend to slip into the role naturally.
There was talk of you and Padam Kumar having showdowns during the shooting.
Those were not showdowns, just healthy arguments.
Tell us about Kagaar -- Living On The Edge.
Dr Mrunalini [the producer] sent me the script. Though the story revolves around newcomer Amitabh Dayal, I have a lot of scope to perform.
Amitabh plays an upright, honest cop. I play his wife. As a result of his honesty, he faces many trials and tribulations that compel him to 'live on the edge'. As his better half, I 'live on the edge' too [laughs].
Don't you find it difficult to be on the move constantly?
I do. Travelling and being away from home is not easy. It can get very exasperating. For example, I'm stuck if a film unit suddenly takes a break for three or four days. I cannot go back to my husband or do much there.
Doesn't staying in Delhi keep you away from the limelight?
I do not have to strut around and meet people. I've never had to. I am not in the rat race. I have done sensible Hindi cinema. Moreover, I am getting some good roles in regional cinema. So why should I worry?
Besides, I cannot deal with Mumbai's pace. Just driving from one end of the city to the other is taxing. The cost of living in Mumbai is also high. I'm used to space in Delhi; here, I am claustrophobic.
Love is the only reason I would have shifted to Mumbai, but I found someone who lives in Delhi. So that takes care of it [laughs].
How does Soumya feel when you go away on long shoots?
He is very understanding. We honeymooned in Burma for only three days. On the fourth day, I was shooting in Mumbai for Anant Balani's experimental film Ek Din Chaubees Ghante [co-starring Rahul Bose].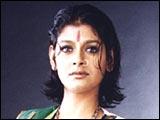 Was change of image really the reason you did Bas Yun Hi?
I don't know why people said I accepted Bas Yun Hi  to change my image. The film was set against a college campus. There was no torn sari and crumpled blouse look. I dressed like any other college girl in jeans and tee shirts.
If you see Padam Kumar's forthcoming Supari, I have a very enterprising look [laughs]. The character decides my look. I don't live in a village, man!
What is your opinion about low-budget films?
It gives small-time filmmakers an opportunity to show their talent. There are filmmakers who want to portray their stories in a different way. They do not want an angry young man; they do not want songs to titillate the audience; they do not want a typical villain; they do not want a rich Mumbai family as their characters.
Money does not make a film.
People believe you look down upon mainstream films...
I don't, honestly. It is just that I don't relate to it, so I don't do it.
You were initially signed for Rituparno Ghosh's Choker Bali. Now, the film stars Aishwarya Rai. What if Ghosh offered you another film? Would you sign it?
I would consider doing it. But I would not trust him blindly. I would have everything on paper and see that the role and the film are just the way they have been told and read to me.
What peeves you the most in Bollywood?
A man's market does not drop when he gets married; a woman's does!
What else is happening on the work front?
I have just finished a ten-minute experimental film Fleeting Beauty in New Zealand. It depicts a relationship between a white man and an Asian woman. Then I have a Tamil film opposite [Malayalam star] Mammootty. And I am reading a few Hindi scripts.
Acting is not about wearing undersized outfits and running around trees.
When is the first kid coming?
[laughs] Oh God! I knew this one was coming. My marriage is just four months old. What's the hurry?


What do you think about the story?








Read what others have to say:





Number of User Comments: 6








Sub: About Das' Critiques

Those who criticize that Ms.Das isn't glamorous are missing the point. You people still appreciate typical bollywood actresses and their puppet shows. Nandita is one ...


Posted by Jay









Sub: Nandita Das Interview

Views of Nandita Das were really good but Lets c what are the actions when actually given oppurtunity to act in big films which asks ...


Posted by Vibhuti









Sub: nandita

most talented actress,may god give her more success in many more years to come.


Posted by martin









Sub: Smart girl,Nandita

Nandita Das obviously will not want to do the mainstream cinema-she simply does not have the looks to carry it off and whats more, she ...


Posted by Terry









Sub: Nandita Das's interview

Nice one. BTW, who's the interviewer?


Posted by Joe






Disclaimer