Home > Movies > Bollywood News

'I am changing now'

Syed Firdaus Ashraf | July 31, 2003 16:30 IST



Govinda's colleagues in Bollywood have never hidden the fact that they like the guy. What they don't like is his tendency to be late. For everything. From arriving on the sets to his presence at various functions. Which is why it came as a complete shock when the actor arrived on time for the music release function of his film, Raja Bhaiya.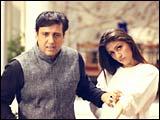 The media, however, were yet to arrive, inured as they were to Govinda's habitual tardiness.
"Look," he says firmly, "I am changing now. Everyone should know I will turn up on time from now on. I want to get rid of the image that I never turn up on time because everyone always complains about this habit of mine."
Govinda plays an honest and simple Bengali villager in Raja Bhaiya, who does exactly what his mother tells him to. "The film is excellent. I really enjoyed working with [director] Raman Kumar," says the actor.
He regaled the assembled crowd by singing the song Sunday manao from the film.  Govinda says, "This song expresses my inner desire, which is why I requested to sing it in the film."
This is not the first time Govinda has walked into the recording room. He lent his voice to Meri pant bhi sexy in Dulara and I want money in Waah! Tera Kya Kahna.
"Music is the life of a film," he says. "You can listen to film songs anytime by playing it on a recorder but you cannot see films all the time. My favourite song in the film is Tu jo has has kar baat karti hai. I am a great Nadeem-Shravan fan. They had given the music for two of my earlier films and they were a hit. All their songs are good. I am grateful to them."
Govinda is famous for his 'No 1' series of films like Hero No 1 (Karisma Kapoor), Coolie No 1 (Karisma Kapoor), Aunty No 1 (Raveena Tandon), Anari No 1, Beti No 1 (Rambha) and Jodi No 1. Asked if he was planning to have a 'Raja' series now -- Rajababu (Karisma Kapoor), Rajaji and Dulhe Raja (Raveena Tandon) have already hit the marquee -- Govinda replies, "I have no plans of doing a series of 'Raja' films. I hope Raja Bhaiya runs. It is entertaining and the music is excellent. The dialogues are very meaningful and Ramanbhaiya has done a great job."
He says he now wants to now try something other that his usual comic turns. "There has to be some change in life," he grins.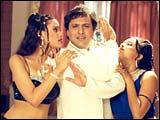 Raman Kumar claims Raja Bhaiya was written with Govinda in mind. Govinda, he says, is playing a Bengali for the first time in the film, which also stars Aarti Chhabria (Awara Paagal Deewana). Raman explains why he opted for Chhabria, who is a relative newcomer in the industry. "I wanted a common girl and Aarti's face was perfectly suited for the role. Besides, she looks beautiful on screen."
Kumar does not agree that Govinda has become repetitive. He reasons, "See this film and you will find that it is very fresh. It will be a breakthrough for Govinda's career. Govinda is the best actor in the industry. There have been ups and downs but you cannot say his career is over."


What do you think about the story?








Read what others have to say:





Number of User Comments: 1








Sub: New ''Govinda''

I am wiating for the "new Govinda" to arrive as Govinda promises to shed his comic age along with lots of kilos and will be ...


Posted by abu






Disclaimer