Home > Movies > Interviews

The Rediff Interview / Govinda

'My films were a good compromise'

Ronjita Kulkarni | July 17, 2003



Govinda has made everyone laugh with his excellent comedy in films like Hero No 1, Coolie No 1, Raja Babu and even the latest Ek Aur Ek Gyarah. Ask him which of these films does he personally like and he'll say with fervour, "None! My taste, cinema and thinking are different. What I did was a good compromise."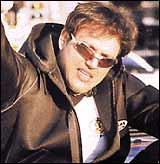 Yes, meet the real Govinda, who is tired of his own comedy and frustrated with his lot of films.
Born Govind Ahuja, this Punjab-born actor has many hidden traits. Whether it is his philosophical outlook to life ('sometimes you handle a situation, sometimes the situation handles you'), his immense respect for his mother (a sign on his front door reads: Kiss the feet of your mother, Success will kiss your feet), his favourite films Pakeeza, Mughal-e-Azam and Mother India, or that his children are not allowed to criticise his performances in films.
While he may be the dancing hero trying to outwit the bad guys, at heart he is still the 'Virar ka chokra'.
Govinda speaks to Ronjita Kulkarni about why he thinks his films are a compromise.
You recently stated you would never do comedy again. Why?
My films have always been considered total time pass entertainment, as B-grade films. There were never called good films. They were never acclaimed even though they did well. I would always be nominated for awards [in the Best Actor category] but never win. Then even that category changed [to Best Actor in comic role]. I tried to fight the situation. But then I thought, why fight? So I decided to change.
I will not do comedy films from now on. But in case I do, the script has to be fresh and new. I hate the same kind of writing. My track record till my last film Ek Aur Ek Gyarah has been good. It does not matter whether I have been more successful or less successful in my career. What matters is there has been success. Now, I should not spoil my name. This is the right time to move out.
I want to do good cinema. There should be a good director and quality writing. But I don't have a dream role as such. If I had something specific in mind, then I may not be giving a chance to others to bring out their best qualities.
What made you do so many comedy roles?
Serious roles required too much of me. Being a sincere artiste, I thought three or four serious roles per year is too much of an exertion. To avoid this, I started doing comedy. Comedy helped my nerves and health. Fortunately, I became successful in this. But getting stuck in this rut is foolishness. So I decided to get out of it.
Which of your films are your favourites?
I don't like any of my films except Hatya and Swarg. These two films were sincere efforts at filmmaking and everyone was involved. My taste and thinking are very different. What I did was a good compromise. I'm lucky that they turned out good.
But now, I really have to do something better.
You have also sung in your films like Wah! Tera Kya Kehna and your upcoming Raja Bhaiya.
Songs just happened. They were not planned. Unfortunately, the song in Wah! Tera Kya Kehna -- I want money -- was not promoted well. I felt very bad about it. But that is the producer's wish, so I did not say a word.
I have been singing since my childhood. My mother was a classical vocalist. I am very bad at singing, but being an actor I can manage my show. I want money was not successful because it was not aired properly. That was the time when the music industry was down. But I guess this happens. Sometimes you handle a situation, sometimes the situation handles you.
You set a new trend with your style of clothes.
When I wore those clothes, I thought they were consistent with my character. Later, I realised people were putting me in a bracket. I am a sincere actor. I can play a particular role or wear some kind of clothes. But I did not want to be categorised. I have not been wearing those kinds of clothes for the last five years yet people want me in the same image. When you are versatile, why should you let someone put you in a bracket?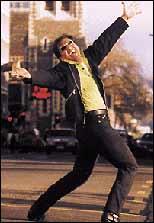 Even your dance set a new trend.
Unfortunately, the dances became average because of the kind of films I was doing. Besides, comedy films generally have lyrics of a lower grade. I thought this was rubbish. Also, they were very repetitive. This was also responsible for my decision in a big way.
Do you think comedy films have changed over the years?
No. There are only four or five such writers in the industry. Their way and style is the same. They have been churning out hits for 10 years. How much more can they do? Hadh kar di uske taraf se [they had reached their limit]. So it was me who had to do something.
Why do you think your comedy films are not working?
No film is working. The entire business has been doing badly for two years. This happens every 10-12 years. When I entered the film industry, there was a low phase. Tezaab [1988] was the first big hit after about 200 flops.
The industry is taking a turn. New people are coming in, seniors are going out. The weaker side of the industry has to move out. It is an art to survive in that situation.
Are you willing to work with new directors?
My doors are open to everyone. But I hate repetitive ideas, same kind of cinema. It is very frustrating! Har aadmi apne aap se bahut mohabbat karta hai. Agar mein badalna chahta hoon, toh mein doosron se definitely bahut zyada chahooga. Aur mein aapne aap se zyada kisiko laad nahin kar sakta na? [Every person is in love with himself. If I want to change, I would also expect others to change. And I cannot love anyone more than myself, isn't it?].
How has your journey been from the days as a struggle to a star?
It has been good. I went through good and bad phases. By the grace of God, I have survived and been successful. Dharamji [Dharmendra] had once told me something. He said one must give one success in three years and you will survive in this trade for 30 years. People will not forget you for three years if you give a hit, even if you are a newcomer.
Are you still a 'Virar ka chokra'?
I am how I have always been. Different people relate to me differently. While some people may call me Govindaji, I know my oldest and closest friends will call me 'kyu be' only!
But I love hearing 'chokra' [boy] even after 20 years! I hope they call me a 'chokra' for another 30 years! [laughs]
You once said you did not like being called Chi Chi.
That was a formula that I had tried. I spread the word in the newspapers that I did not want to be called Chi Chi. This move had a reason. I wanted to see who my true friends were. I had a lot of fun with the reactions! Some people would call me Chi Chi purposely and then become quiet. They wanted to see my reaction. Others would call me Chi Chi and then quickly add, "Oh, I'm sorry Govinda, please don't mind'. I used to think actor ke saath acting kar raha hai [he is acting in front of an actor]! That was a comedy by itself.
The ones dear to me were open with me. They knew if Govinda prefers it this way, they would follow it. Ek bahut hi choti topic ko leke maine ek badi cheez ko aasan kar diya [a very small issue solved a big problem].
What kind of films do you watch?
I watch all kinds of films to keep myself updated. I even watched Bhoot Bangla recently.
Since so many people are making films nowadays, sometimes someone sees a great punch or scene while dubbing or shooting and then it appears in another film. Writers write for so many films. The narrator narrates the script very confidentially, but suddenly it appears in another film. So to know what's happening where, you have to be aware.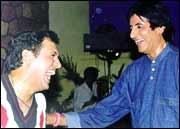 What are your forthcoming films?
Raja Bhaiya, Ek Haseena Ek Deewana and Hum Do Hamara Ek. But I don't want to talk about these films because then people will view it with a particular mindset. In fact, I feel that even the promos aired on TV is bad. That way you are telling them what to expect in your film. And if they don't get it, they are disappointed.
What about Khullam Khulla Pyar Karenge?
I am not sure when it will be released. It is a very entertaining film. Bahut hasa mein [I laughed a lot]. It is about a Bihari guy who falls in love with the daughter of a don and how he manages to get her. He is a simpleton but very smart. You cannot say it's a great film, but its very commercial.
The delay is due to finance. The songs have become old so I have requested the makers to chop some off. But you never know! Sometimes, of course, the old songs may become hits. So far, my request is just that – a request. I don't insist.
Tell us about your children, Narmada and Yash.
I keep my children away from the spotlight. I don't want to spoil their childhood. Of course, they are more aware than other children. They enjoy the small joys of childhood, like fighting for a pencil. I tell them even studies must be done in the right doses so that they can enjoy the other joys of life.
Unfortunately, Mumbai's children are not allowed to live normally. People who have naam, yash and kirti [name, fame and success] are so involved with it that their children are sucked into it. I want them to enjoy their childhood to the fullest because that will never come back.
They watch my films like normal children do. I'm just papa for them. But they are not allowed to criticise my performances in films.
Click here for more interviews


What do you think about the story?








Read what others have to say:





Number of User Comments: 48








Sub: Hello Govindaji ! You are a Genious !! Tum Jiyo Hazaro Saal...!!!!!

Hello Govindaji, I love your movies ! I love your Dance !! I love your acting !!! Its really very nice to see your movies ...


Posted by Sayali









Sub: govinda

Hi, I Like you,and your movies very much.you are a best actor in your industry.and i always wish for your succes. ...


Posted by rohit singh









Sub: govinda

I think david dhavan only spoiled govinda's career by making him to play the same shabby roles.


Posted by shri









Sub: Urgent

Govinda is a great actor. There is no dought. He is geneous. God Give's him More success.


Posted by maha









Sub: The point in his career where he went wrong

I dont think his films were as bad as My fav Star is saying.You can see by the business they did they were the films ...


Posted by Amit Kumar






Disclaimer